WordPress vs Joomla: Which CMS to choose for your website?
By Darren H in WordPress
21st October 2021 • 8 minute read
Which content management system (CMS) should you use for your website?
You could go with the most popular CMS on the market at the time of writing, WordPress, which supports millions of active websites, large and small alike. According to WordPress.org, over 60 million people use WordPress for their website.
But of course, just because a CMS is a crowd favourite doesn't mean that it's the best option for you. It definitely doesn't hurt to explore other options - with Joomla being one of them.
Joomla is used by over 1.5 million live websites as of writing, as shared by BuiltWith. With its smaller user base, however, is Joomla even worth considering?
Well, we certainly think so. Joomla is capable of supporting complicated content hierarchies, making it a strong option for especially large or content-heavy websites. However, if your website operations are smaller or simpler, then using WordPress may be enough.
Let's take a closer look at how WordPress and Joomla stack up, based on nine different criteria.
1. Ease of setup
Any good web host will provide one-click installs for WordPress and Joomla, so the process of installing either CMS typically isn't an issue. However, you'll still need to set up your website afterwards, and this is where the two CMSs start to diverge.
WordPress is pretty user-friendly to set up. You pick a website theme (WordPress's name for overall site templates) typically from within your dashboard, then customise it to your liking. After that, you craft your website content in posts and pages. With WordPress' intuitive interface, even casual users without a background in web development can have a basic WordPress site up and running in just a few hours.
However, Joomla can be more complicated to get going. Unlike WordPress, Joomla doesn't offer a central theme repository, so you'll need to source themes from third-party sites.
As for adding content, you'll create modules that contain text and images, and assign these to specific webpage positions. This allows for a lot of flexibility on the backend in website creation, but might pose an unnecessary inconvenience if you just want to build a simple website.
2. User Interface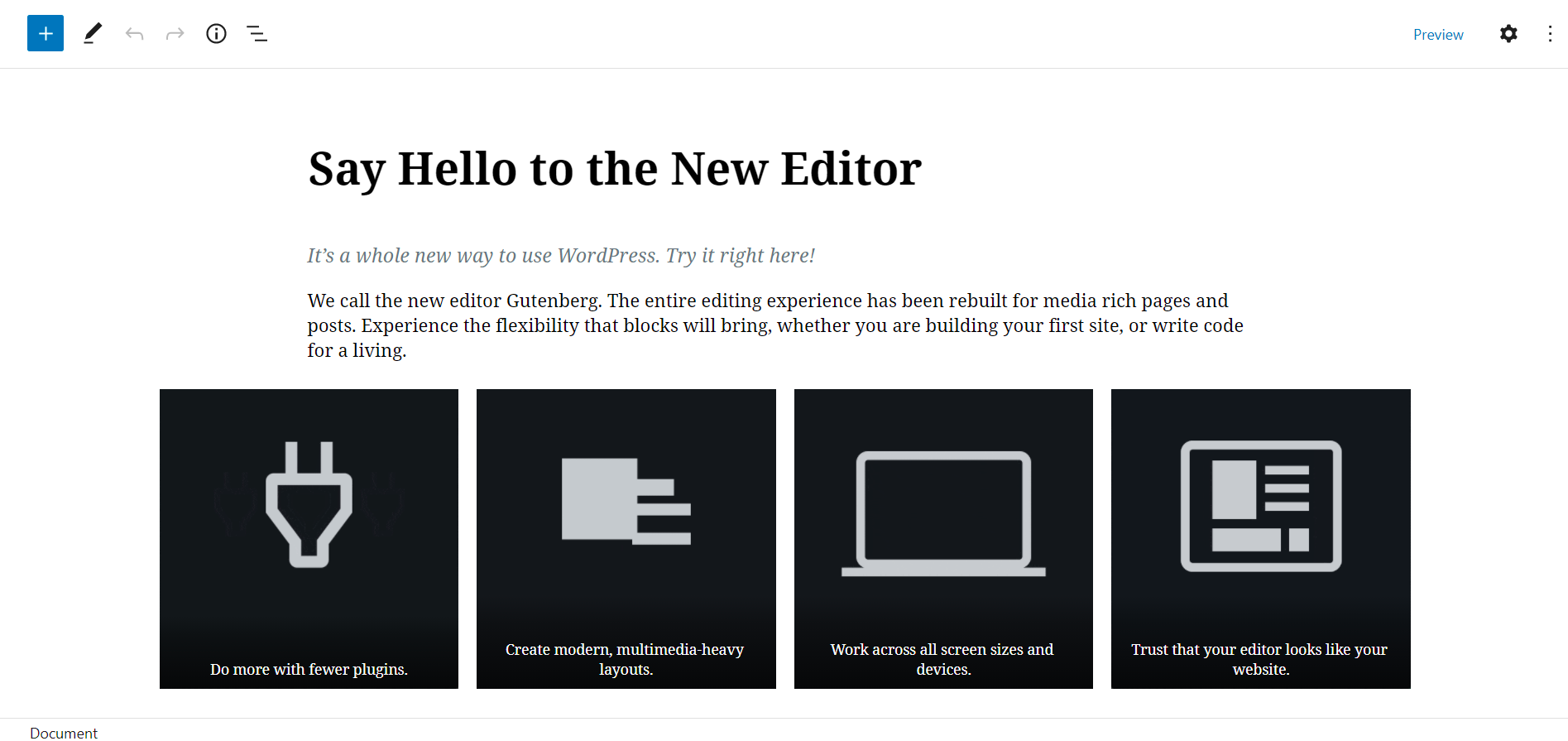 Most of your daily website operations may involve publishing new website content. WordPress makes this an effortless experience with a WYSIWYG drag-and-drop builder: using its "Gutenberg" block editor, you can add and easily arrange blocks of content by clicking and dragging them around your post or page. Apart from relying on the standard paragraph and image blocks, WordPress offers blocks to help you jazz up your content with videos, tables, calendars, Spotify tracks and more.
To add content to a Joomla website, on the other hand, you'll create pages (called "articles") and fill them in using a text editor. However, new articles don't automatically show up on the front end of your website - you'll need to assign them in the control panel to wherever you'd like them to appear. This will take a bit more work, not to mention that you won't have features for adding rich media to your articles out of the box.
That said, if you plan to launch a multilingual website, you'll appreciate Joomla's built-in multilingual support. With it, you can make your Joomla website multilingual without adding any extensions. On the other hand, you'd need to install a plugin to do the same in WordPress. Once you've done so, however, creating and managing a multilingual WordPress website typically isn't difficult.
3. Flexibility
WordPress is best known for being a blogging platform - it offers "pages" for parking "mainstay" content such as About and Contact pages, while blog articles are created as "posts" and added to a blog feed. Of course, thanks to WordPress's open-source nature, and the tireless work of thousands of WordPress users, you can use WordPress for practically any purpose, especially with the right add-ons (which are known in WordPress as "plugins") installed.
For example, you can install the WooCommerce plugin to create a WordPress eCommerce store, or the MemberPress plugin to charge for website access (this is great for selling online courses). There are over 58,000 plugins on WordPress.org to choose from, so if you're interested in customising your WordPress website's functionality in a certain way, chances are there will be a plugin for that.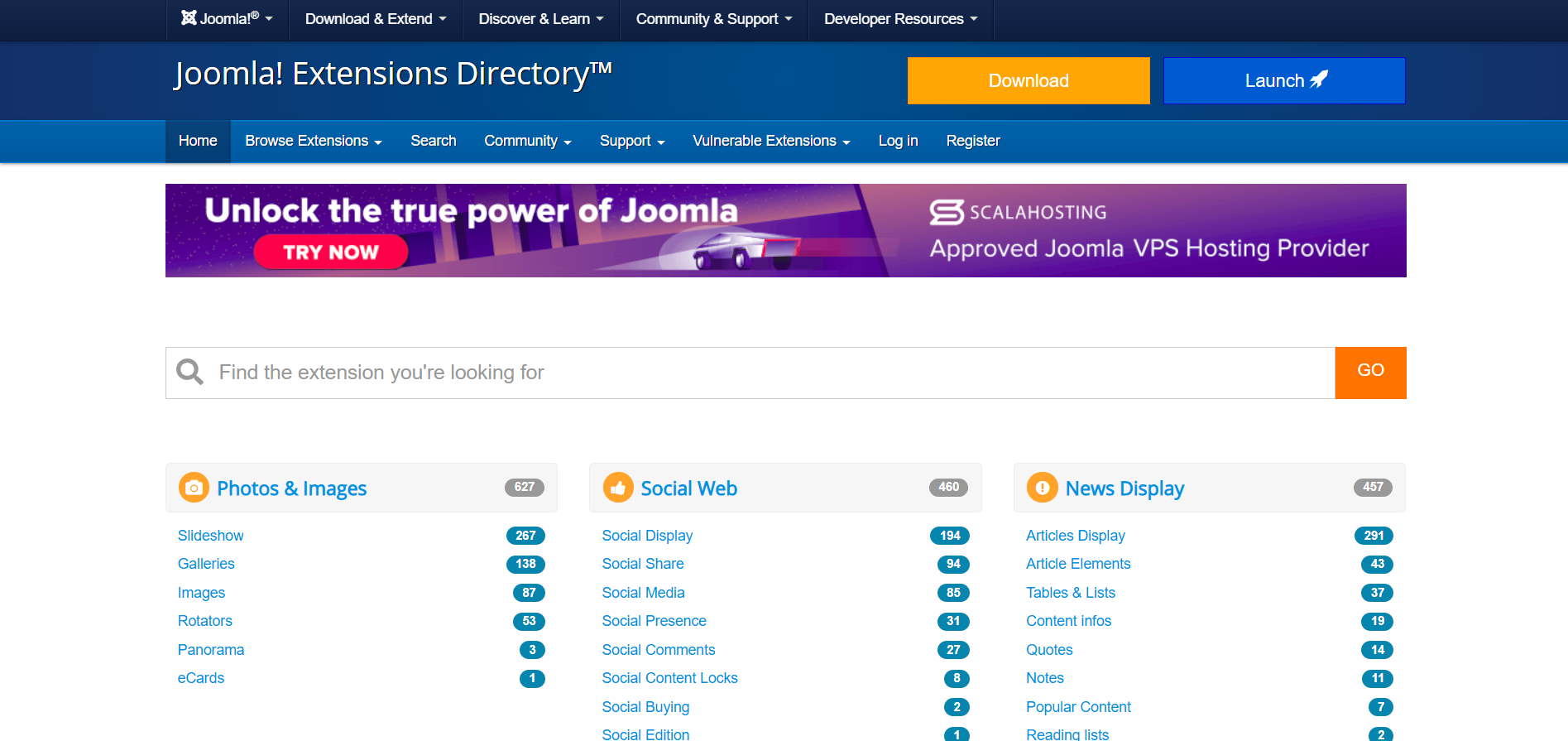 Joomla may be less-suited for blogging as you'd need to manually assign each blog post to a "blog" category after publishing. Apart from this, however, Joomla's articles and categories structure - and respectable 5,900+ extensions - mean that the CMS can accommodate just as many content types as WordPress, if not more.
Whether you're looking to build a freelancer platform (like PeoplePerHour), an online graphic design tool (like FotoJet) or even a government website (such as the website of the Westchester County Government), you'll feel reassured knowing that Joomla has helped bring all such sites to life.
4. Customisation potential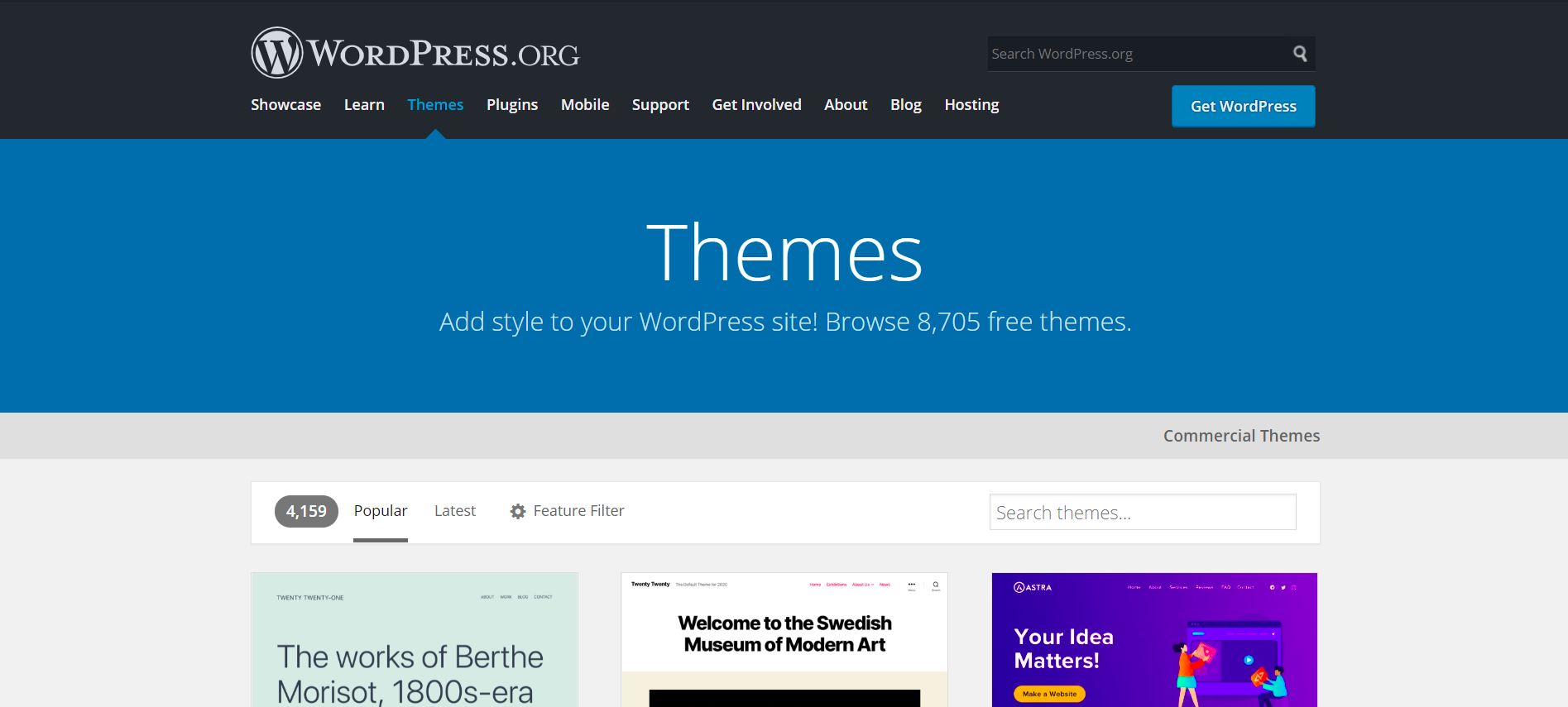 The official WordPress theme directory contains over 8,700 free themes with a variety of features and styles. For example, you can filter themes by:
Layouts, such as one column, two columns, right sidebar and grids.
Features, such as custom headers, sticky posts and footer widgets.
Subjects, such as blog, food and drink or news.
You aren't limited to the selection in WordPress' theme directory either, there are plenty of ways to get the perfect WordPress theme - directly from theme developers, third-party theme marketplaces or you can engage a web developer to build a bespoke theme for you.
As mentioned earlier, however, Joomla doesn't have a central theme repository, which means you can get themes only from third-party sites or through custom-developing your own. That said, you'll be able to use multiple themes in one Joomla website to create unique appearances for specific website sections. In contrast, WordPress allows for only one active theme at a time. As a result, you may need to install a page builder plugin to customise the look of your webpages beyond what your active theme can do.
5. eCommerce
Both WordPress and Joomla provide limited eCommerce functionality out of the box, so you'll need to install plugins or extensions to turn your website into a fully fledged online store.
For WordPress, the free WooCommerce plugin is highly favoured for its ease of use. You can also install paid WooCommerce extensions to enhance your store's features, such as accepting recurring payments and online bookings.
Similarly, a popular eCommerce extension for Joomla websites is DJ-Catalog2, which includes powerful features such as product catalogues, stock control and automatic price rules. Unlike WooCommerce, however, DJ-Catalog2 isn't free. But if you market your store right, you should be able to recoup your costs pretty quickly.
If you're looking to sell internationally, leverage Joomla's built-in multilingual capabilities to create localised store content for each destination market. WordPress doesn't offer native multilingual features, so you'd have to install a plugin such as Weglot to build a multilingual eCommerce store.
6. SEO
Search engine optimisation (SEO) is something that no website owner can afford to overlook nowadays, so it's important to pick a CMS that will set your website up for SEO success.
In this regard, Joomla and WordPress both offer some built-in SEO features. For example, you'll be able to state the target keywords for your entire Joomla website in the global configuration settings, and the keywords and meta descriptions for specific articles in the CMS' article editor.
Separately, WordPress provides basic sitemap functionality and settings for easy creation of search engine-friendly permalinks in complex sites. (While Joomla offers a built-in feature for the latter, non-technical users may find it rather challenging to use.)
That said, for any SEO feature that you need, and that WordPress or Joomla doesn't provide out of the box, you can easily set it up by installing the relevant plugin or extension. Popular SEO plugins for WordPress include Yoast SEO, while many Joomla users swear by the sh404SEF SEO extension. So as a whole, there really isn't much to separate the two systems, SEO-wise.
7. Security
Self-hosted WordPress can be said to be marginally less secure than Joomla. As the most popular CMS, with the biggest market share, it's an attractive target for hackers. However, the WordPress core development team actively patches known security vulnerabilities to keep hackers at bay. (The same goes for Joomla.)
No matter which one you use, however, the more plugins or extensions you add to your website, the more vulnerable it may become to online threats. While plugins and extensions are reviewed before being approved, there is no guarantee that they are free from security risks. Bear in mind that different hosting companies will also have different security policies, so in this instance it's not necessarily a case of picking the best CMS to solve the problem.
To maintain your website's security, you can explore a range of security tips, and take care to install only reputable plugins or extensions from approved sources. In addition, invest in quality web hosting that provides best-in-class security features. Whether you decide to build a WordPress or Joomla website, Krystal web hosting will keep it secure with free SSL encryption, a comprehensive firewall system, real-time malicious file scanning and more.
8. Cost
WordPress and Joomla are both free to download and install. This sounds great, but don't forget to factor in the other costs that you'll incur when operating your website. These include the costs of:
Your domain name: a .com domain name might cost you £11.99 /year.
Hosting: for example, Krystal's expert managed WordPress hosting starts at £14.99 per month (billed monthly), while Joomla web hosting starts at £4.99 per month.
Premium themes, WordPress plugins or Joomla extensions: depending on their features, you could be spending a total of two- or three-figures in licence fees every year.
All these costs can really add up, especially if you want to run a professional-looking and feature-packed website. However, given the wider range of themes and plugins available for WordPress, you may be able to find more affordable options if you build your website on WordPress instead of on Joomla.
9. Support
If you encounter issues while running your website, you can typically get help by reaching out to either:
The WordPress or Joomla community forums (if the question relates to your CMS), or
Your theme, plugin or extension developer (if the question relates to one of these).
You may also be able to contact your web host for technical support issues. For example, Krystal offers support through live chat, phone calls or a ticket system. Queries submitted through live chat are settled in an average of just 25 minutes, while two out of three tickets are solved within the first response.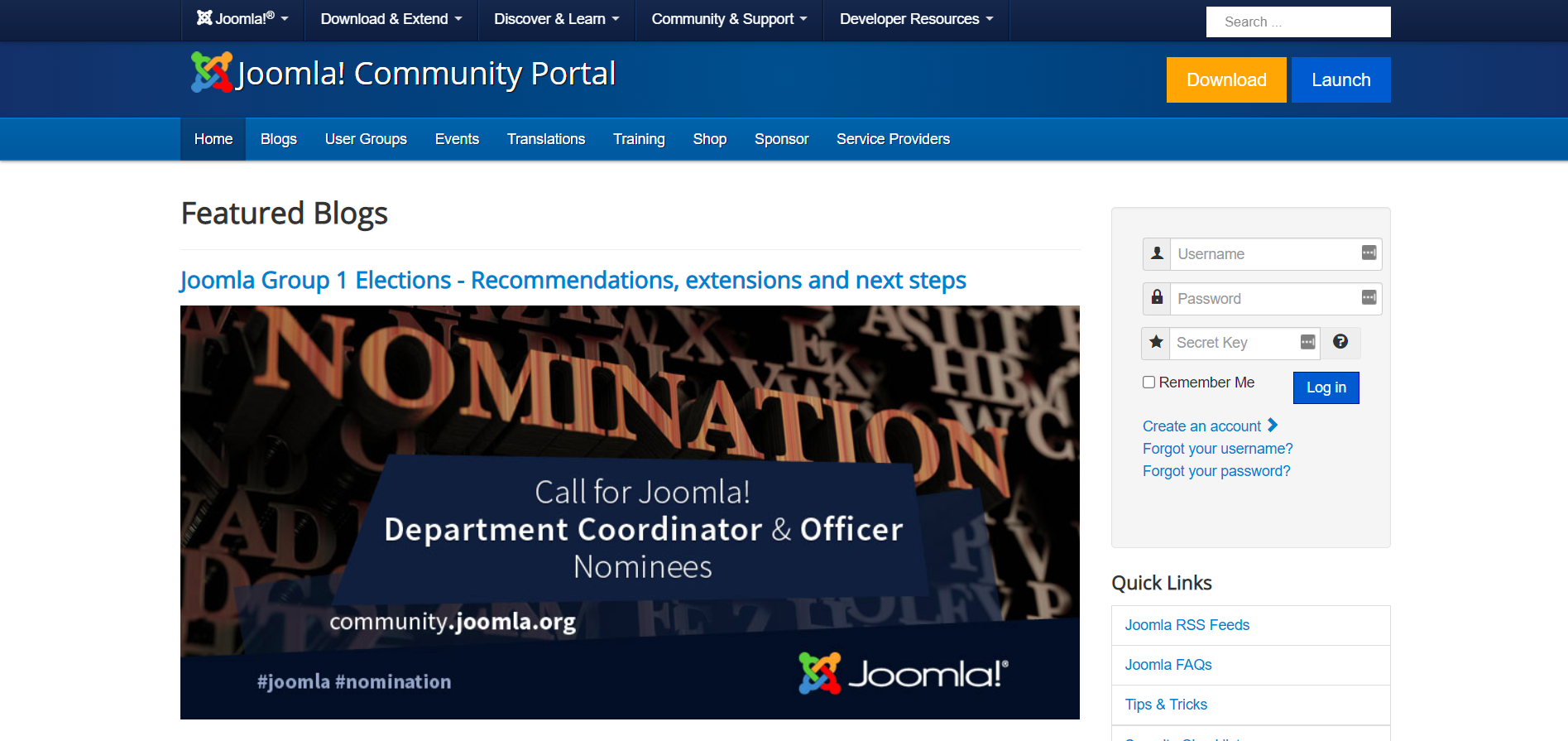 For support with your CMS, however, the size of the community matters. With its more modest user base, Joomla has a smaller community available to help troubleshoot issues. If the community isn't able to assist - and this also applies to problems with WordPress - you may have to engage a developer to look into the matter for you.
WordPress vs Joomla: which CMS will you choose?
All in all, when you compare WordPress and Joomla, you'll see that both are capable of supporting full-featured websites. They offer core content management capabilities, which you can build on by installing the right plugins or extensions. So the main difference between the two lies in the ease of creating and running your website.
For most uncomplicated use cases, WordPress tends to be the better option for its simplicity. It's a great platform for running blogs or small-to-medium websites, especially if you aren't a coder.
In contrast, Joomla may present a steeper learning curve. Once you've got the hang of it, you'll be able to build websites of any size and for any need. However, Joomla's sophisticated content structure may make it the more appropriate option for larger and more complex websites.
Regardless of whether WordPress or Joomla is your CMS of choice, it's important your website is hosted on a superior platform that won't let you down. Krystal offers premium web hosting for both WordPress and Joomla, with features such as 99.99% uptime, blazing-fast load speeds and top-notch security encryption. Explore our hosting plans for WordPress and Joomla today.
About the author
Darren H
I'm Darren and I'm the Copywriter at Krystal. Words are what I do. Aside from writing, I play guitar and sing in a band, work on getting my 2nd Dan in Taekwondo and seek adventure with my wife and daughter.