Following months of hard work from the entire Krystal team, I'm delighted to introduce you to our new brand and website!
Welcome to the World of Krystal…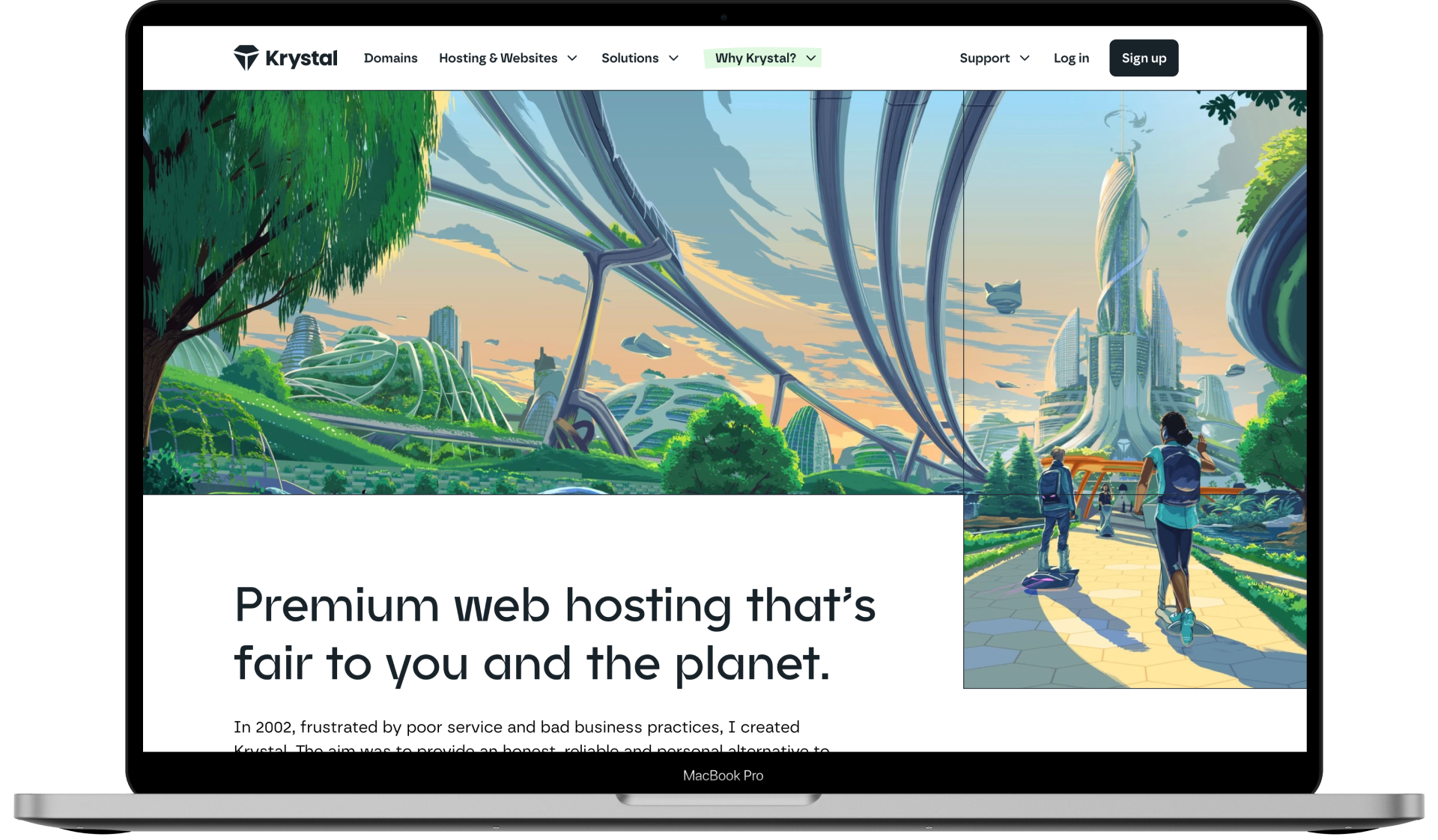 You'll notice we've kept our name and logo the same. After 21 years I still love "Krystal" and what it stands for - transparency, quality, rarity and value - but I wanted to better showcase how different Krystal is to the rest of the market, and communicate more effectively what we stand for. We're not like any other hosting company, so why look and sound similar?
Under the new "Why Krystal?" section you'll find pages such as "3 good reasons", "Protecting the Planet" and competitor comparisons; Krystal vs. GoDaddy, Krystal vs. IONOS & Krystal vs. HostGator. There are also a bunch of "Krystoids" (Krystal facts) scattered throughout the site that I hope you'll find interesting/informative.
Unmissable in the new brand are the custom-made illustrations by the incredibly talented Guy Shield. They introduce "The World of Krystal", a Solarpunk-inspired future where business is in balance with nature, where good performance doesn't have to mean bad for the planet. There are 10 custom illustrations in total, see how many you can find - some are well hidden!
Switch Credits
Potential clients often tell us that they would move to us in a heartbeat but they're mid-contract. Many are trapped in multi-year contracts with eye-watering renewal costs, sometimes up to 250% more! To counter this bad behaviour we've created Switch Credits, an industry-first initiative that allows you to convert remaining time with other providers into free time with us. So now you can leave whenever you want without losing any money. We'll even help you move over if you need it.
Try the Switch Credits Calculator
Simply visit https://krystal.uk/switch to see if you (or a friend!) have a new plan that qualifies for free time. Hopefully we can upgrade your hosting, benefit the planet AND spare you an expensive renewal!
As an independent host ourselves we're incredibly supportive of other independent hosts, so Switch Credits are only eligible on plans with the large multinationals - don't worry though, that's still over 100 brands!
Can you spot us at your local station?
We've placed a series of retro-inspired travel posters in over 200 train stations up and down the country! If you spot one you can win prizes!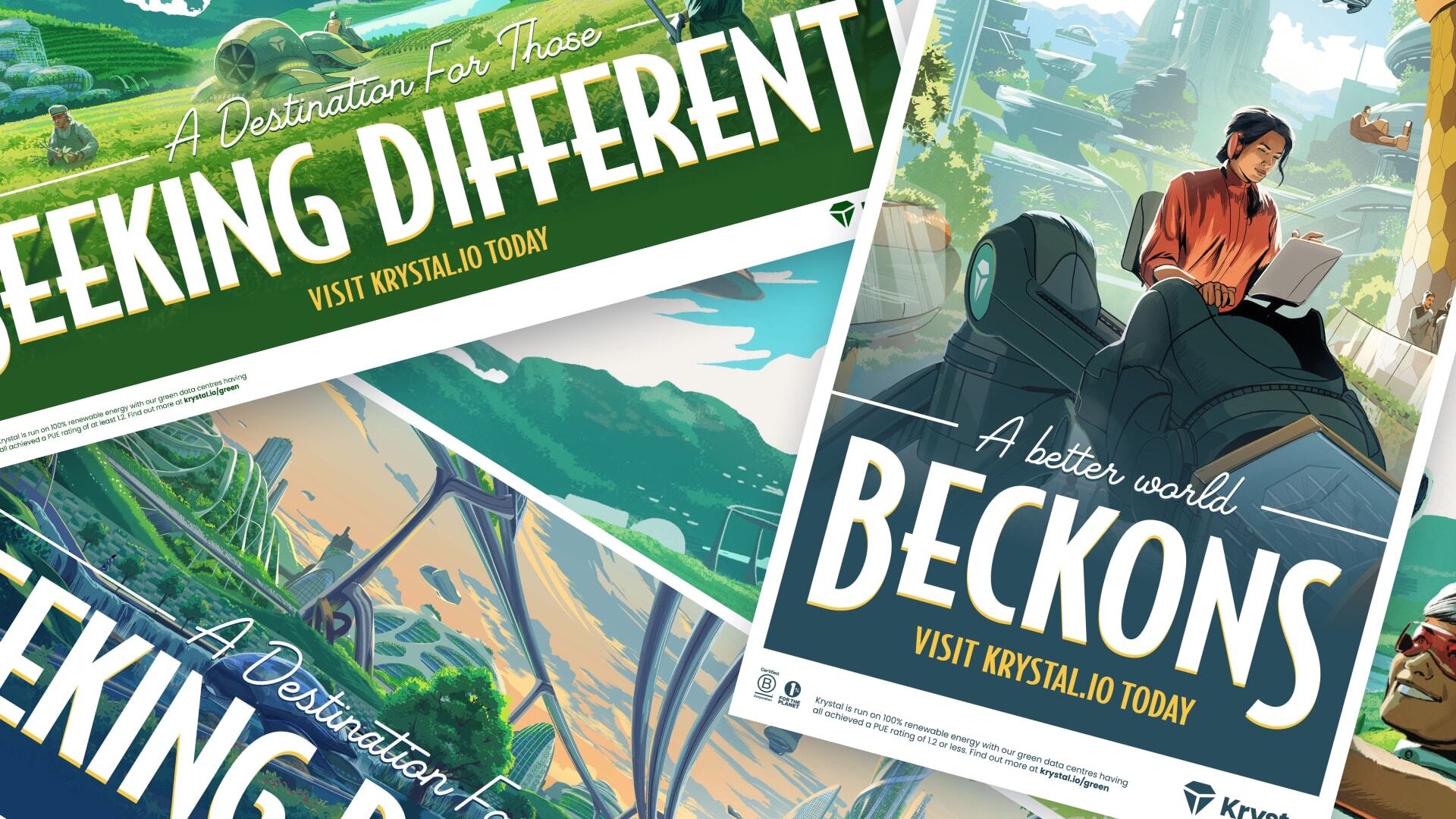 How to Enter
Simply upload a photo of one of our posters to your favourite social media platform with the hashtag #krystalspotting and we'll enter you into a draw to win a set of 10 premium Krystal postcards AND a free one-year extension to one of your hosting plans. All aboard!
You can find us on LinkedIn, Twitter/X, Facebook, Instagram, Threads and now Bluesky and Mastodon, not to mention our Discord server.
(5 winners. Competition closes 23:59 on October 25th. We'll accept multiple entries provided they're from different stations.)
To a better future, together
At the heart of our new identity is the concept of "Conscious without compromise" - our promise to you that we'll always deliver the best service, technology and ethics. We'll never cut corners, we can't be bought off and with your continued help we will change the future for the better.
I can honestly say that seeing my vision for Krystal come to life in this way has been a personal career highlight. I'd like to extend my personal thanks to all the Krystal staff involved, as well as to Guy for the wonderful illustrations and Enviral, who helped bring our true essence to the fore.
Finally, I'd like to say a heartfelt "Thank You" to all our valued Krystal clients. We couldn't do what we do without your ongoing support. We're entering into an exciting new phase for Krystal and I'm delighted to have you along for the journey.
Share this article
About the author
Simon B
In 2002, frustrated by poor service and bad business practices, I created Krystal to provide an "Honest, Reliable & Personal" alternative to the large faceless hosting corporations. We're in business because we're passionate about technology & solving problems.
Join our newsletter
No spam. Just the latest news, events, product updates, promotions and more delivered to your inbox.