Krystal leads action to restore Nominet's public purpose
Today, Krystal has launched PublicBenefit.UK - a campaign to rescue Nominet, the guardian for 10.8M .UK domain names and one of the world's top five registries. The aim? To restore Nominet's original public benefit mandate, which under previous management donated as much as £7 million a year to good causes.
Sadly, under the recent board led day-to-day by Russell Haworth, appointed 5 years ago, those donations have dropped consistently to below £2 million a year. During the same period Director pay has steadily grown and now exceeds £2M, thereby overtaking what's being channeled towards public benefit.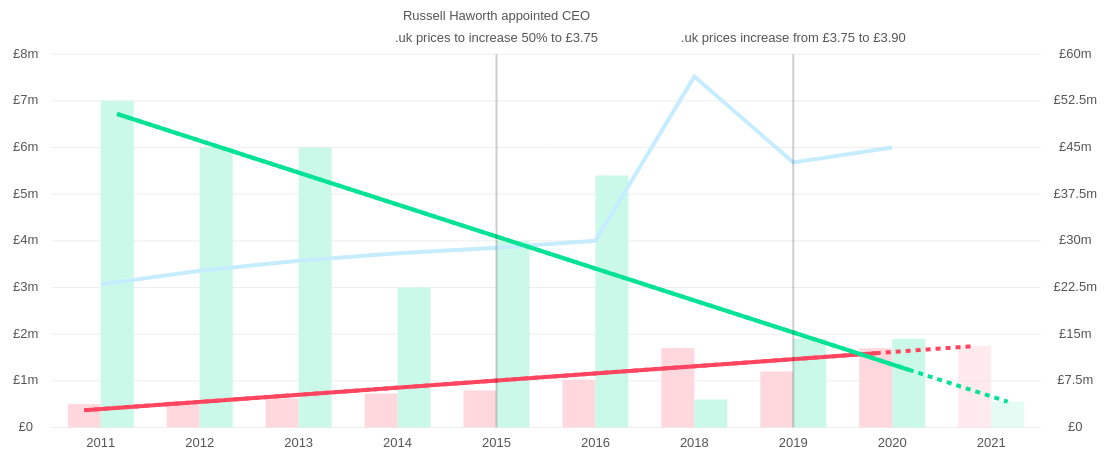 In the last five years public benefit donations are down 65%, profit is down nearly 40%, yet the top 3 Directors pay is up 70%. Furthermore, wholesale prices have increased over 50%, generating a large cash surplus when prices should have been coming down.
That can't be right.
To correct this injustice, we've drawn up a clear rescue plan that will restore Nominet's original public benefit purpose and provide it with responsive leadership to ensure an independent future as a financially strong organisation.
What is happening?
We have started a campaign, PublicBenefit.UK, calling for an Extraordinary General Meeting (EGM).
The EGM is being called to pass the following 2 Ordinary Resolutions (requiring 50%):
To remove the current Chair, Remuneration Chair and Executive Directors
To replace them with 2 new Directors charged with restoring Nominet to its original character.
A growing number of leading members, acting together under the PublicBenefit.UK banner, as well as some of the original Nominet founders, have come out in support of the action and the 5% voting rights required to call the EGM have already been secured.
If successful this EGM will send a very strong message about what Nominet's true purpose is (run the .uk namespace), and who it should benefit (members and the wider public).
Why is this happening?
It's important to know that many of the tensions between management and the membership have existed for years. The board has consistently ignored members' concerns and input, as well as ignoring the results of independent reports it commissioned. Criticism has been met with contempt or indifference, and at one point CEO Russell Haworth called TheRegister.com "Fake News". The current board acts as if they know best what Nominet is and should be. We disagree.
Over a long period of time this had bred resentment and a number of previous member-led actions, but in each case we feel the bare minimum has been done to placate the membership. Truly meaningful change has NOT happened. Yet.
Years of being ignored, high Director pay and the failure of Nominet's public benefit mandate have forced us to act.
Restoring public benefit
Nominet was founded with a very clear purpose: manage the .uk namespace on behalf of, and for the benefit of, its members and the public. This requirement to benefit the public is so critical to Nominet's character that it is enshrined in its Articles.
Nominet was never intended to be a commercial entity. Yet the Directors have treated it like any normal for-profit business, conflating its deliberately narrow purpose to support .uk domains with an inherent requirement to survive at any cost. As a result they've poured money into unnecessary diversifications and acquisitions (and their own pockets), instead of reducing prices to minimise profit and sending any surplus towards public benefit donations.
We believe that the current Nominet board has significantly deviated from its founding purpose. The fact that a number of the founders have come out in support of our movement lends credence to this belief.
Restoring Nominet's purpose and focus
In the five years since the arrival of Russell Howarth, Nominet has earnt nil profit outside the core business. 87% of turnover and 100% of profit still comes from the registry business. After five years, it's clear that the entirely unnecessary diversification strategy has just been a waste of money. We believe that money could have been better used as donations towards initiatives that benefited the public.
Restoring Nominet's trust and transparency
Over the last few years, the flow of information between Nominet and its members has been increasingly restricted. Board-of-Directors minutes and reports have been closed off to members, as Nominet has stopped sharing them online.
The Members Forum, the main communication channel between Nominet and its membership, was also closed without notice and with immediate effect during the 2020 AGM. This has left the vast majority of members without an effective way of keeping in touch with the board and each other. These measures have resulted in an executive team and board of Directors that has become increasingly unaccountable for its actions.
If the resolutions we are bringing to the table are passed, the first order of business will be to re-open lines of communication with the membership and start to engage them on key issues.
Restoring Nominet's leadership
The Board is currently made up of the Chairman, 3 Executive Directors, 3 Appointed Non-Executive Directors, and 4 Non-Executive Directors elected by the members. The first resolution calls for 5 Directors to be removed, which will still leave the majority of the board and provide stability.
The second resolution, which will happen immediately after the first, appoints two very experienced interim Directors to begin the process of restoration. The business will continue to operate effectively throughout.
Sir Michael Lyons and Axel Pawlik have offered to stand as interim Chairman and Vice-Chairman respectively. If elected, both individuals have agreed to 12-month, no-bonus contracts with a member vote to re-elect at the AGM in September 2021.
Sir Michael Lyons (Chair)
Former Chairman of the BBC Trust, Sir Michael was commissioned by Nominet in 2015 to carry out an independent review of the organisations membership and corporate structure. The report provided a number of recommendations on improving governance and engaging with the membership to restore broken trust. Most were ignored.
Axel Pawlik
For 20 years Axel was the Managing Director of the RIPE NCC, the Regional Internet Registry (RIR) responsible for overseeing all IP resource management in Europe and the Middle East. A membership organisation, it grew from 1,600 to over 20,000 members during his tenure, and throughout Axel engaged with the membership to shape the organisation. Read more.
We cannot think of two more qualified individuals to help return Nominet to its members.
I'm a member of the public, how does this affect me?
If you're an end-user who registers .uk domain names through us or any other company (and not via your own membership), this action does not directly affect you. Your domains continue to be registered through your chosen registrar and will be unaffected.
If we are successful we hope that more money will be directed towards the public benefit and .uk wholesale prices will drop. If that happens Krystal will reduce our prices by the same amount.
Nominet members - vote to take action!
We're delighted that PublicBenefit.UK has already secured the 5% of voting rights required to call an EGM. We're now aiming for 10% and will continue to gather additional support as the EGM draws nearer.
We need to show Nominet we're serious about meaningful, positive change. If you're a Nominet member and would like to make a difference please head to publicbenefit.uk to pledge and don't forget to actually vote at the EGM! Let your voice be heard.
Thank you!
About the author
Simon B
In 2002, frustrated by poor service and bad business practices, I created Krystal to provide an "Honest, Reliable & Personal" alternative to the large faceless hosting corporations. We're in business because we're passionate about technology & solving problems.