Integrating HubSpot with a WordPress website [guide]
By Darren H in WordPress
3rd March 2022 • 5 minute read
If you're thinking of using customer relationship management (CRM) platform HubSpot, you're in good company.
Hundreds of thousands of websites currently use HubSpot to implement inbound marketing strategies and execute their sales and customer service operations. But instead of having your website and HubSpot CRM run in silos, wouldn't it be nice if you could integrate the two for more seamless workflows and effortless analytics?
That's where the HubSpot WordPress plugin comes in - with it, WordPress users can easily connect HubSpot with their WordPress website to get the best of both worlds. Read on to learn what HubSpot is, the benefits of integrating it with your WordPress website and how you can do so.
What is HubSpot?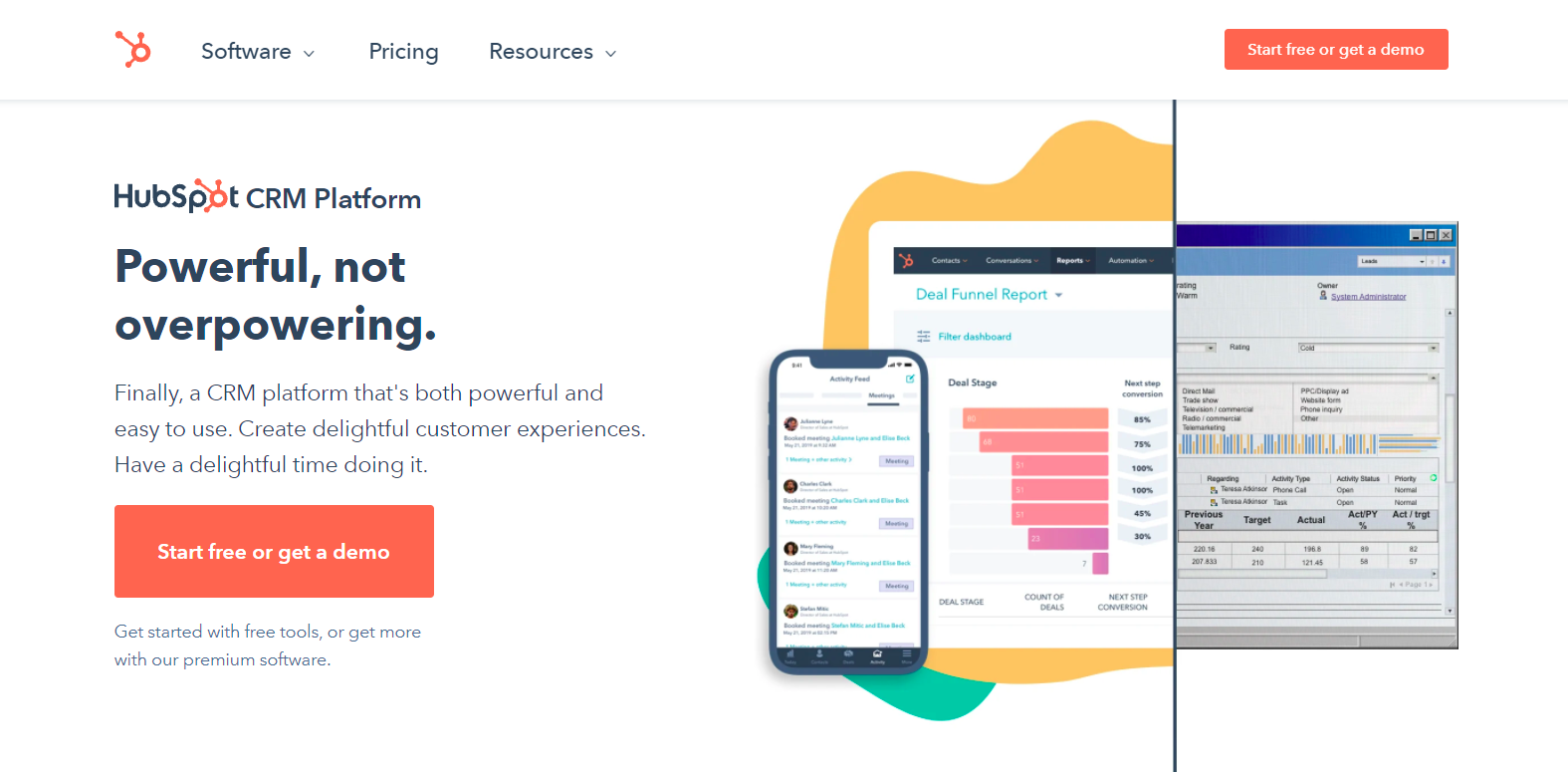 HubSpot is an inbound marketing and sales platform that helps organisations gain, nurture and close qualified leads. Being an all-in-one solution, it allows its clients to manage and streamline their marketing and sales activities in one place. HubSpot has over 121,000 customers in 120 countries, and is well loved for providing:
A comprehensive suite of marketing features: HubSpot can be used for content creation, social media management, lead capture, customer relationship management, deal pipeline mapping, campaign performance tracking and more.
A fully customisable user experience: HubSpot packages its features into various "Hubs", such as Marketing, Sales and Customer Service (HubSpot's pricing page has more information on each of them). You can sign up for a single Hub or even multiple Hubs, depending on what fits your business needs the best.
Plenty of room to scale: HubSpot offers a free CRM for new businesses, and you can scale up your use of the platform by purchasing access to its Hubs as your business grows.
Notable HubSpot features include:
CRM
Contact management
Marketing automations
Search engine optimisation (SEO) tools
Customer support knowledge base and ticketing functionality
How to connect a WordPress site with HubSpot
HubSpot is a fantastic platform on its own. However, if you are using WordPress as your content management system, you can get even more value out of HubSpot by installing its WordPress plugin.
The HubSpot WordPress plugin comes with awesome features such as:
CRM, contact management and form submissions tracking from within your WordPress dashboard
Live chat and chatbots
Pop-up forms to turn website visitors into email subscribers
Marketing automations
Website analytics when you install a HubSpot tracking code on your website
Let's go through how to install the HubSpot plugin on your WordPress website, step by step.
1. Create a HubSpot account
To use HubSpot, you'll definitely need a HubSpot account. You can create one by going to the HubSpot website.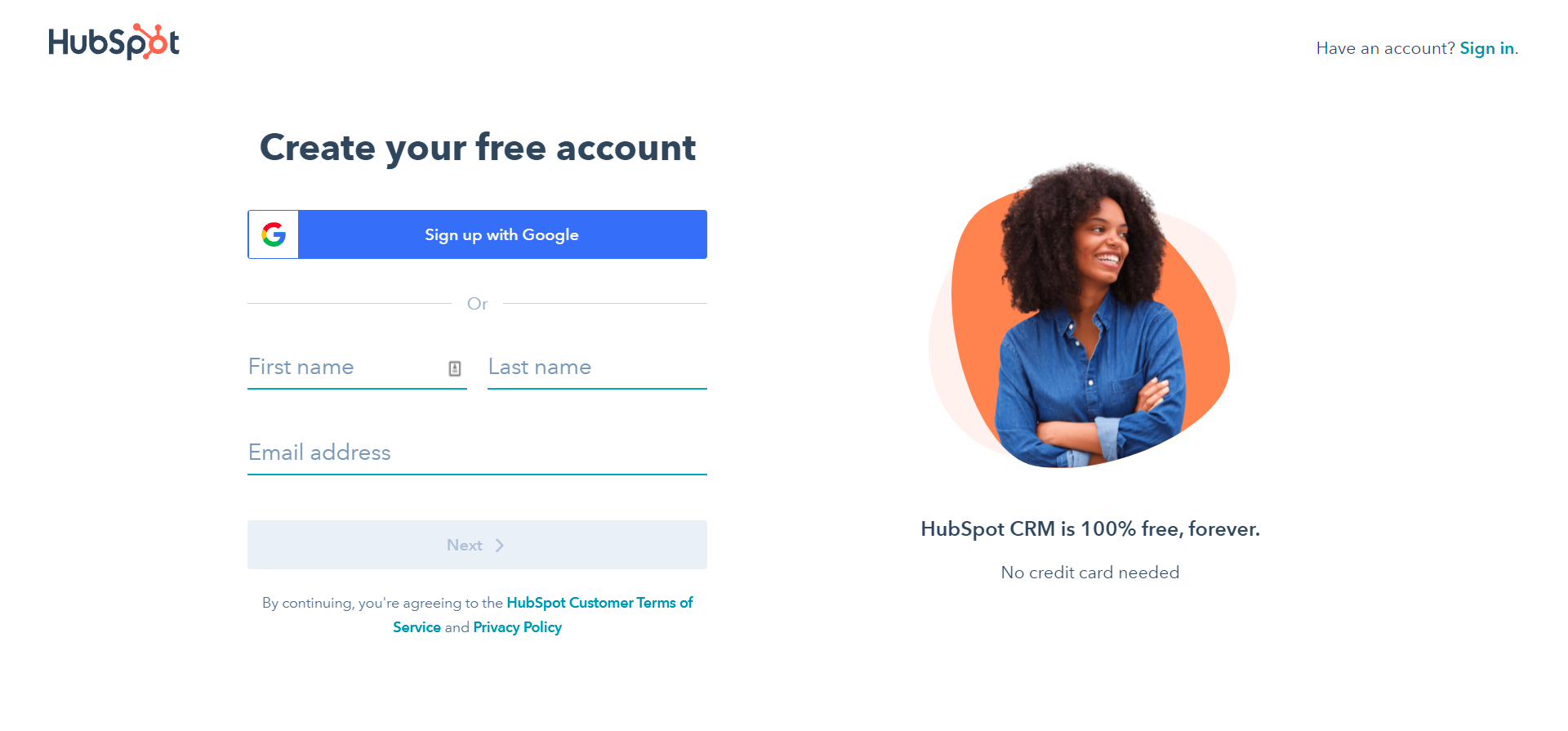 Alternatively, you can create your account from your WordPress admin dashboard after installing the HubSpot plugin.
You can also pick a paid HubSpot plan at this stage. However, feel free to start with the free plan if you aren't ready to make a financial commitment yet.
2. Install the HubSpot WordPress plugin on your website
Log into your WordPress admin dashboard and click on "Plugins" in the left sidebar, followed by "Add New".
Do a search for "hubspot" in the plugin search bar, then install the plugin called "HubSpot – CRM, Email Marketing, Live Chat, Forms & Analytics".
This is the official WordPress plugin for integrating HubSpot with WordPress. Make sure that your version of WordPress is compatible with it. If it isn't, try asking your web developer for help.
Once the plugin has been installed, click "Activate" to activate it. You'll then see a brand-new section in your WordPress admin sidebar called "HubSpot". All right!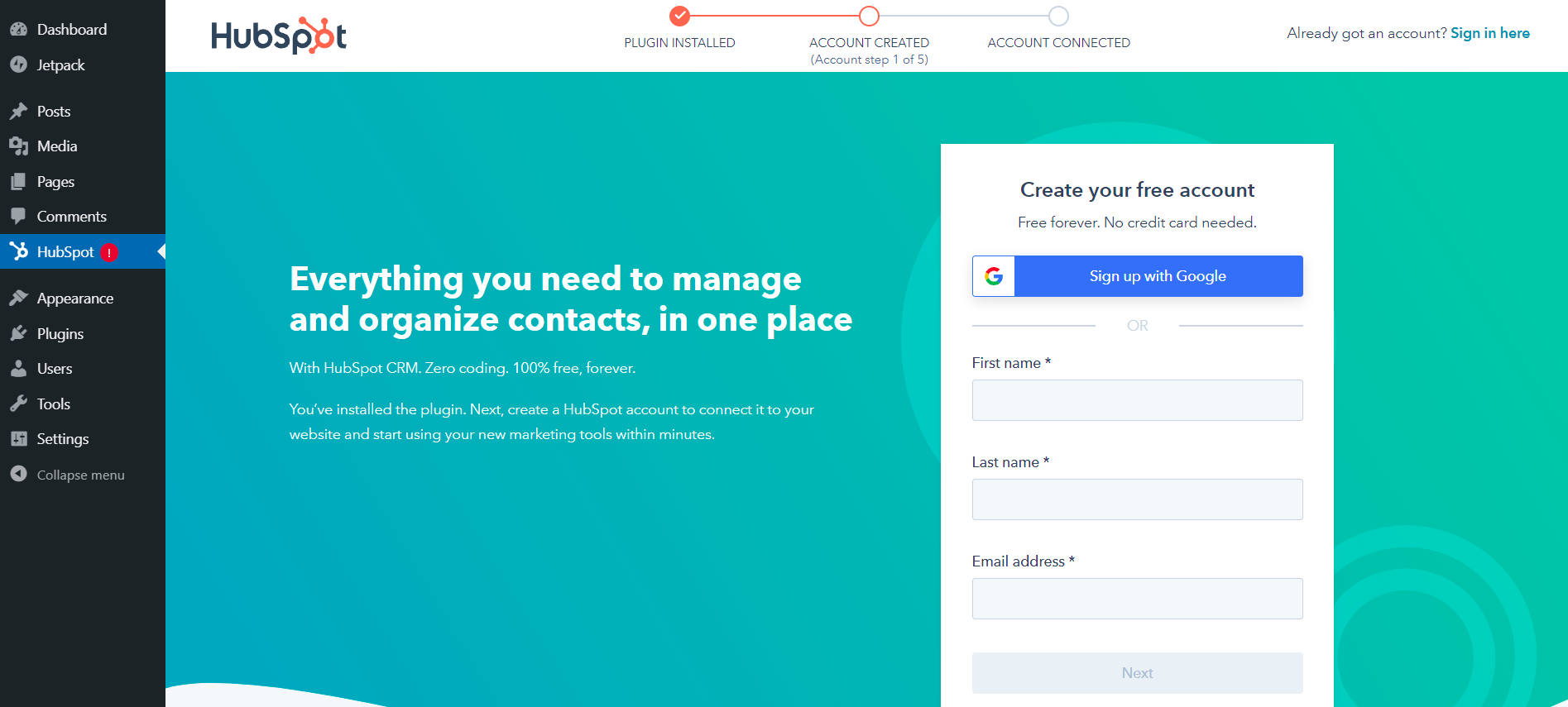 3. Configure the HubSpot plugin
Next, you'll need to connect your HubSpot account to the HubSpot plugin. Sign in to your HubSpot account to do so, or create a new HubSpot account if you don't already have one.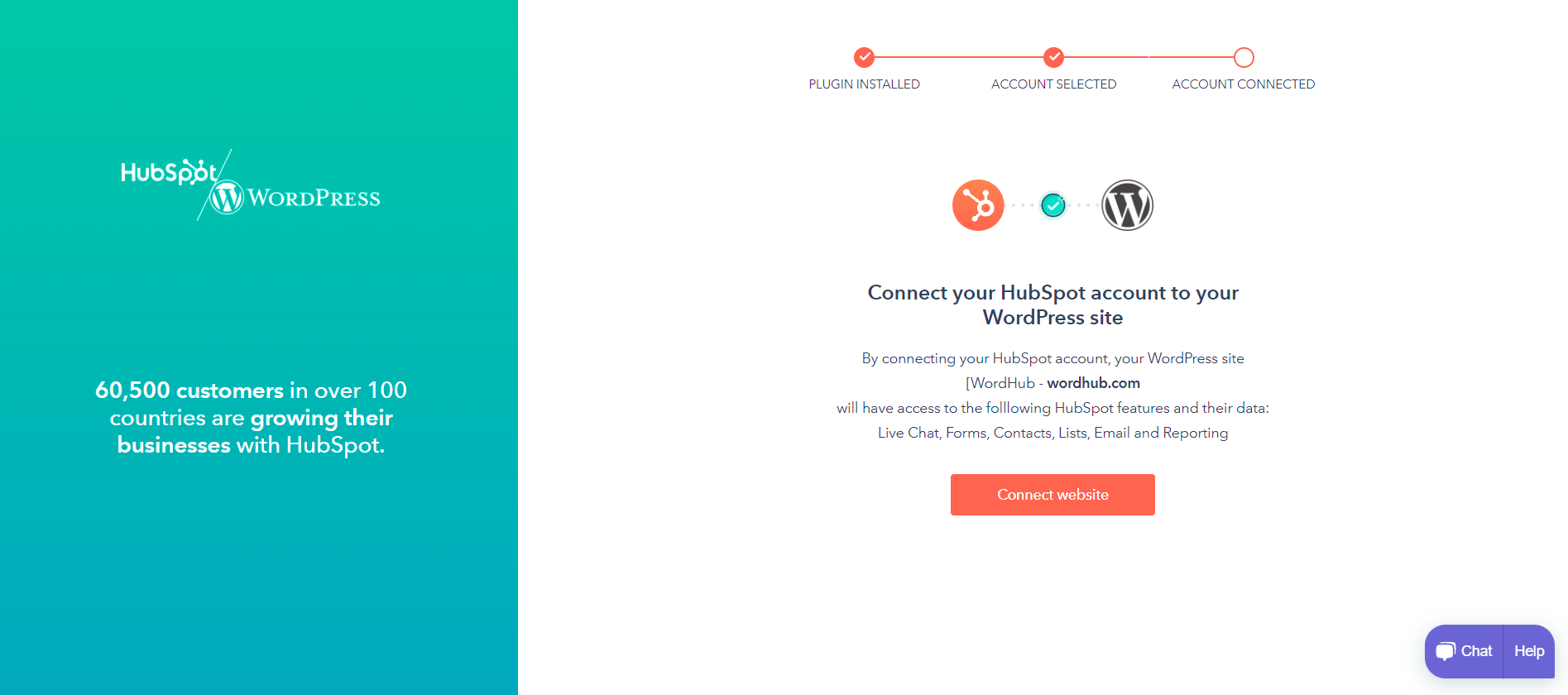 And congratulations - your HubSpot-WordPress integration is complete! Next up is to configure HubSpot's functions to suit your preferences. For example, you can configure these features in the free version of HubSpot:
HubSpot forms and landing pages for lead generation (free templates are included!)
Email marketing for setting up email automations to follow up with new subscribers
List segmentation for tailoring the content sent to your audience
Live chat and basic conversational bots for convenient, real-time communication with website visitors
Reporting dashboards for tracking and measuring the success of your sales and marketing efforts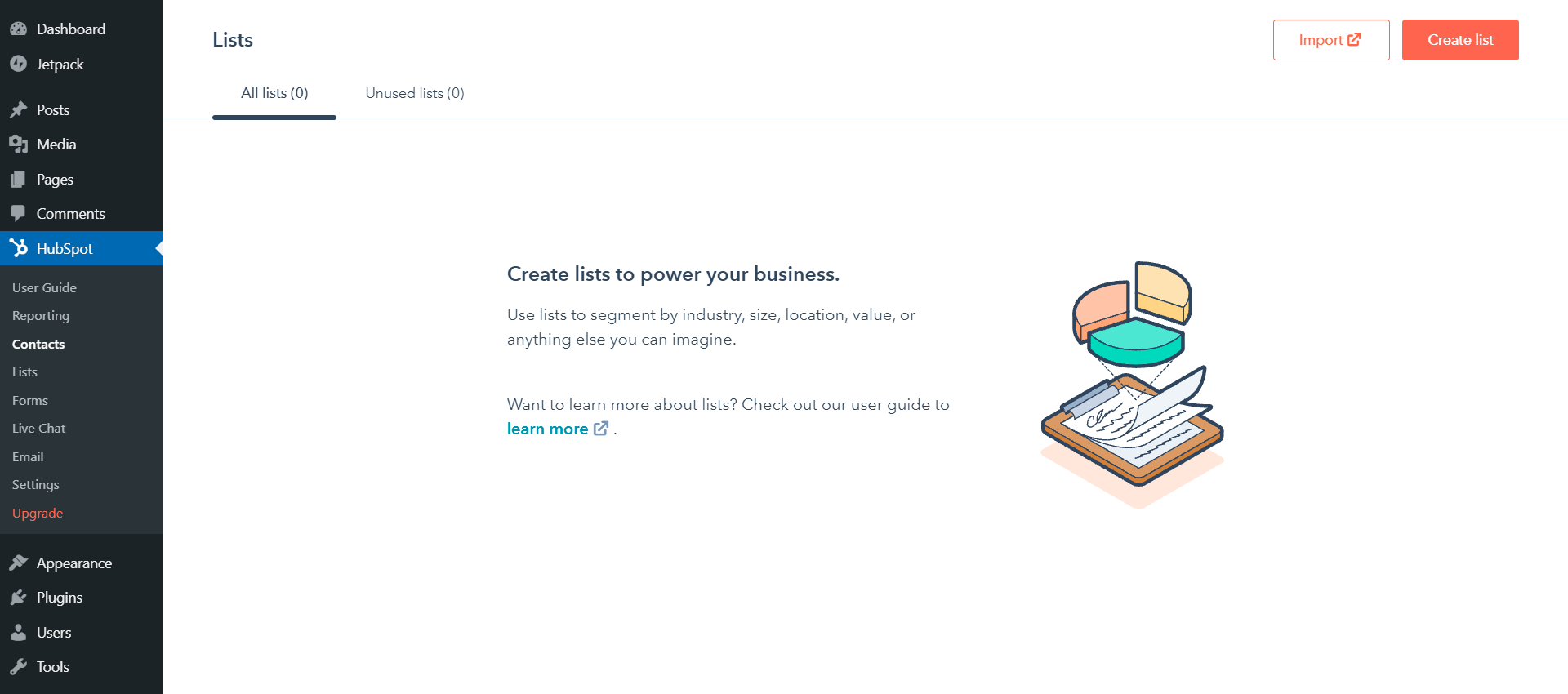 Tools to keep your WordPress site running smoothly
If you are integrating your WordPress website with HubSpot, we take our hat off to you. It's a sign that you're committed to scaling your business and we'd love to give you a leg up on that. Here are some tools that you can use to keep your website in tip-top shape, so it can help you hit your business goals:
A strong and reliable web host
Now that you're growing your business with HubSpot, you'll likely experience more website traffic. Your website will need to be able to comfortably support such increased activity - you don't want it to crash or slow to a crawl!
That's where the importance of hosting your website on a premium, scalable web host is key, and you won't find any better web host than Krystal. Our servers are built with enterprise-grade hardware and 100% solid-state drives to deliver sheer performance even under extreme load, and we deploy LiteSpeed caching for lightning-fast content delivery. From experience, our WordPress hosting provides up to 200% faster page loading times than leading competitors.
Not only that, we offer free SSL encryption and 24/7 distributed denial-of-service (DDoS) protection to keep your website safe from potential hackers. Other exceptional features of our Krystal managed WordPress hosting plans include:
99.99% uptime guarantee.
Automated website backups for peace of mind.
Award-winning in-house support (have your live chat tickets resolved in less than 30 minutes on average!).
Free migrations of WordPress websites to our servers.
Security plugins
While most web hosts will offer at least basic security features, you can install WordPress plugins that further boost your website's security. Such plugins may be able to provide:
Advanced firewalls
Malware scanning
Login page protection, including the prevention of brute-force attacks
When it comes to security plugins for WordPress websites, Wordfence, MalCare and Sucuri are especially popular options.
Backup plugins
Web hosts will typically help back up your website according to a preset schedule. However, you may still want to use a backup plugin to take ad hoc backups of your website just before you make major changes to it.
Any good backup plugin will let you back up your entire website, and save the backup either locally on your computer or in a cloud location such as Google Drive. Restoring the backup should also be a simple process, such as through a drag-and-drop interface or a one-click restore option. Check out top WordPress backup plugins such as BlogVault, UpdraftPlus and BackupBuddy if you are looking for a suitable backup tool for your website.
Scale your business with HubSpot's WordPress integration - and the right web host
HubSpot is a great inbound marketing platform, and you can make it an even more useful business tool by integrating it with your WordPress website. This is a simple process, so you'll have HubSpot connected with WordPress in no time. After that, use the right security and backup tools to keep your website running smoothly and securely.
And definitely don't overlook your choice of web host! When growing your website with HubSpot, having a reliable and fast web host is undoubtedly important. Our managed WordPress hosting plans are designed to be powerful and fully scalable, providing website owners with superior speed and performance no matter their industry or website traffic volume. These plans support WordPress integrations, such as HubSpot's, too! Sign up for a 30-day free trial to experience the Krystal difference for yourself.
About the author
Darren H
I'm Darren and I'm the Copywriter at Krystal. Words are what I do. Aside from writing, I play guitar and sing in a band, work on getting my 2nd Dan in Taekwondo and seek adventure with my wife and daughter.