Want to run a successful WooCommerce ecommerce store? Well, it takes more than just filling your store with stuff that people want. You'll also need to:
Raise awareness of your store so more people will visit it,
Curate a personalised customer experience that gets shoppers spending with you (and ideally, spending more with you!), and
Constantly improve your store's landing pages and performance to keep store traffic, order volumes and customer satisfaction high.
While the WooCommerce plugin for WordPress is designed for easy ecommerce, it doesn't hurt to get more help checking off the above boxes. And the HubSpot customer relationship management (CRM) platform is the perfect solution, with its suite of powerful marketing and sales tools.
The good news? Integrating HubSpot with WooCommerce is simple, and won't cost you a cent. In this article, we'll explore the benefits of integrating HubSpot with your WooCommerce store and how you can get started.
Why integrate your WooCommerce store with HubSpot?
What is HubSpot, anyway?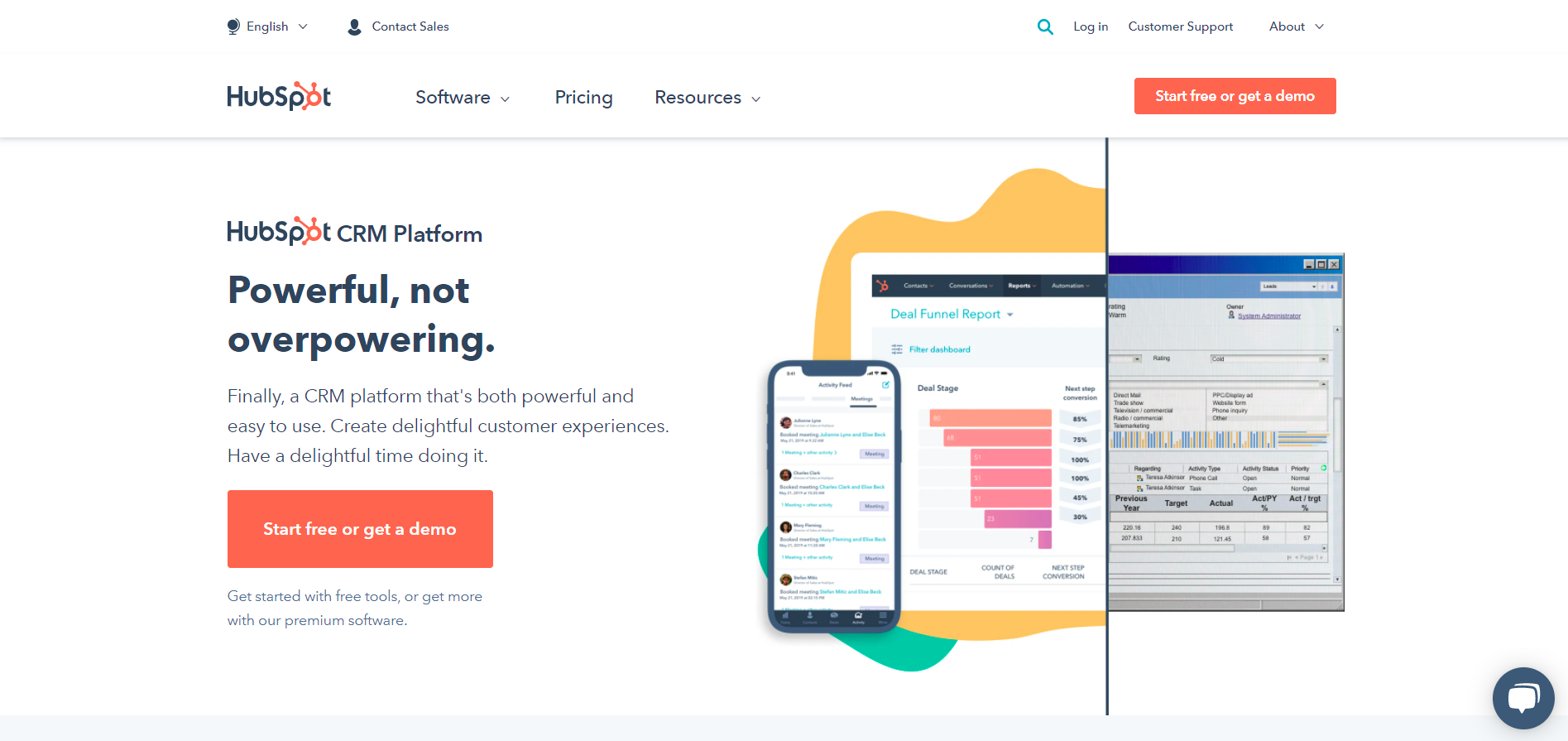 HubSpot is an all-in-one marketing, sales, content management and customer service CRM platform. If you're an ecommerce owner, you might be especially interested in HubSpot features such as:
CRM: For storing a handy database of all your store visitors and customers, and managing your relationships with each of them.
Email marketing: For sending marketing emails on autopilot and at scale—such as to welcome new subscribers to your store newsletter, or broadcasting your latest deals and promotions to all your WooCommerce customers.
Analytics: For tracking customer journeys and your store performance, such as sales volumes and average order values.
What are the benefits of integrating your WooCommerce store with HubSpot?
While HubSpot is a great platform on its own, it works even better when integrated with your WooCommerce store. That's because you'll be able to:
1. Generate comprehensive customer profiles
When you sync your WooCommerce Contacts data over to HubSpot, the CRM will create detailed profiles of each contact. Apart from displaying basic information on a contact's name and email address, HubSpot will also keep track of their number of WooCommerce orders, total order value, transaction history and more.
All this helps you gain a better understanding of your customers, so you can…
2. Boost sales
Leverage your WooCommerce store visitors' historical interactions with you to nurture them into new customers (or even repeat customers!) of your online business. You'll do this by first segmenting your visitors into various lists, such as "Leads", "Customers" and "Abandoned Cart".
After that, make use of HubSpot's automated workflows to send targeted marketing emails that nudge visitors into taking certain actions. For instance, you can have a follow-up campaign to encourage visitors who had abandoned their cart to complete the checkout process.
3. Create effective social media campaigns
You could switch between different social media apps to post and manage your various social media campaigns—or you can oversee all your social media efforts from a single platform. HubSpot makes it easy to post content (including paid ads) to multiple social media platforms at once, and monitor the performance of your content afterwards.
In addition, as HubSpot's social media features plug directly into its CRM, you'll be able to identify exactly which social post led to which store visit and conversion for you. Use this data to optimise your campaigns for even more traffic and orders!
4. Track the performance of your WooCommerce store
With HubSpot's ecommerce analytics features, you can get a bird's eye view of how your store is doing. How much revenue has your online store made this week? What about last month, or your running total for the year? Is your website traffic up or down, compared to the previous quarter? You don't have to guess—fire up HubSpot and you'll get all the answers.
Then, with your knowledge of what's working and what isn't, you can refine your store setup, marketing emails and social campaigns to maintain healthy sales figures and profits.
Is HubSpot free to use?
HubSpot offers a set of free CRM tools, which include:
Contact management
Email marketing
Landing pages
Ad management
Live chat
Data sync
Use them to test HubSpot's features and decide if they're a good fit for your WooCommerce store. If they are, and they work perfectly for your needs, then great! The free plan will likely do for now.
On the other hand, if you need more powerful features, then HubSpot's paid plans might be up your alley. They include premium features such as white-labelling and A/B campaign testing.
That said, HubSpot's pricing structures can get rather complicated. So we suggest sticking with HubSpot's free tools first, and checking out its paid offerings only when you're ready to upgrade.
How to integrate your WooCommerce store with HubSpot
1. Install the HubSpot WooCommerce integration plugin
From your WordPress backend, go to the Plugins page. Search for the HubSpot for WooCommerce plugin by MakeWebBetter.
(If you're having trouble finding it, look for the WordPress plugin called "MWB HubSpot for WooCommerce – CRM, Abandoned Cart, Email Marketing, Marketing Automation & Analytics".)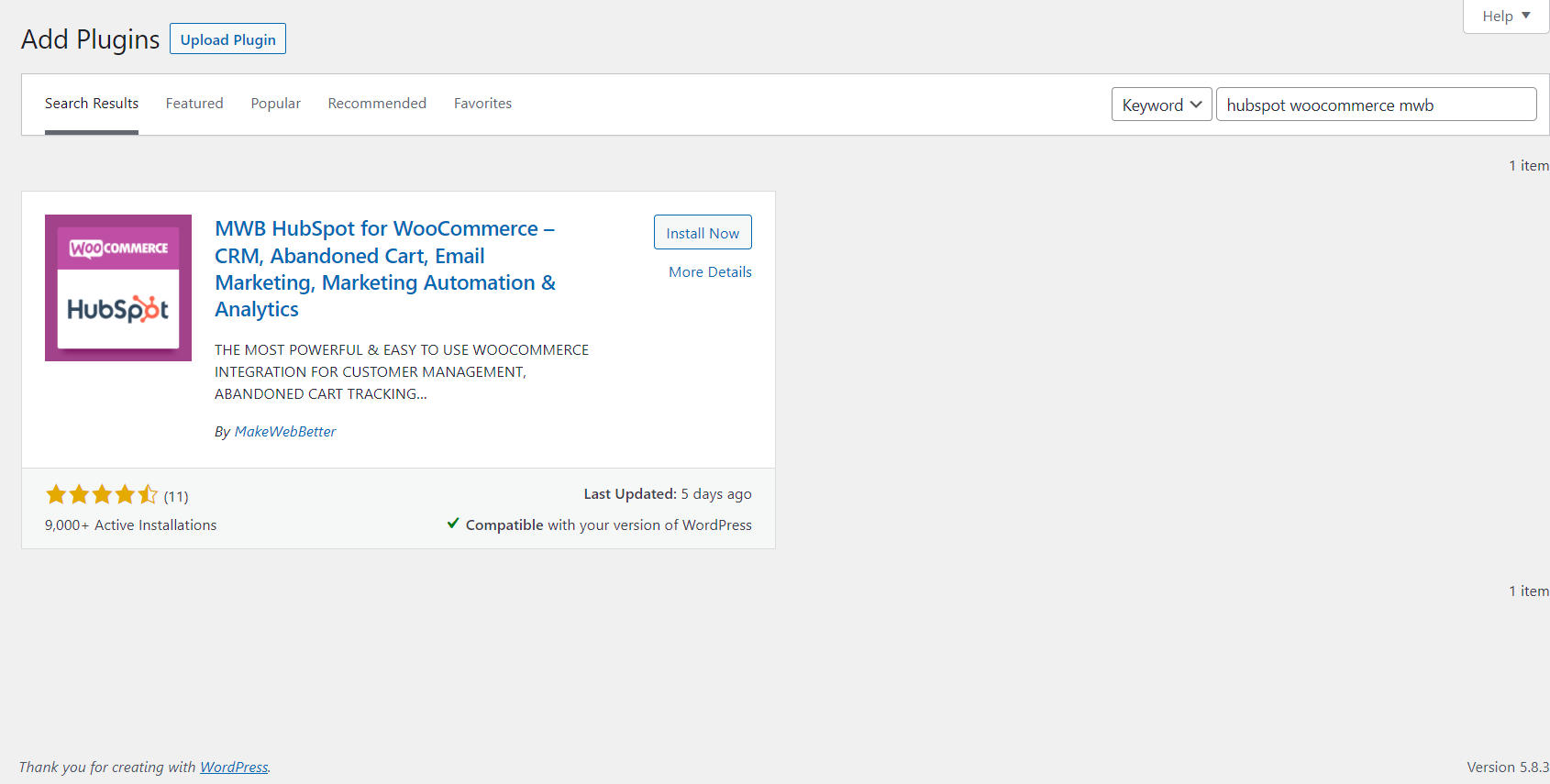 Install and activate the plugin.
2. Connect your HubSpot account
After activating the HubSpot WooCommerce integration plugin, you'll see this screen asking you to connect your HubSpot account: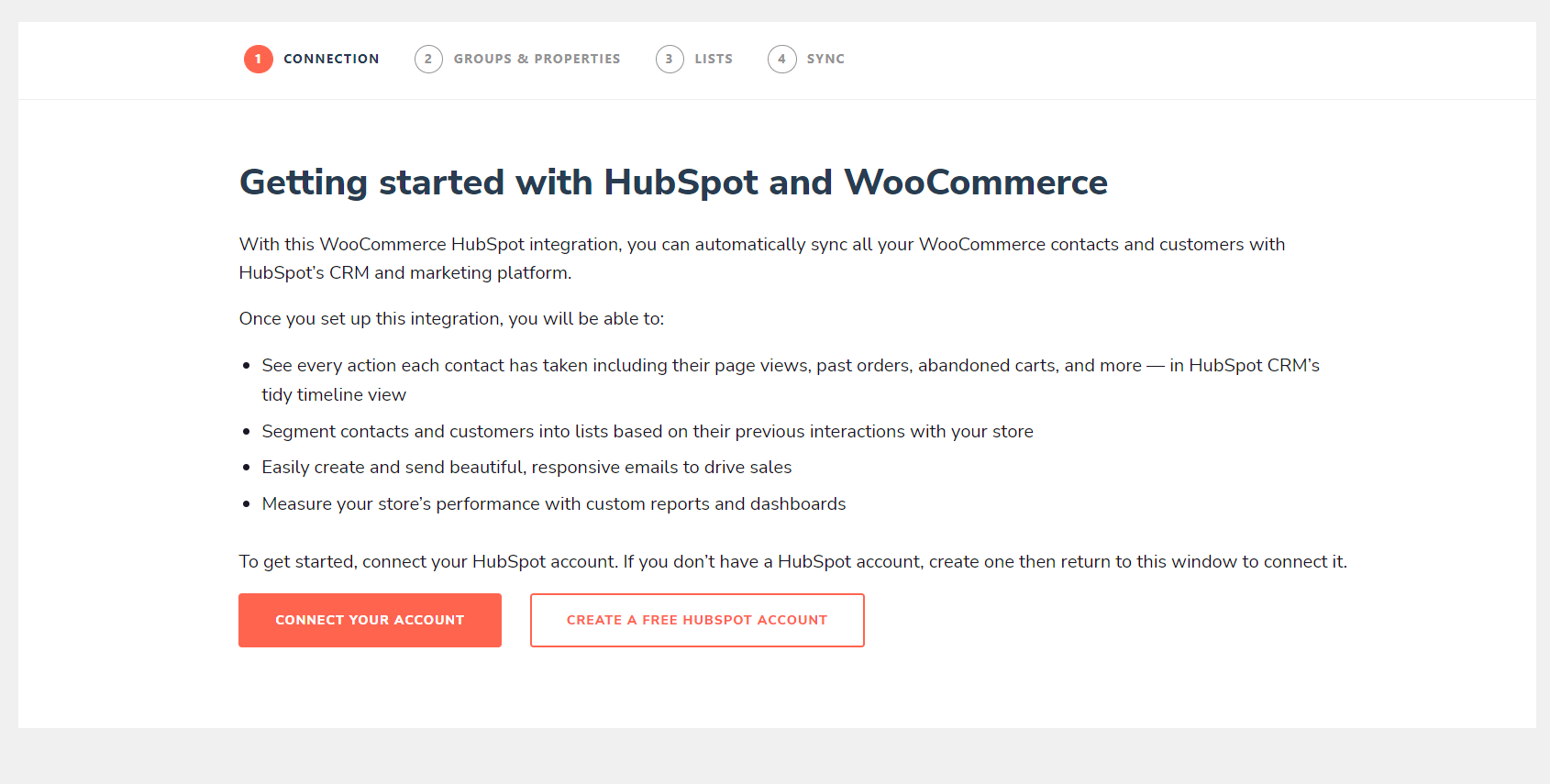 If you don't already have a HubSpot account, click "Create a Free HubSpot Account" to register for a HubSpot account before proceeding with the rest of the steps.
Otherwise, click "Connect Your Account" to sign in to your HubSpot account, and connect it to your WooCommerce store.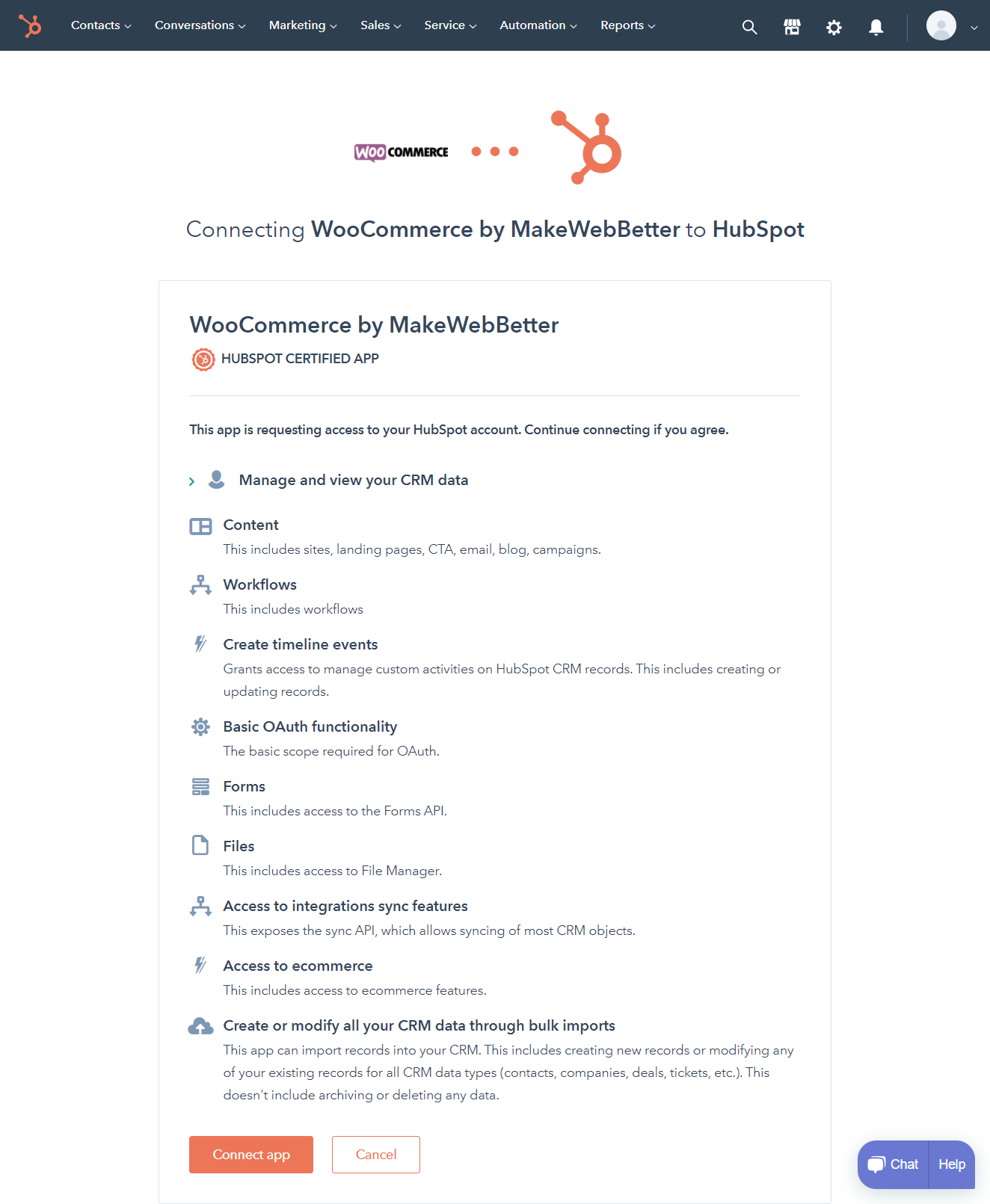 Click "Connect app" to confirm the integration.
3. Set up your HubSpot groups and properties
The next step is to set up groups and properties in your HubSpot account.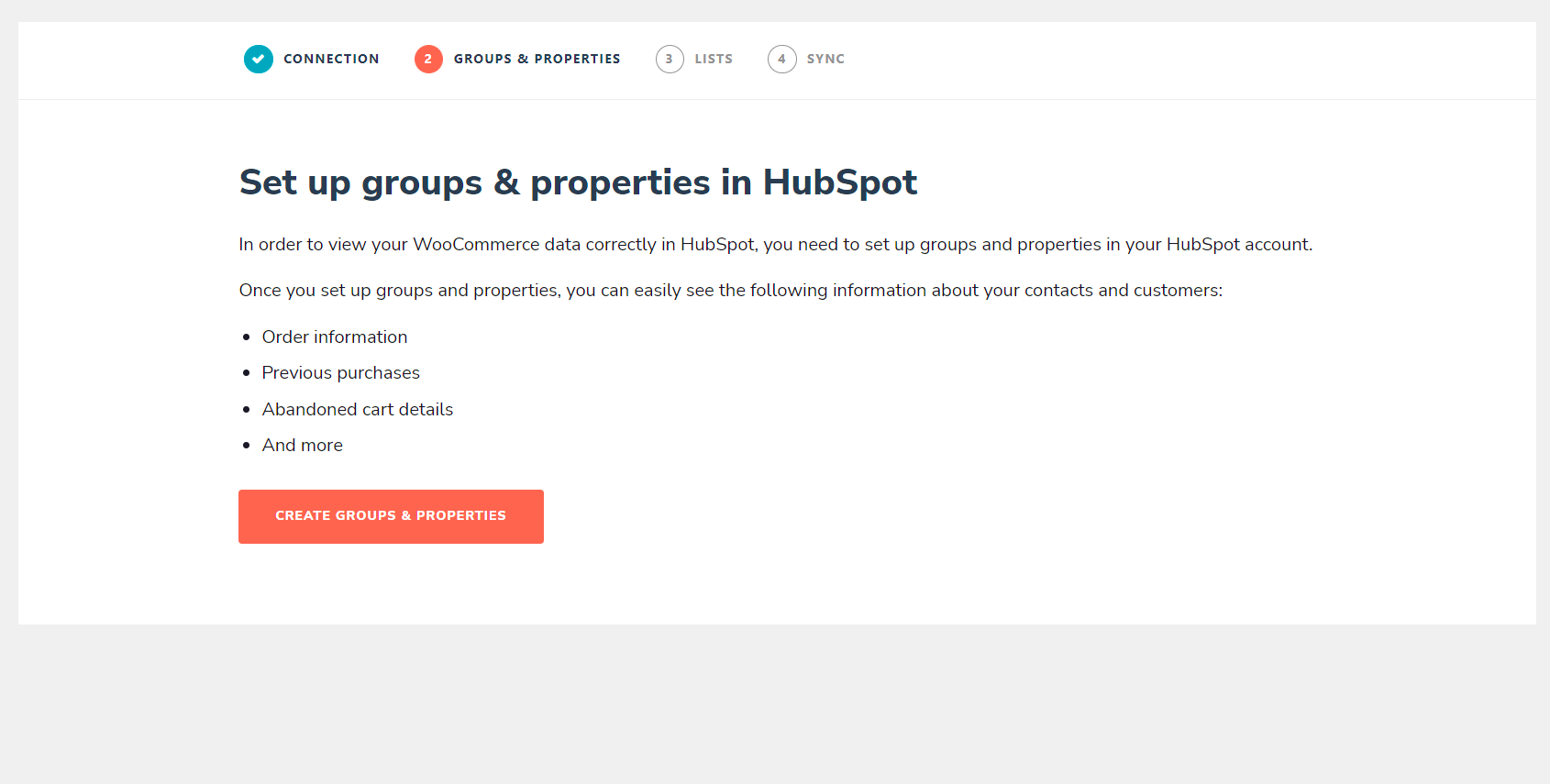 In HubSpot's terminology, you'll use "properties" to store data on HubSpot contacts (such as your customers), while these contact properties will be categorised into different groups. When you click the "Create Groups & Properties" button, HubSpot will automatically create the necessary groups and properties for you.
For example, it will create a "Categories Bought" group containing these two properties:
Last Categories Bought
Categories Bought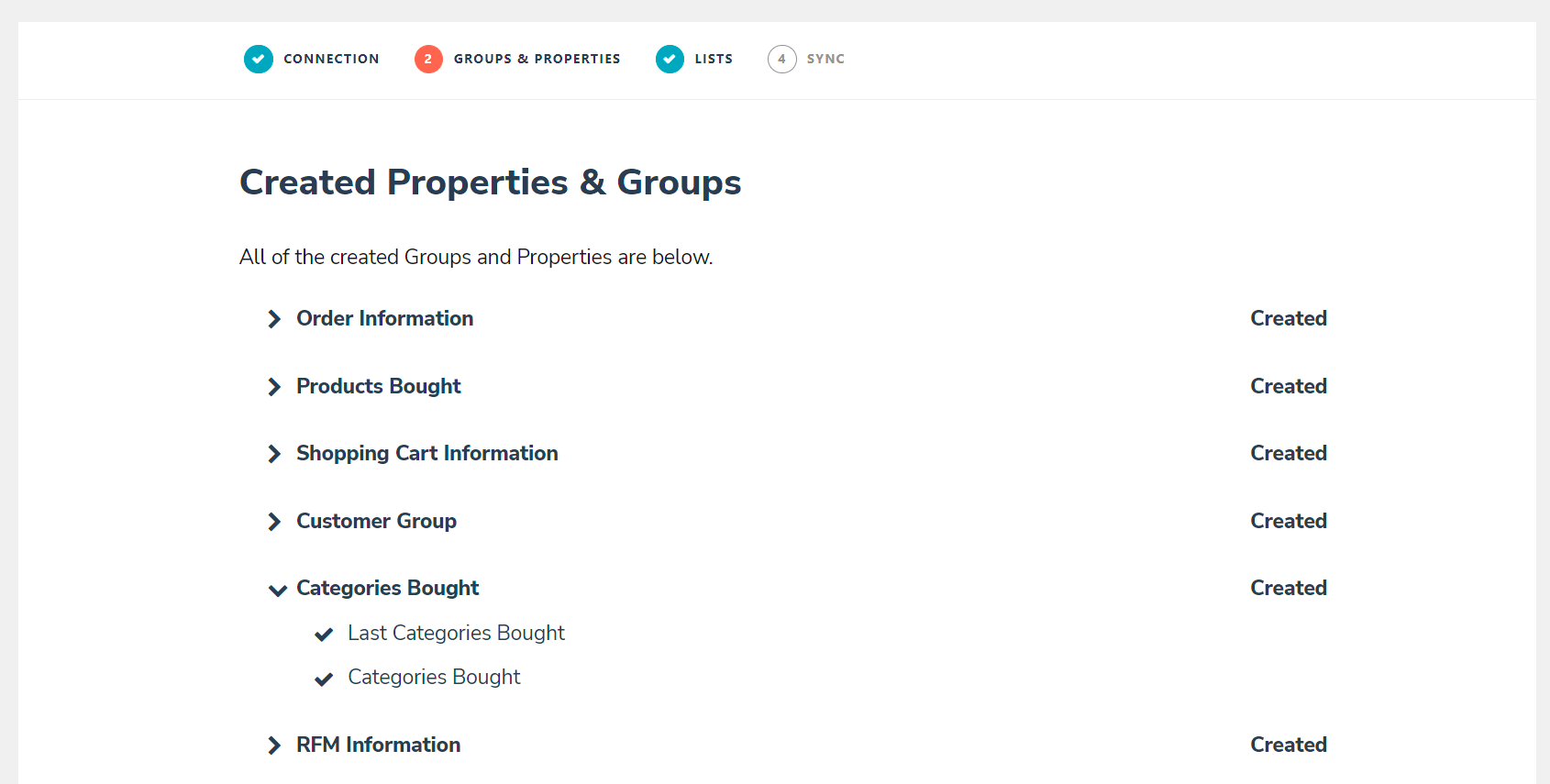 4. Create your HubSpot lists
Next, you'll be asked to create lists in HubSpot.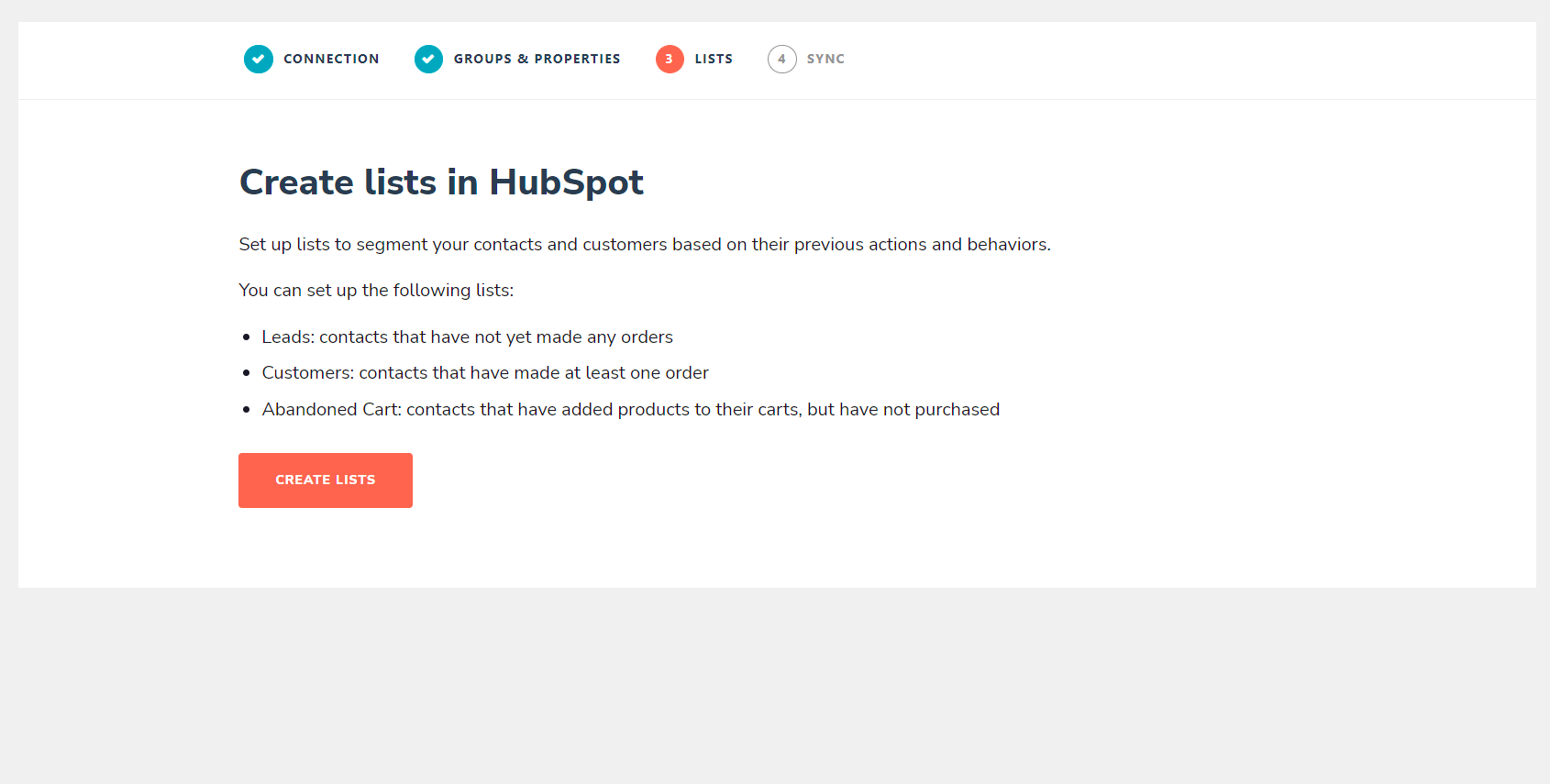 These lists help you segment your HubSpot contacts and customers. For instance, if a contact hasn't placed any orders, they'll fall into your "Leads" list. On the other hand, contacts who have added items to their shopping cart without placing their order by a certain time will be segmented into your "Abandoned Cart" list.
HubSpot creates these three lists by default:
Customers
Leads
Abandoned Cart
You can also create optional lists, such as Best Customers or Repeat Buyers, as you see fit.
5. Sync WooCommerce data with HubSpot
One last step to go! Finally, sync your WooCommerce data with HubSpot to add all your existing WooCommerce Contacts, Deals and Products data to your newly set up HubSpot CRM.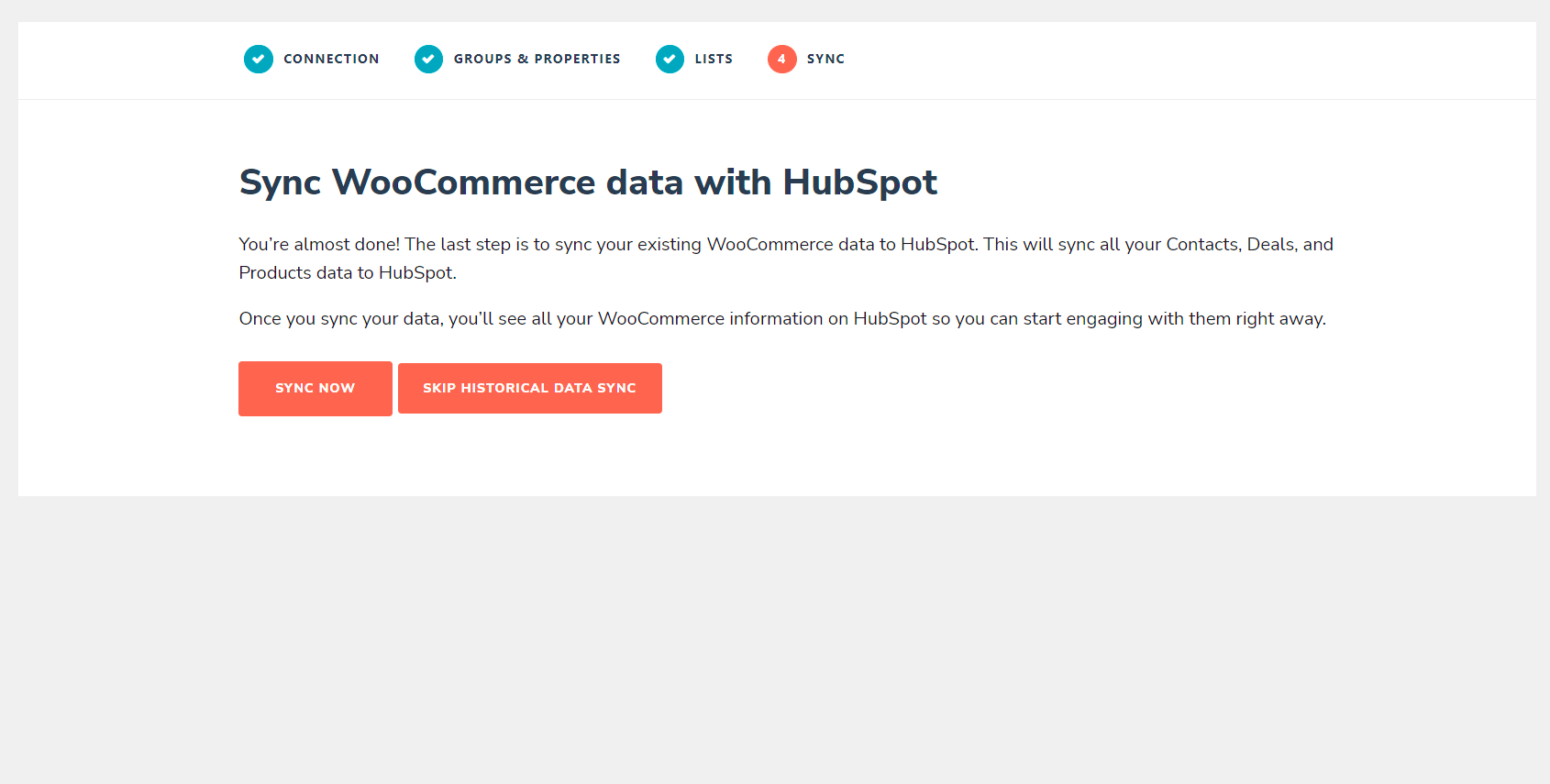 Click "Sync Now" to start the sync. But if you want to start using HubSpot from a clean slate, then click "Skip Historical Data Sync" to not sync your current WooCommerce data over.
After completing (or skipping) the sync, you'll have the option to sign up for HubSpot's mailing list. This step is completely optional.
But whatever you choose, click the new "HubSpot" setting under the WooCommerce tab of your WordPress sidebar afterwards to check out your sweet new HubSpot dashboard, within the WooCommerce backend.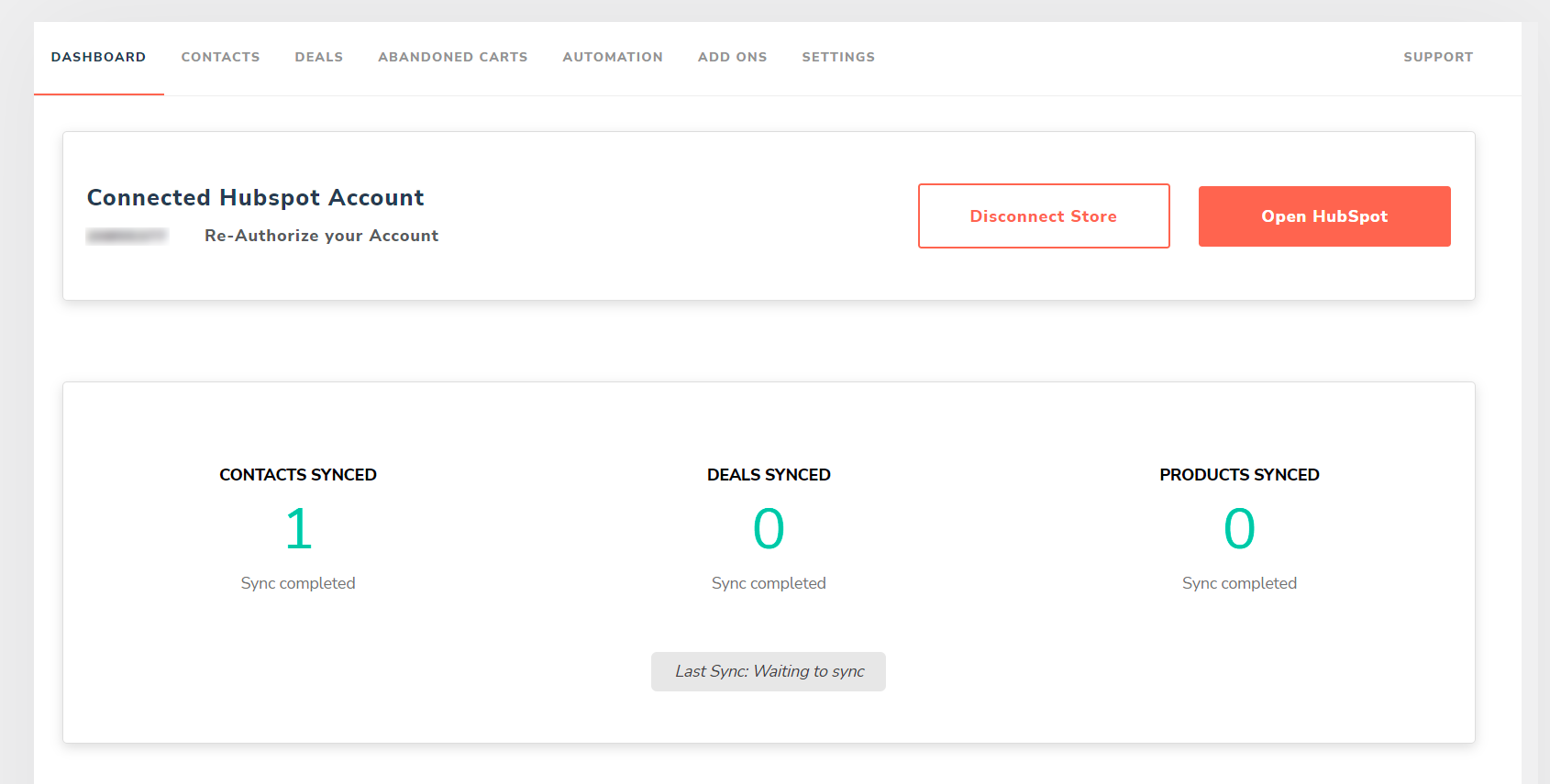 WooCommerce and HubSpot Integration: perfect partners in ecommerce
The HubSpot for WooCommerce integration plugin makes the real-time syncing of your WooCommerce data to HubSpot effortless, so you can use HubSpot's sophisticated marketing, CRM and sales features to gain more traffic and sales for your WooCommerce store. And if they aren't enough, you can further extend the functionality of the HubSpot-WooCommerce integration with the help of other add-ons.
For example, MakeWebBetter (the makers of the HubSpot for WooCommerce plugin) offers a HubSpot Dynamic Coupon Code Generation add-on for generating personalised, dynamic coupon codes for customers based on their RFM (Recency, Frequency, Monetary Value) ratings. It's powerful stuff.
Also, as your WooCommerce store grows in scale and complexity, you may find yourself outgrowing your current hosting provider. They might not be able to keep up with your website performance needs - but we can!
Our Krystal Onyx managed WordPress hosting plans offer best-in-class hosting for WordPress websites and stores of all sizes. When you host with us, you'll enjoy benefits such as:
100% SSD storage and LiteSpeed caching for blazing-fast page load speeds.
A 99.99% uptime guarantee (you don't want to lose sales to downtime!)
Free SSL encryption and distributed denial-of-service (DDoS) protection to keep your store safe from hackers.
Support from an award-winning support team, for the times where you need a helping hand.
You don't have to pay right away, either - try out our hosting for 30 days for free before deciding whether to switch. We'll even migrate your WooCommerce store to our servers for free, so you don't have to get bogged down by all that technical work. Sounds good? Then pick your Onyx managed WordPress hosting plan, and let's get started.
Share this article
About the author
Darren H
I'm Darren and I'm the Senior Copywriter at Krystal. Words are what I do. Aside from writing, I play guitar and sing in my band Machineries Of Joy, work on getting my 2nd Dan in Taekwondo and seek adventure with my wife and daughter.
Join our newsletter
No spam. Just the latest news, events, product updates, promotions and more delivered to your inbox.