BigCommerce market share: 2021 statistics and usage
By Darren H in WordPress
28th December 2021 • 8 minute read
If you're considering building an eCommerce website, it can be tricky to decipher which of the many platforms is the best contender for your business.
Of course, there are plenty of industry heavy-hitters - BigCommerce, Shopify and WooCommerce (just to name a few!) - all of which promise to be the best solution for your needs. But with the ever-expanding eCommerce sector, how can you be sure you're making the right choice?
This is where exploring what these platforms have to offer and what the market has to say about them is imperative. In this article, we're taking a gander at BigCommerce's market share and comparing it to its main competitors, including Shopify and WooCommerce. Hopefully, by the end of this article, you'll be able to make a more informed decision about which, if any, are best positioned to help you pilot your business. We'll also provide a few tips on how to smoothly run your website once you've made your decision.
So without further delay, let's jump right in!
The Story of BigCommerce
Founded in 2009, BigCommerce is an eCommerce platform targeting small to enterprise-sized businesses looking to achieve fast-growth and streamlined online store management.
BigCommerce helps eCommerce entrepreneurs every step of the way. From web hosting, online store creation and search engine optimisation to marketing and website security, BigCommerce genuinely provides everything you need to launch and manage a thriving online business.
At the time of writing, over 60,000 merchants and 28,000 agencies use their network in over 150 countries. It's incredible to think BigCommerce started life as an idea in an online chat room! When Australian founders Eddie Machaalani and Mitchell Harpe initially met online, they recognised a gap in the market for business owners wanting to start and run their own website but were struggling to find providers who didn't take a cut of their ownership rights or sales.
The company then connected with General Catalyst Partners and raised $15 million, and has since expanded from Austin, Texas, across the east coast to San Francisco. When the company first took off, it only had around 30 staff members. Their workforce has now grown to over 1,000 full-time employees.
In 2015, Brent Bellm, the former HomeAway COO, took over as CEO. The company went on to partner with Amazon before launching its eCommerce platform in 2019. From there, it continued to increase its momentum.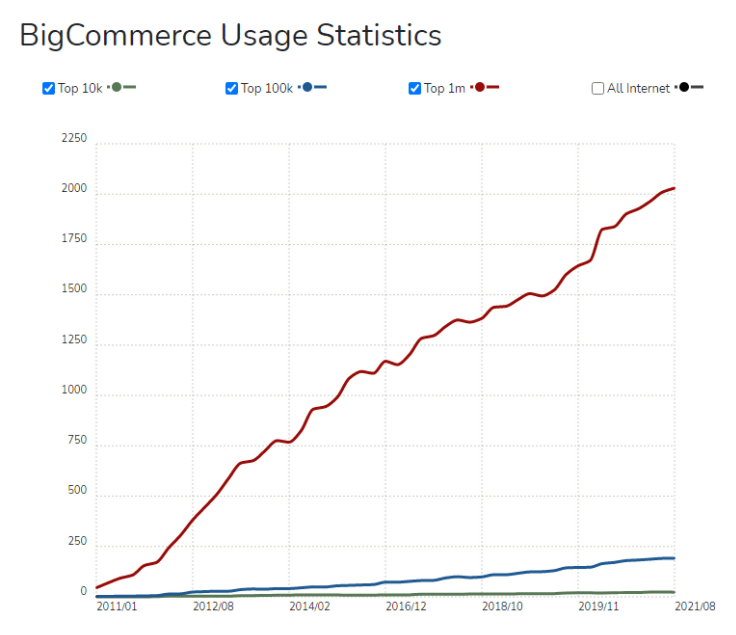 BigCommerce's popularity has skyrocketed over the past ten years. As a result, its quarterly revenue for 2020 was a total of $36.3 million. Brent Bellm, CEO of BigCommerce, contributes this success to the fact that the company:
"deliver(s) speed, flexibility, and innovation" to put retailers in the_ "best positions… for the new era of e-commerce."
BigCommerce certainly has a lot to offer, but it isn't the only player on the market…
BigCommerce Market Share vs. Other Players
BigCommerce's two biggest competitors are Shopify and WooCommerce. Below we'll take a closer look at both:
Shopify
Like BigCommerce, Shopify enjoyed similar meteoric growth in the eCommerce space.
In 2006, the Canadian company also looked to address the lack of eCommerce solutions on the market. In response to this need, the founder, Tobias Lütke, developed web application software which was then acquired by various companies that added the platform's payment and eCommerce functionalities.
Shopify's user-friendly interface and wealth of native integrations remain a real selling point for entrepreneurs looking to create and launch their own online shops.
The number of Shopify users ballooned to over three million in the space of 13 years. In addition, its partnership with Snapchat, Amazon, and support for popular payment methods like PayPal and Alipay offered users a tempting array of resources that, at the time, couldn't be found elsewhere.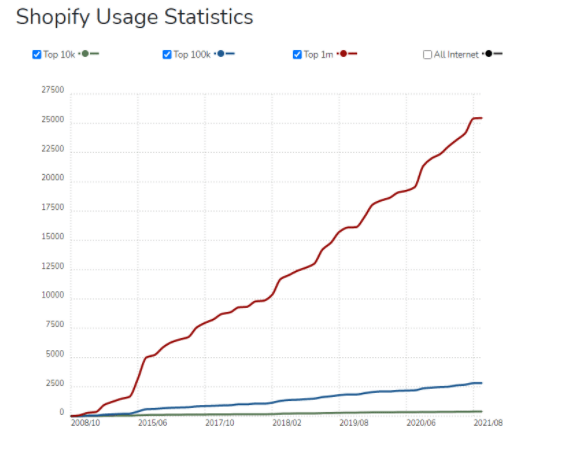 WooCommerce
WooCommerce, on the other hand, had a slightly different start in the world. It began as a humble WordPress theme plugin before deciding to focus exclusively on eCommerce. It quickly snowballed in popularity and now boasts an estimated revenue of over $30 million.
WooCommerce is built on WordPress. As such, a part of WooCommerce's success might be attributed to WordPress being one of the most popular CMS platforms globally. In fact, just under 40% of websites use the giant to run their site.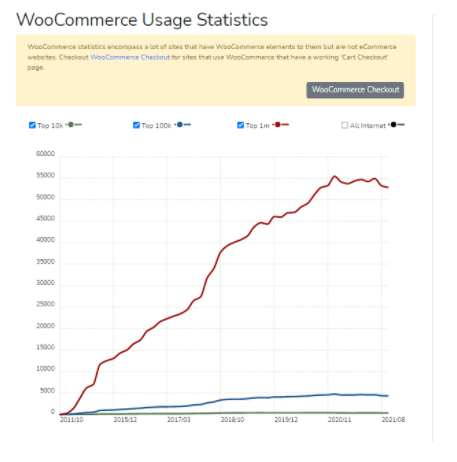 In January 2020, it was estimated that WooCommerce was used by around 3.9 million websites.
The Current Market Shares of All 3 Platforms
With all this said, what does this tell us about how these companies perform on the market? Let's take a deep dive into the market shares of these companies…
While it's challenging to uncover the exact market values for each company (as they don't disclose this information publicly), here are the statistics for 2021 according to Statistica, and a comparative representation of this data: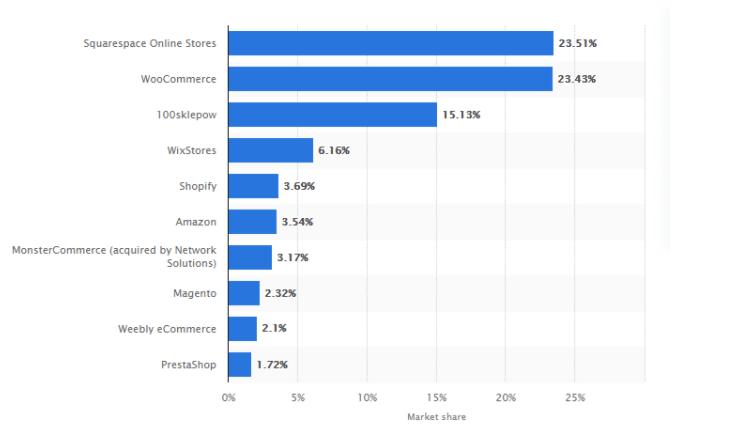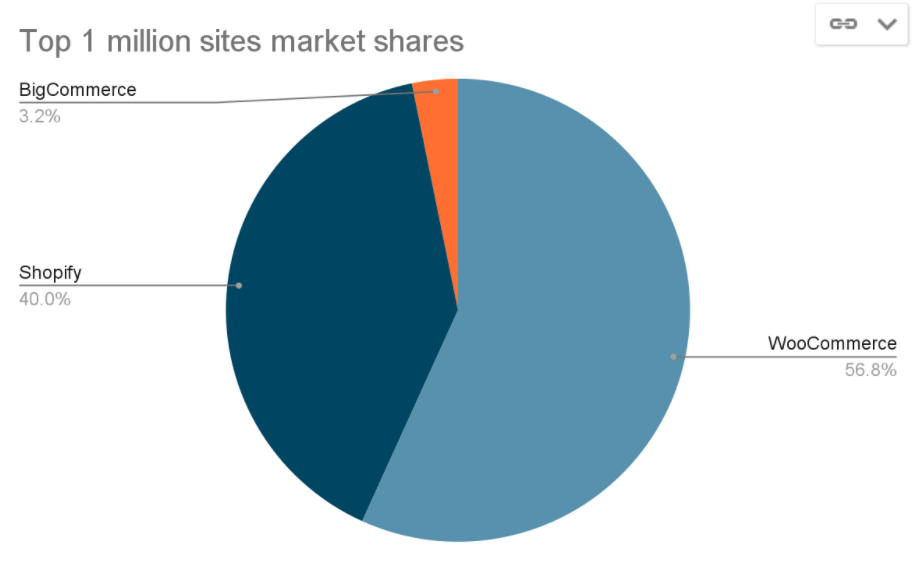 WooCommerce Market Share
If we look at this diagram in terms of shares, it appears WooCommerce really takes the biggest slice of the cake. However, it's important to note that this figure is solely for the use of WooCommerce's checkout feature. Regardless, it still dominates the industry, taking a whopping 3.75% of the total market.
Pricing
Another reason behind WooCommerce's popularity may lie in its price. The WooCommerce plugin is free.
Advantages
Along with its competitive pricing, WooCommerce is much easier to adapt to suit different use cases and niches. Here are just a few of the many industries WooCommerce can be used for:
Fashion
Groceries
Food
Medicine
Music
Photography
WooCommerce's vast array of themes and checkout functionality make it a highly versatile eCommerce platform. Not to mention, its third-party integrations, open-source nature, and extensive suite of features provide near-on unparalleled customisability.
Other key WooCommerce features worth noting include:
Built-in blogging
You can embed products, checkouts, and more on any page
Organising content and products is made easy with categories, tags, and attributes
You get access to product ratings and reviews functionality
Krystal's managed WordPress hosting is tailor made to get the very most out of WooCommerce functionality, providing a fast, reliable and fully WordPress-optimised solution that makes online selling easy and secure. If you're choosing WordPress and WooCommerce for your online store, this would be a smart choice.
Shopify Market Share
Taking 2.63% of the total market share, Shopify takes a close second to WooCommerce. However, Shopify has long established itself as an industry heavyweight - so it's no wonder it gained an 8.6% market share in 2020 regarding US eCommerce sales.
Advantages
We might guess that the above figures have something to do with the superior payment options offered by Shopify. As previously mentioned, Shopify works with several established payment partners, including Amazon Pay, Paypal, World Pay and many more.
Other notable features include:
It's easy to create a fully customisable website, online store and blog.
You benefit from unlimited bandwidth, product inventory and customer data.
It's easy to set up automated fulfilment processes with third-party shipping apps.
Access to first-rate 24/7 customer support.
This, coupled with its easy-to-use 'drag and drop' website builder and scalable pricing plans, makes Shopify an excellent choice for small and large enterprises alike.
Categories
Below are a few examples of the kinds of businesses that use Shopify:
Fashion (apparel, jewellery, bags, makeup, shoes, women's clothing)
Fitness
Groceries and food
Home decor
…to name just a few!
Pricing
As for its pricing, Shopify plans start from $29 a month, then scale up to accommodate fast-growing businesses selling online or in-store at $79 a month. It costs $299 a month for larger companies requiring advanced reporting.
BigCommerce Market Share
Last but not least, we have BigCommerce, taking 0.21% of the total market share. While this might seem comparatively small in light of our other two competitors, BigCommerce has thrived relative to other mid-market segments with its 51% year-over-year growth. This alone indicates that BigCommerce can compete with the heavy hitters and, as such, shouldn't be ignored.
Pricing
Packages start at $29.95 a month. This next tier up costs $79.95 a month and unlocks extra marketing tools. Finally, there's a package at $299.95 a month which is suitable for larger, scalable business models.
Advantages
Where Shopify and WooCommerce offer an impressive array of third-party integrations, BigCommerce buckles down on its out-of-the-box suite of features and all-inclusive hosting.
Some of BigCommerce's stand-out features include:
Website customisation and optimisation
SEO and analytics features
Payment and inventory management tools
BigCommerce also promises 99.9% uptime, which goes a long way to assuring entrepreneurs that if their website goes down, it will be back up and running quick!
Categories
BigCommerce services the needs of many industries, including:
Fashion (apparel, jewellery, bags)
Furniture
Bed and bathroom
Medicine
Groceries and food
Again, these are a few of many examples…
A quick note about stats
The information above is based on the latest data recorded by builtwith.com. You can check their most recent stats and get the latest usage statistics of all of the top eCommerce platforms.
It might also be helpful to use Google Trends to compare these companies based on search interest over time and the interest in regional localities vs. worldwide.
Take this example: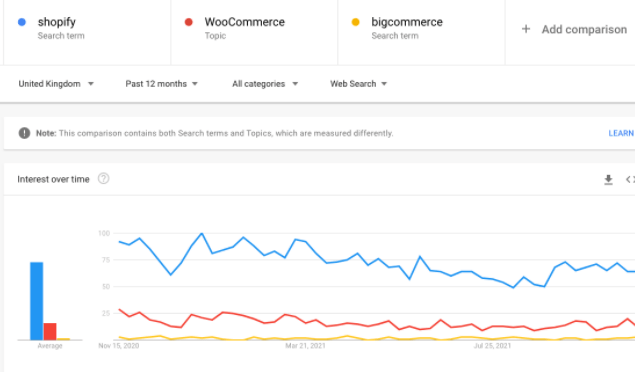 It demonstrates search interest relative to the highest point on the chart for the given region and time - in this case, the UK in the past 12 months.
A value of 100 represents peak popularity, and 50 means the term is half as popular. As such, here, we can see Shopify is the most talked about topic of the three.
Needless to say, this is a valuable way of getting an idea of how public trends compare to the voice of the market.
Top Tips
With all that said, we wouldn't send you off without providing a few surefire tips on how to achieve eCommerce success, regardless of which platform you choose.
One of the most important things to keep in mind is fast and reliable website hosting. As your site grows, so will your traffic. If you don't have a reliable host, your website speed might suffer, which may turn customers away.
According to Small SEO Tools and Strangeloop, a one-second delay in page load time can cause conversion rates to drop by a perilous 7%. Imagine if your website usually makes £100,000 per day in sales; that would mean you could lose £2.5 million a year in lost conversions!
The moral of the story: Don't let slow website load speeds and downtime decrease your profits.
This is why using a dependable web hosting provider like Krystal is integral. Not only is Krystal 200% faster than competitors, but it also offers automatic backups, analytics and award-winning support. When things go wrong, you need a reliable and personable service to get you back up and running. We also cache sites by default so your customers won't be left hanging.
The BigCommerce Market Share: Our Final Thoughts
We hope this breakdown provided you with a better idea of the BigCommerce market share and its comparison with Shopify and WooCommerce.
At a cursory glance, WooCommerce seems to give the best overall services out of the three platforms. However, it's crucial to keep in mind that general use and popularity aren't always the best indicators for what will best suit your business. Rather, you also have to keep in mind the functionalities you'll require.
For example, if you're just starting out, WooCommerce might be best because it is free. Still, Shopify has more payment options, so this might be the superior choice if that's important to you and your customers. Whereas, if you're looking for an eCommerce solution boasting a holistic package of features, BigCommerce might be your friend.
Last but not least, don't forget that using a high-quality web host is imperative to the success of your eCommerce venture. Krystal is a fully scalable service that's able to grow alongside you as your business expands. Take a look at our real-time statistics, demonstrating the superior traffic performance you can expect from Krystal's service.
If you enjoyed this article, you should definitely take a look at our hosting for eCommerce websites, or see how our managed hosting solution can drive maximum speed and performance for your WooCommerce site. Start a live chat if you have any questions about the services we offer!
About the author
Darren H
I'm Darren and I'm the Senior Copywriter at Krystal. Words are what I do. Aside from writing, I play guitar and sing in my band Machineries Of Joy, work on getting my 2nd Dan in Taekwondo and seek adventure with my wife and daughter.