10 best WordPress migration plugins (+1 even better!)
By Darren H in WordPress
28th April 2022 • 10 minute read
Planning to change the domain name of your WordPress website, switch hosting providers or push some new website features from a local server to your live site? Then you might need to execute a website migration.
Migrating a WordPress website is a major exercise - it involves moving all your website files and URLs to a new location, and ideally with as little downtime as possible. It's definitely not something that you'd want to mess up, or you could stand to lose website traffic and revenue as you scramble to fix your migration.
Fortunately, there are many WordPress migration plugins out there that help make migrations a quick and painless process, even if you aren't technically minded. In this guide, we'll cover the 10 best WordPress migration plugins and how you can use them to migrate your WordPress website. And here's a pro tip: if you're intending to change hosting providers, then you might not need to use a plugin to migrate your website at all!
Interested? Then keep reading as we share more...
Do you need a WordPress migration plugin or a backup plugin? Or do you even need a plugin in the first place?
WordPress migration plugins come in two main flavours. In the first category, you have dedicated migration plugins, which have been built solely for assisting with website migrations. And in the second category, you have backup plugins, which help users back up their website and restore it elsewhere.
Both plugins can help achieve the ultimate objective of migrating a website. However, backup plugins may have more limited migration features - for example, you may not be able to migrate websites on a multisite network, or update your website URLs, using a backup plugin. After all, backup plugins are primarily designed for backup purposes and not migrations.
On the other hand, dedicated WordPress migration plugins will usually have more sophisticated migration features built in. Because of their additional migration features, however, dedicated migration plugins may require more technical knowledge to use. As a result, they may be the preferred choice only if you are experienced in web development and handle migrations regularly.
But if you aren't tech-savvy, a backup plugin may be good enough for your migration. You may also appreciate the extra features that backup plugins typically come with, such as backup scheduling. Apart from that, though, you may be interested to know that you can get a free migration if you switch to our Krystal web hosting plans.
Yes, you read that right. WordPress website owners enjoy free website migrations to our powerful Onyx Managed WordPress platform if they're coming to us from a different hosting company. We're excited to share our premium hosting experience with new clients, so we're happy to provide free and fuss-free migrations on the house. It's our treat.
10 best WordPress migration plugins (and their pros and cons)
No worries if you aren't looking at switching hosting providers at this time, though - there are many WordPress migration plugins you can tap on to migrate your website. We'll be sharing 10 of the best options in the market, and evaluating their pros and cons based on these criteria:
Ease of use
Speed of migration
Ability to customise migrations
Availability of additional features
Affordability
Here we go!
1. All-in-One WP Migration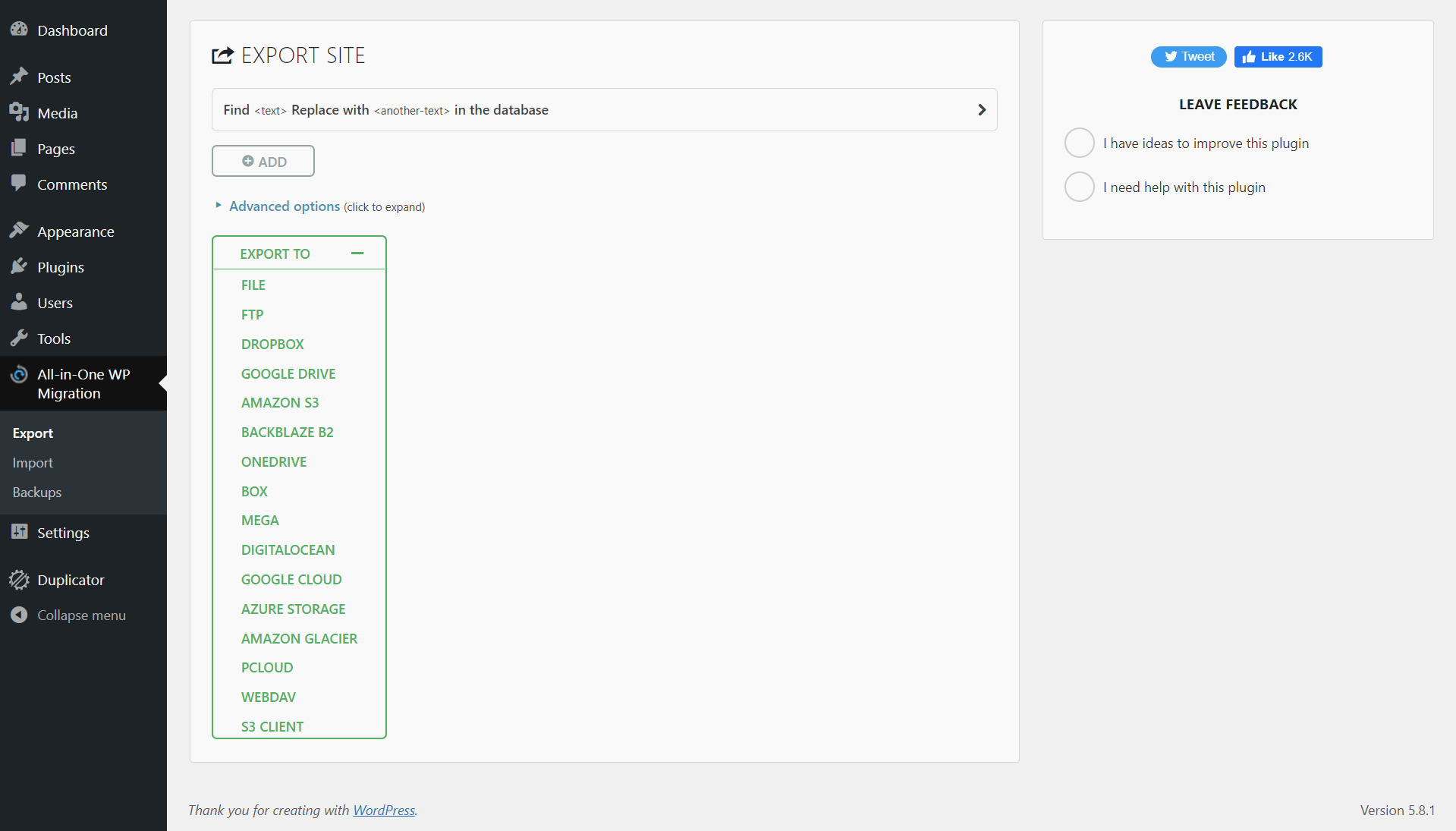 As its name suggests, All-in-One WP Migration is a dedicated migration plugin and it's highly favoured for its ease of use. Users can export their website with just a few clicks, then import it to a new server to complete the migration. With the plugin being launched in 2013 and being actively used by over 4 million websites, you know that you're in good hands when you opt for All-in-One WP Migration.
Key features
Drag-and-drop interface for file imports.
Save your website export in a variety of formats, ranging from WPRESS file, FTP, Dropbox and more.
Customise your file export (for example, you can choose not to export plugins or media files, among other options).
Pros of All-in-One WP Migration
Easy to use with its intuitive drag-and-drop interface.
Wide range of file export formats.
Extensive control over types of files to export.
Cons of All-in-One WP Migration
The free version of the plugin has an upload size limit of 512 MB, which might not be sufficient for migrating large websites
The plugin occasionally freezes in the middle of importing files
Our verdict: A simple, easy-to-use migration plugin that is a great option for beginners.
2. UpdraftPlus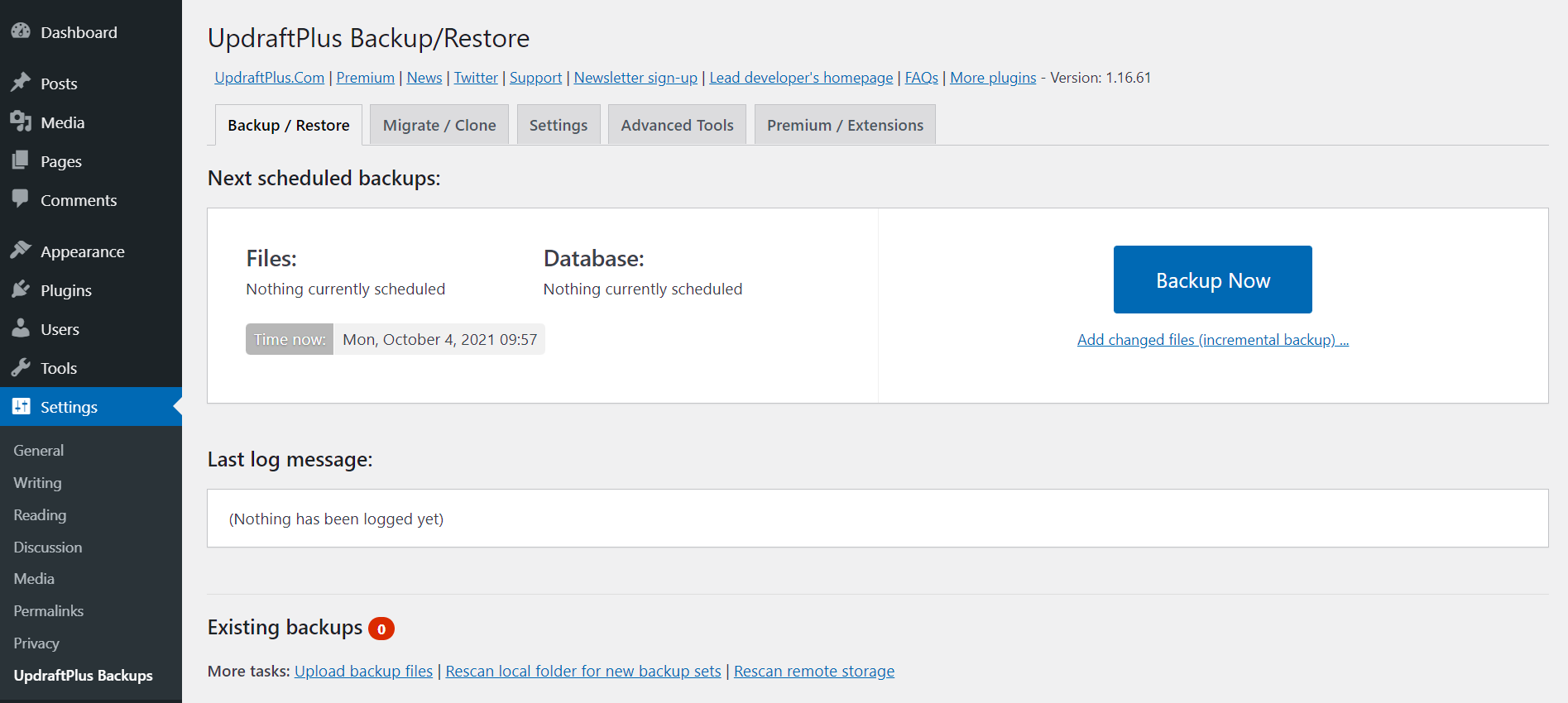 UpdraftPlus is a popular WordPress backup plugin for automatically creating website backups for storing in the cloud. Users have praised the plugin's ease of use and how it "just works" - which is what you'd want your plugin to do. To migrate your website, however, you'd need the extra Migrator add-on, which is available only on the premium version of UpdraftPlus.
Key features
**Manual and automated backup scheduling, **where scheduled backups can be set to automatically run as frequently as once every two hours.
Cloud backup to remote locations such as Google Drive, Amazon Web Services, Microsoft OneDrive and others.
Choose as much or as little of your website to back up, be it all files or only some of them.
Pros of UpdraftPlus
Multisite-compatible.
Can back up websites as large as 100 GB.
Database backups can be encrypted for greater security before being saved in the cloud.
Cons of UpdraftPlus
Might be somewhat confusing to use, given its wide range of settings
Premium version of the UpdraftPlus plugin is required for website migration
Our verdict: An effective WordPress migration solution if you're willing to pay for the plugin's migration feature.
3. WP Migrate DB
If you are a web developer who manages websites for multiple clients, then WP Migrate DB might be the plugin for you. This dedicated WordPress migration plugin contains a host of advanced features designed for regular and extensive migration efforts. However, making the most of the plugin requires some technical knowledge, which may put off non-technical website owners from using it.
Key features
Push and pull data in between remote locations, such as between local, staging and production websites.
Choose the data to migrate from your WordPress site, such as only certain tables or pages.
Save migration profiles that can be conveniently reused for future migrations.
Pros of WP Migrate DB
Easily export data to new subsites within a WordPress multisite.
Find and replace feature that supports regular expression patterns when making changes to migrated data.
Backs up your website before executing a migration for peace of mind.
Cons of WP Migrate DB
May be too complex for users with simpler migration needs.
The free version of the plugin is limited to WordPress database exports and backups. A paid licence is required for database imports and entire site migrations.
Our verdict: A comprehensive WordPress migration plugin for users with sophisticated web development workflows and migration needs.
4. BlogVault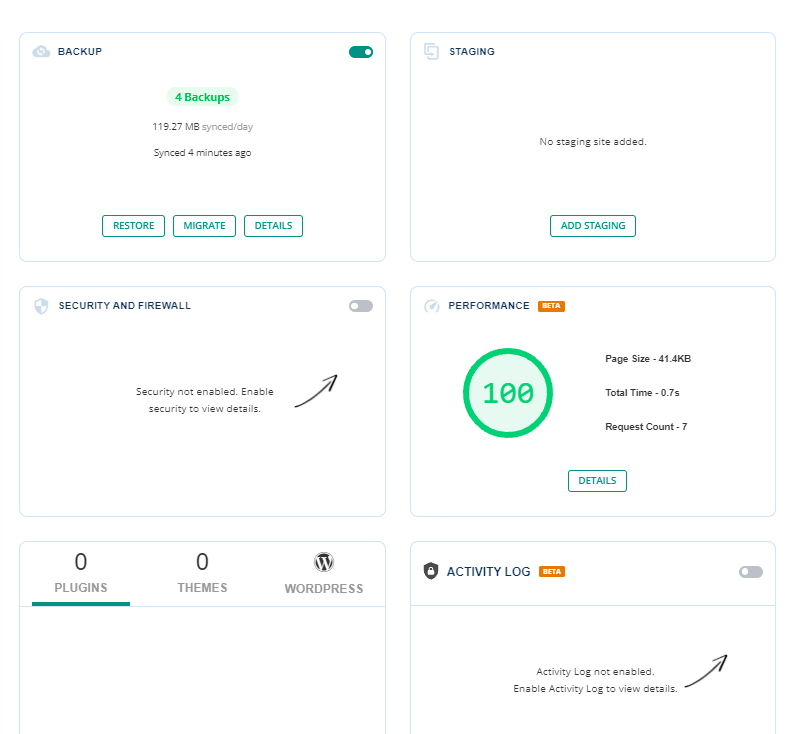 The paid BlogVault plugin - no free plan is available - makes website migration a simple process, with no need to deal with databases. It also offers email status updates so you can keep track of migrations in real time. However, you will need FTP access for the migration, so check whether this is something that your hosting company provides.
Key features
Create free staging sites with the live version of your website.
One-click merge for rolling out changes on your staging site to your live site.
Two-step migration process for effortless website migrations.
Pros of BlogVault
Zero downtime guarantee.
Automatic URL rewrites to save you time from manually updating your URLs.
Migrate websites as large as 350 GB.
Cons of BlogVault
FTP access to your source location is needed for migrations.
Comes with additional features for monitoring page speed and login protection, which may not be necessary for a migration plugin (or even a backup one).
Our verdict: Fuss-free WordPress migrations, provided that you have FTP access to the website that you intend to migrate.
5. Duplicator Pro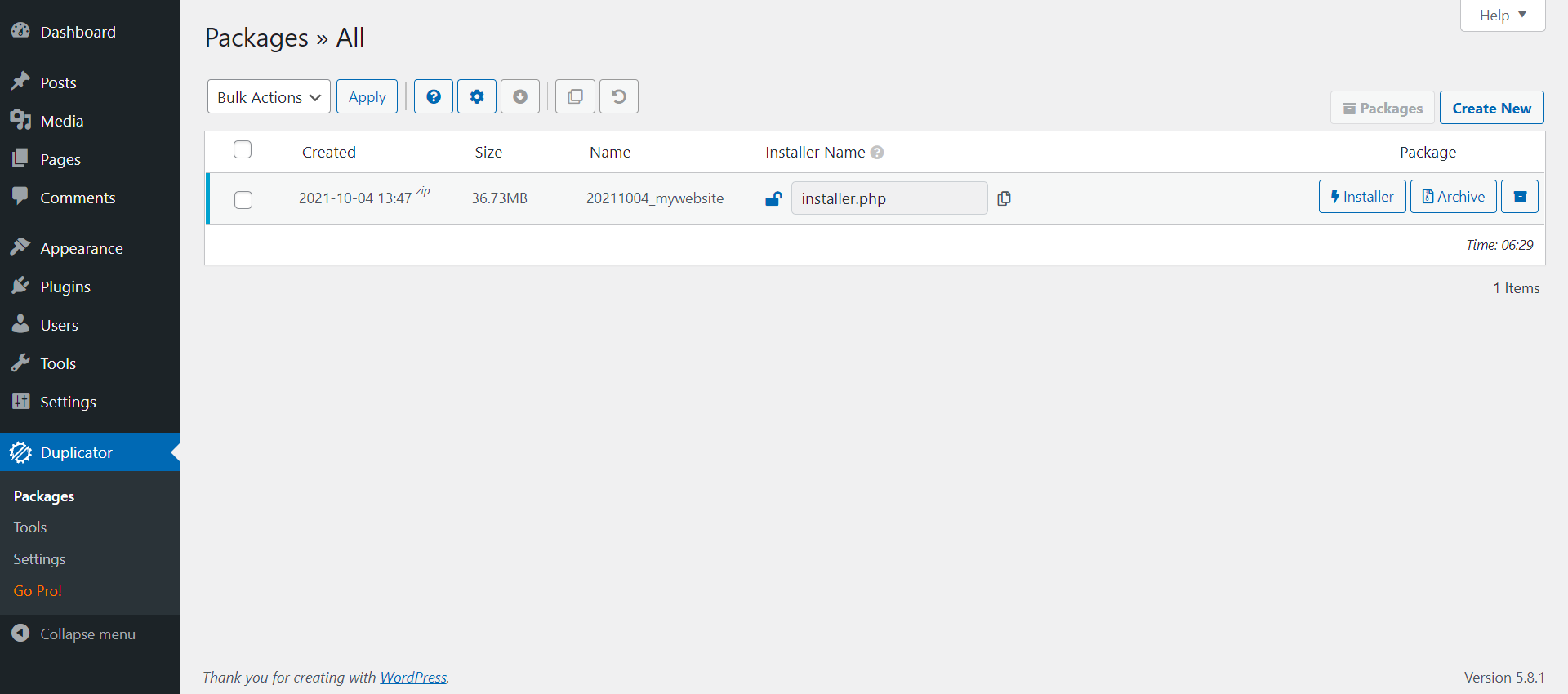 One aspect of WordPress migrations that can get tedious pretty quickly - especially if you regularly carry out migrations - is the need to install WordPress on the destination website before executing the migration. Duplicator Pro makes this a thing of the past, with its ability to install WordPress and your website files during migrations. However, if you're not a developer and you merely need to do a one-off migration of your website, you may find the plugin a little too complicated to grapple with.
Key features
Drag-and-drop migrations and website restores for convenient migrations.
Overwrite live websites with no downtime.
Migrate multisites with ease, including installing subsites as standalone websites.
Pros of Duplicator Pro
Migrate websites as large as 100 GB.
No need to pre-install WordPress on the destination website - Duplicator Pro will take care of WordPress installation for you.
Get full control over the files to be migrated.
Cons of Duplicator Pro
Its interface could be more intuitive.
Many features, such as cloud storage and multisite migrations, require the paid Pro version of the plugin.
Our verdict: A convenient WordPress migration plugin that may be more suited for developers, as some technical knowledge is required.
6. Migrate Guru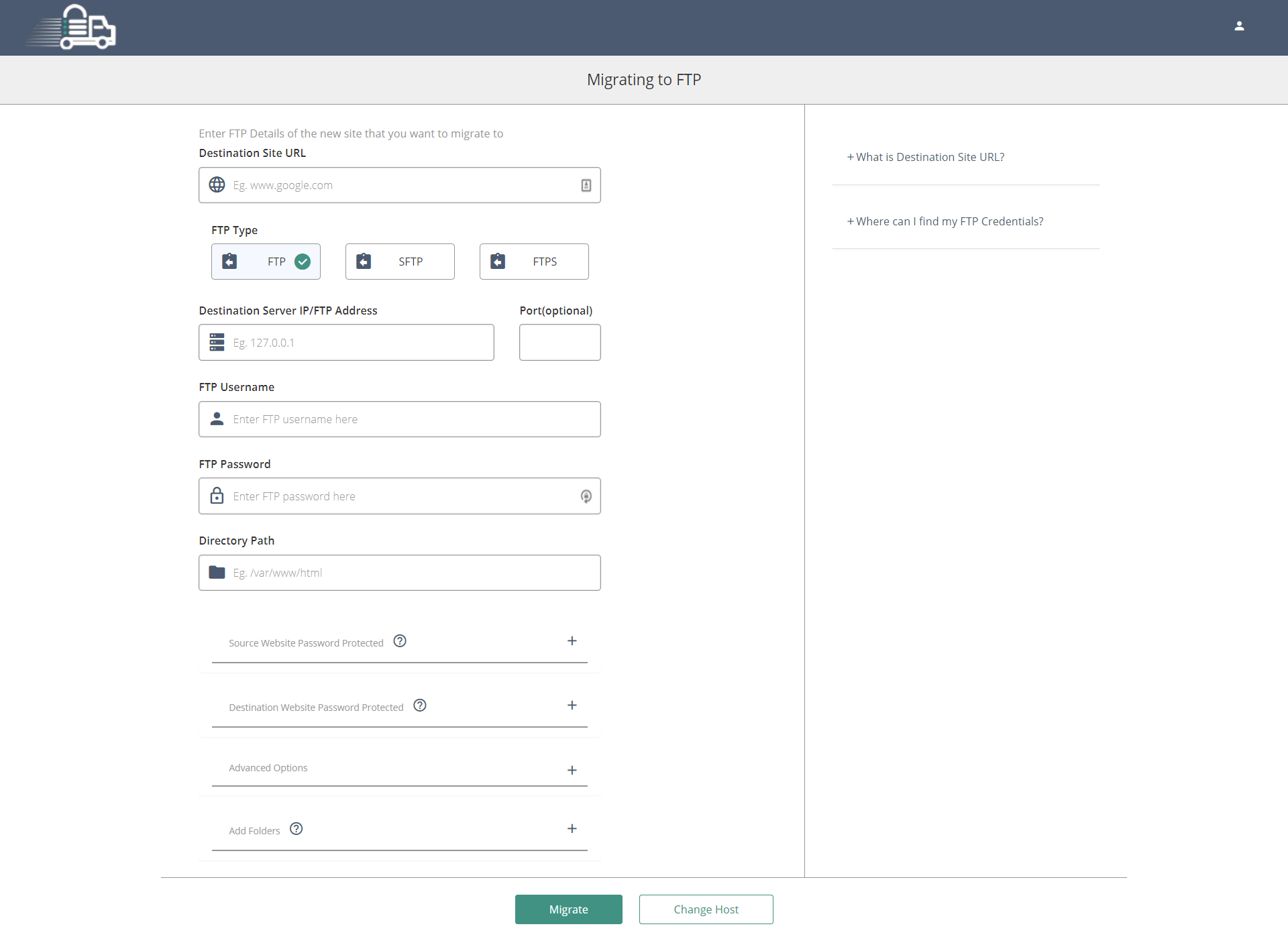 Most migration plugins have limited free functions, requiring you to upgrade to unlock more premium features. But Migrate Guru bucks the trend by making its plugin free! Promising fast and easy migrations that won't overload your servers, Migrate Guru is a strong option for users without a technical background. FTP access is required for migrations, though, so do check you have that before you make Migrate Guru your migration plugin of choice.
Key features
Migrate up to 5 websites per user per month for free, and developers can request to increase the limit.
Complete migrations in just one click for a hassle-free experience.
Save on server space as the website files to be migrated are temporarily saved on Migrate Guru's servers - not yours.
Pros of Migrate Guru
This plugin is free!
Migrate websites as large as 200 GB.
Automatically rewrite URLs according to your specifications.
Cons of Migrate Guru
FTP access needed for the migration.
Local host migrations, and migrations of multisite subsites to a different domain, currently not supported.
Our verdict: A fantastic free option that won't overload your servers or take up your server space.
7. Super Backup & Clone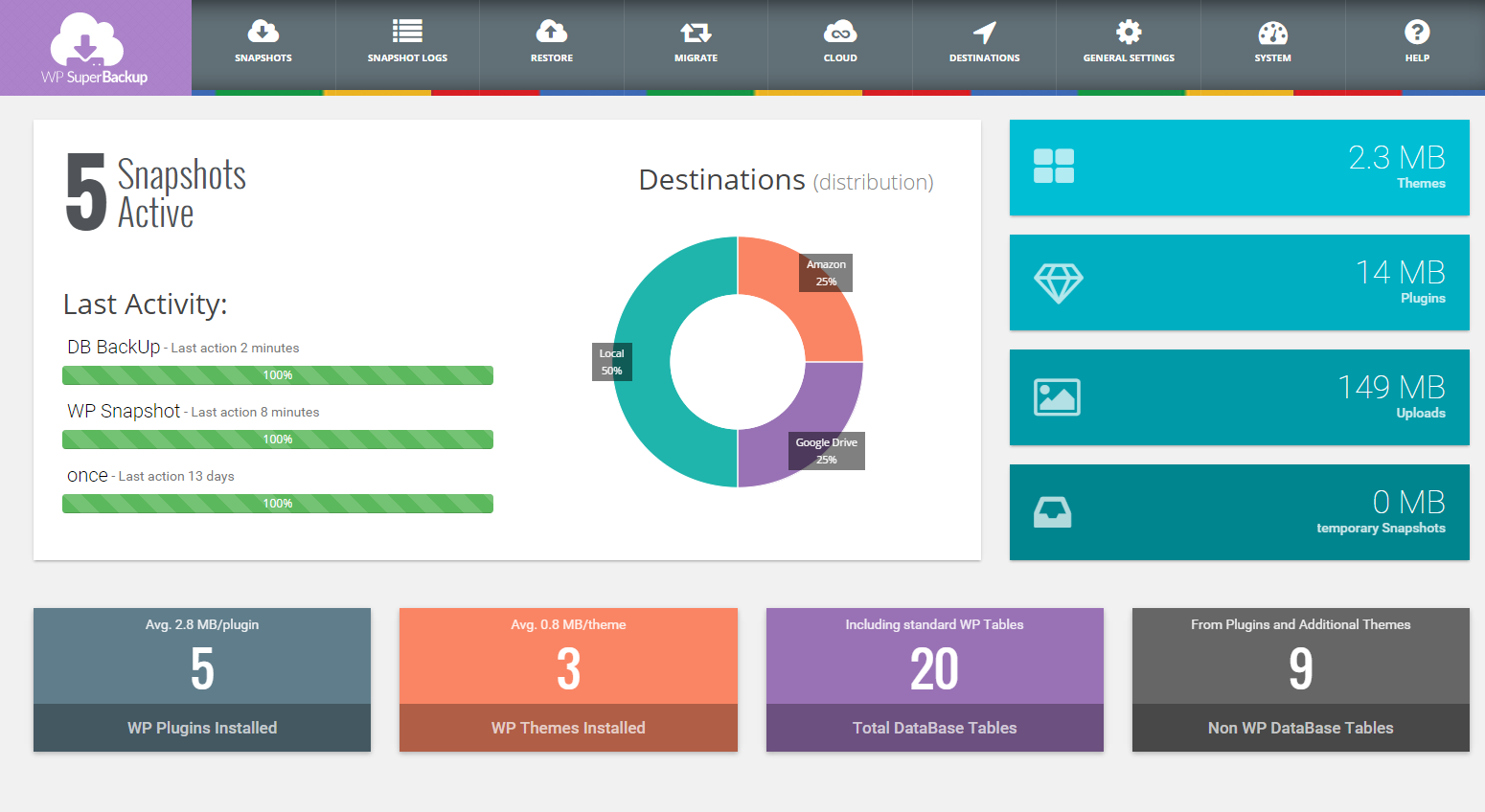 You won't find Super Backup & Clone in the standard WordPress plugin repository - it's available only on the CodeCanyon website plugins marketplace, and for a relatively affordable price of US$35. While it sports a beautiful interface, this migration plugin might require some technical knowledge to use. Coupled with the fact that customer support appears to be a tad unresponsive, Super Backup & Clone might be a suitable option only if you have some technical expertise.
Key features
Take "snapshots" of your website to be migrated.
Cloud sync to help ensure that your files are synced between your staging and production servers at all times.
*Flexible multisite migration combinations *- you can migrate from multisite to multisite, multisite to single site and even single site to multisite.
Pros of Super Backup & Clone
Visually appealing and well-organised user interface
One of the most affordably priced WordPress migration plugins in the market
You have full control over the files that you want (and don't want) to migrate
Cons of Super Backup & Clone
No free version or free trial available for testing the plugin before you buy it.
Customer support appears to be lacking at times.
Our verdict: A migration plugin with a visually appealing interface, but best used by website administrators with more technical experience.
8. VaultPress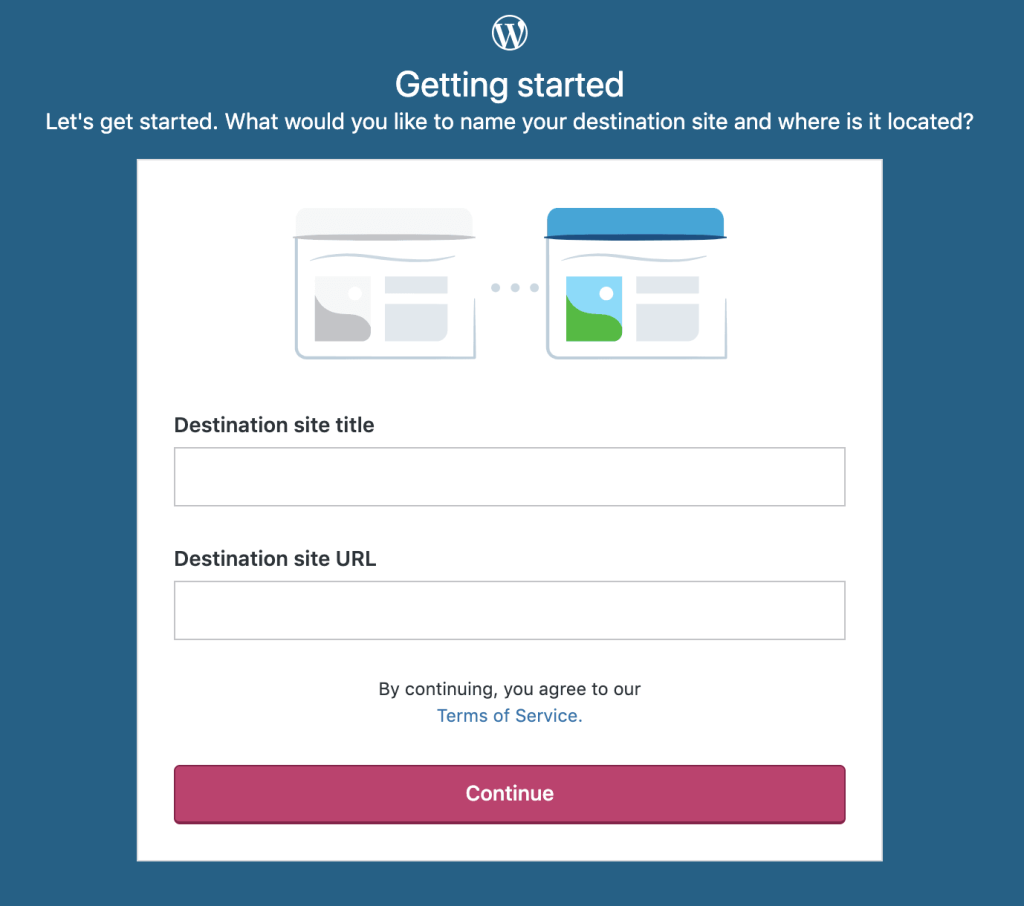 While previously a standalone backup plugin, VaultPress is now part of the Jetpack suite of WordPress security, performance and marketing tools. In particular, you'll access it through subscribing to the highly affordable Jetpack Backup plan. Use VaultPress to save a backup of your website, and then restore it elsewhere in a few clicks. Migration complete!
Key features
Automated website backups according to a preset schedule.
Unlimited backup storage for backing up websites of all sizes.
Restore website backups to a different website to execute a migration.
Pros of VaultPress
Highly affordable option for one-off migrations - subscribe for one month, then cancel after the migration is done.
Makes migrations a simple process.
Can assist with migrations of large websites, due to its unlimited backup storage feature.
Cons of VaultPress
No options to customise the files to be migrated.
Cannot be used for multisite migrations.
Our verdict: An affordable plugin for one-off, non-complex migrations.
9. BackupBuddy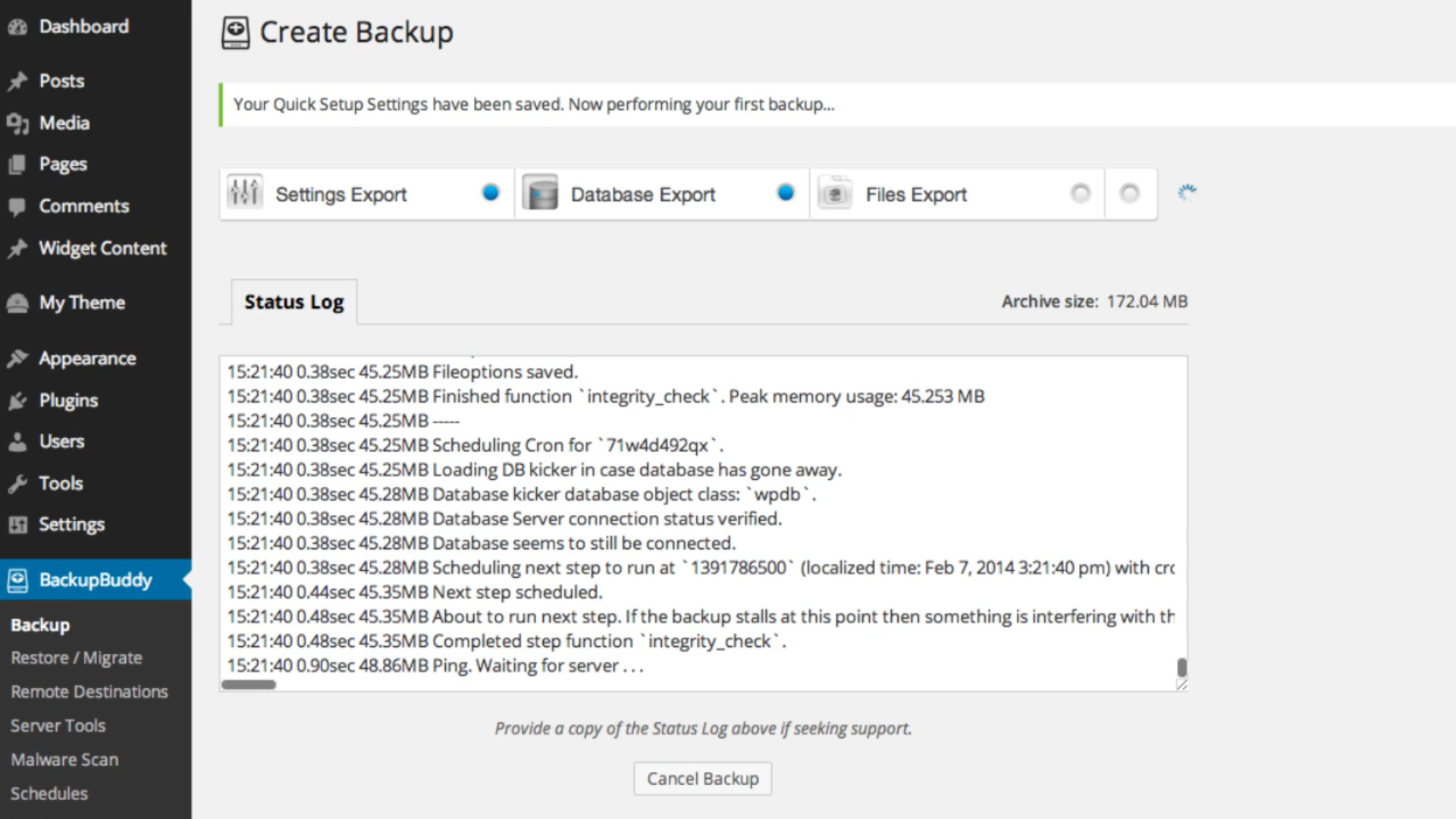 BackupBuddy is more than just a user-friendly backup solution - it's also a convenient website migration plugin. This premium plugin (no free plan is available) will compress your entire WordPress website into a zip file, which you can then save and upload to your destination website. Then, sit back as BackupBuddy settles the necessary path changes and completes the migration for you. BackupBuddy is a truly hassle-free option, though you'll have to be prepared to spend a little money to enjoy its features.
Key features
Migrate your WordPress website to a new host or new domain, or from a staging website to production.
Automatically update website paths on the destination website.
Store your backups in remote locations such as Google Drive, Dropbox or Amazon S3, or locally in your computer.
Pros of BackupBuddy
Easy to use - download a backup of your website as a zip file, then upload it to the destination website to execute the migration.
No need to pre-install WordPress on the destination website as BackupBuddy will handle WordPress installation for you.
Executes all path changes (such as website domain and permalinks) on your behalf during migrations.
Cons of BackupBuddy
Relatively expensive migration tool, especially for one-time migrations.
Cannot customise the files to be backed up and migrated to the new website.
Our verdict: A premium plugin for conveniently backing up and migrating entire WordPress websites.
10. WPBackItUp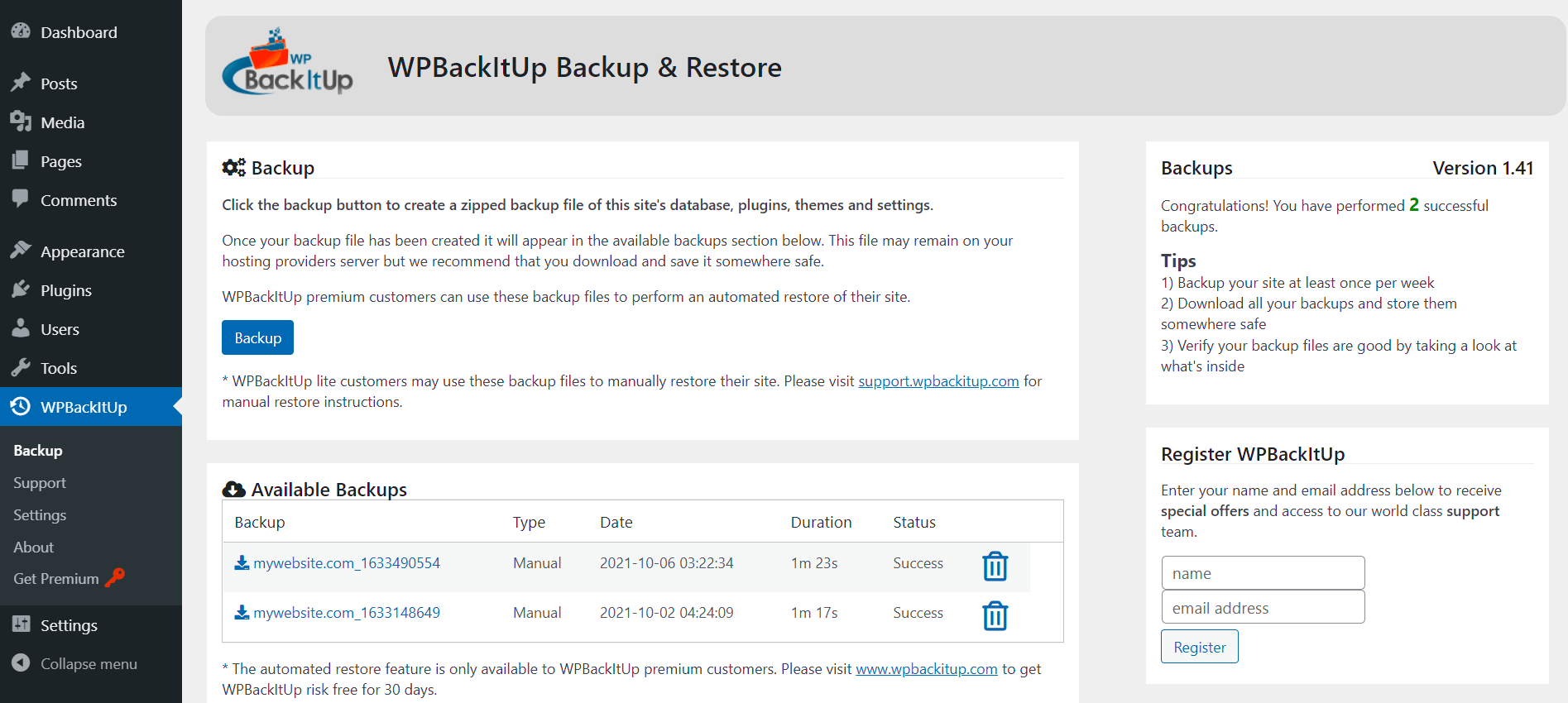 Fast and easy backups are the name of WPBackItUp's game. Install the plugin on your WordPress site, then click just one button to start creating a neat backup of your full website. (You can also customise the files to be backed up if you want to.) Save this backup to your computer, then upload it to your destination website! However, a drawback is that WPBackItUp doesn't assist with updating your website URLs, so you'll need to do this yourself after restoring the backup on your new website.
Key features
**Easy website migrations and cloning **through downloading a backup of your website and uploading it to the destination website.
Choose which files to migrate to your new website or host.
Receive email notifications about the status of your backups.
Pros of WPBackItUp
One-click backups and one-click restores.
No file upload size limits when restoring backups.
Customise the folders, files and databases to be excluded from the backup (if any).
Cons of WPBackItUp
Backup import feature (which is needed for website migrations) is available only with a paid plan.
Does not assist with updating website URLs after the migration.
Our verdict: WPBackItUp offers fast and easy backup creation, but be prepared to manually update your URLs after restoring the backup on your destination website.
Which WordPress migration plugin will you use?
We hope you've found this rundown of the 10 best WordPress migration plugins useful! If they have a free version, it's worth giving that a test run first. After all, you'll want to make sure that the plugin you've chosen can do a flawless migration job before you spring for its paid version.
And if you're thinking of changing your web host, don't forget that you'll enjoy our free migration service if you take up one of our hosting plans. This means that you don't have to worry about installing or paying for any migration plugins at all!
Our Krystal Onyx managed WordPress hosting plans offer premium solid-state drive (SSD) storage and LiteSpeed caching for blazing-fast load speeds, and are supported by enterprise-grade hardware to ensure non-stop website performance even under extreme loads. And of course, we will migrate your WordPress website to our servers for you for free! We're ready to roll out the red carpet and welcome you aboard - simply sign up for a 30-day free trial of our hosting plans to get started.
About the author
Darren H
I'm Darren and I'm the Copywriter at Krystal. Words are what I do. Aside from writing, I play guitar and sing in a band, work on getting my 2nd Dan in Taekwondo and seek adventure with my wife and daughter.