Unfortunately, the wrong website update can bring your entire website down - crashing and burning.
The solution?
Website duplication that will create a clone site.
This enables you to test changes before implementing them. Clone sites also come in handy if you're looking to develop multiple websites and need to see how they compare.
Thankfully, in either instance, there are plenty of WordPress clone plugins to help you do just that.
In light of that, we're exploring the benefits of website duplication and will recommend the best WordPress clone plugins on the market for doing so. Then, finally, we'll also fill you in on a few tips and tricks that will ensure for successful website duplication.
There's plenty to cover, so let's get started.
Why duplicate your website with WordPress clone plugins?
When it comes to a dynamic website, there are going to be frequent changes and updates that you'll wish to make over time. So, you may be asking why can't I make these changes instantly to my current website? Short version, you can. BUT implementing larger actions or the wrong changes to your website accidentally, have the possibility to cause incremental errors that may not be so easy to fix. So here are a couple reasons for website duplication.
Reasons for website duplication
As we hinted at in the intro, there are several reasons to clone your site, most notably:
Testing
Are you a web developer? Or a business owner constantly adding new features to your website? Or creating multiple new websites? Either way, it's handy to back up these changes as you go. A slight coding error or an incompatible browser could bring your site crashing to its knees.
However, you negate this risk with a clone site, so you don't have to hold back on your testing. As such, you can make all the changes you want without worrying about the consequences...
Managing multiple sites
Let's say you're a web developer who's been commissioned to create a basic website. You finish the project, but the client wants you to create another website right off the bat.
Yes, you could make another website from scratch. However, it would be far easier if there was a way to simply copy the basic site over from the first project.
Enter a WordPress clone plugin.
Say goodbye to long-winded copying, pasting, and developing - and hello to quick website duplication.
The process of changing your web domain, host, or server can be tedious in and of itself. Not to mention, if an error arises, you may end up with a spanking new domain name for a website you wouldn't want to put your name to. However, to avoid this, you can ensure everything's in order with a clone site before starting the migration process.
The top 8 WordPress clone plugins
Now that we've covered a few scenarios where website clones come in useful, let's take a look at the best WordPress clone plugins for transforming your website duplication ambitions into reality:
Duplicator's Features
Duplicator lets you move, duplicate, and/or back up a WordPress website with zero downtime to ensure zero website interruptions during the migration process.
More specifically, Duplicator enables you to:
Move a WordPress website from one host to another
You can backup part or all of your site
You can move a live site to your local server
You can create an exact copy of your website and upload it onto a WordPress staging area (i.e., create a test site).
Everything on your WordPress site, including configurations for themes, plugins, and content, is bundled into one neat WordPress clone plugin that can quickly move to a new location.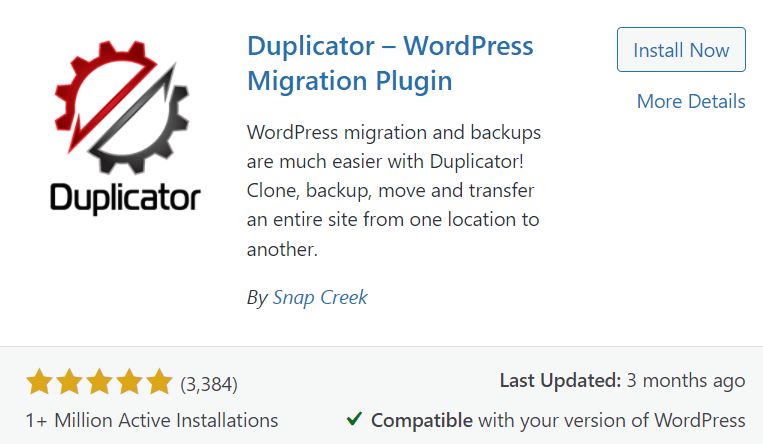 Price
Duplicator comes with a free version and paid-for plans:
*All references to the number of licenses you get with this WordPress clone plugin (and the others) refer to how many licensed clones you can make.
Free: The free program includes all the services listed above for one site.
Personal - $69: unlocks three site licenses.
Freelancer - $89: unlocks 15 site licenses.
Business - $149: unlocks unlimited site licenses
Gold - $549: unlocks limited site licenses, customer support, and product updates
Duplicator's paid plans from Personal to Business cover one year of customer support and product updates. After that, although the product itself will still work after a year, you'll have to renew your subscription to re-access customer support and new updates. You can choose to set up manual or automatic subscription renewal at checkout.
However, you benefit from cloud storage with all of Duplicator's pro plans. You also get drag and drop installation from one site location to another, enabling you to move your site to managed hosts such as WordPress.com, WPEngine, and GoDaddy.
Uses
Duplicator is suitable for website owners switching to new hosts, domains, or servers. It packages everything relating to your website into one bundle to ensure nothing gets lost or changed along the way.
UpdraftPlus' Features
Updraft also enables you to clone, back up, and restore your WordPress websites.
More specifically, you can do the following with this backup plugin:
Clone websites on the updraft sandbox
Backup files, databases, plugins, and themes
Schedule backups in advance (either manually or automatically)
Restore websites from backups
Access migration tools, including an importer
Access multiple cloud-based storage destinations, including Dropbox, Microsoft One Drive, and Amazon S3.
Access free email customer support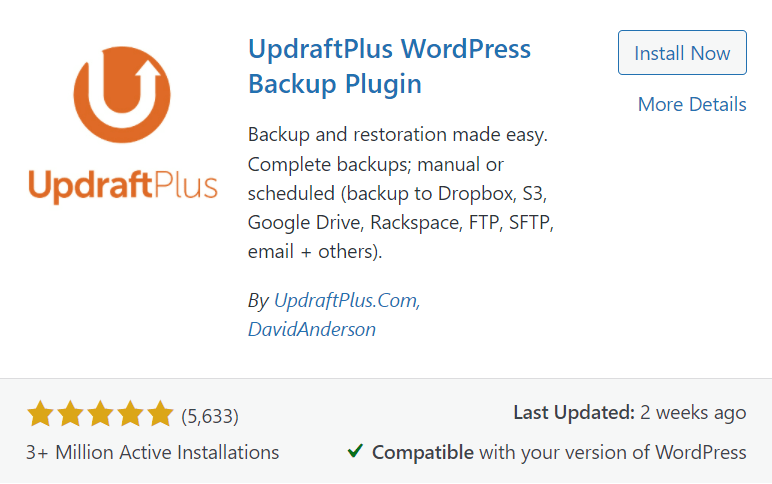 Prices
The prices below are based on annual billing, and each plan grants access to all of the above features:
Free: For one site
Personal - $89: For two sites
Business - $114: For 10 sites
Agency - $174: For 35 sites
Enterprise - $234: For unlimited sites
Gold - $478: Contact for details
Uses
Updraft is the best WordPress clone plugin for those looking to undertake site testing before going live. It's not the best choice for actual website migration because the clones it creates are only temporary. However, it certainly comes in handy for creating website backups that don't require full functionality.
WP Staging's Features
With the WP Staging plugin, you can create a cloned website and move it into a subfolder on your web host of choice. Then, it can be viewed in a WordPress staging area where you can implement changes and test features securely.
In short, WP Staging boasts the following features:
You can create website backups
You can log site changes
You can make basic copies of your site with zero downtime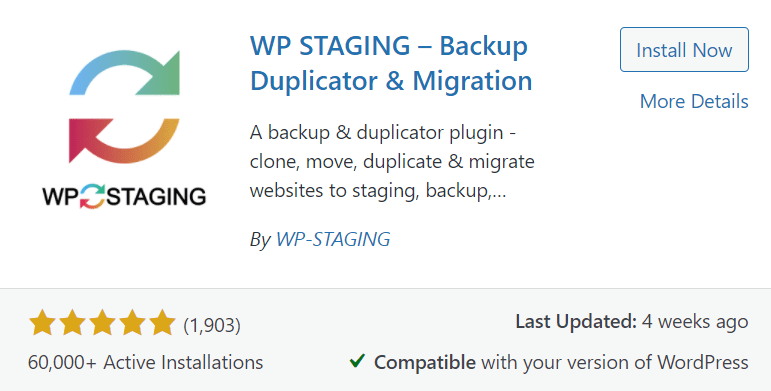 Prices
The plans below are billed annually:
The Free version - You can access the features listed above, and one site is included.
The Personal plan - $89 a year: One site is included.
The Business plan - $139 a year: Three websites included.
The Developer plan - $199 a year: Unlimited sites included.
The paid plans ensure all of your WordPress themes, add-ons, and content are saved when you clone your site. You can also set permissions to view your test site and clone separate website databases. You can move these over to your testing area, as well as multiple domains and web hosts of your choosing.
Uses
The WP Staging plugin works best for sites still in the development process that need testing on a live server.
Migrate Guru's Features
Migrate Guru empowers you to move WordPress sites from one web host to another. You can expect the following from this WordPress clone plugin:
Clone sites as large as 200 GB.
Your site is automatically stored on the cloud during transfer.
Support for over 5,000 web hosts, including AWS, GoDaddy, and HostGator.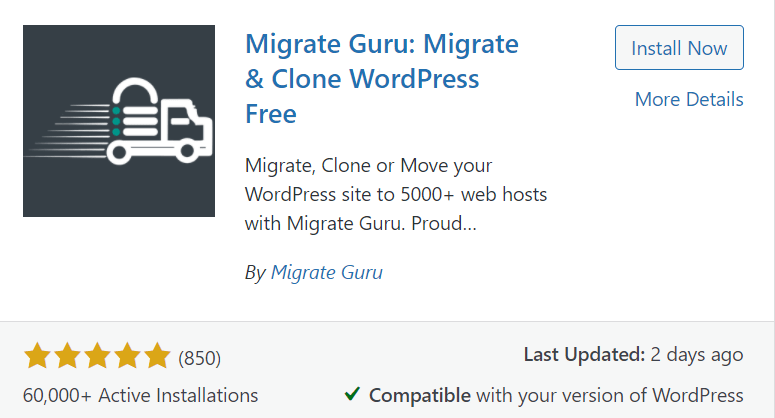 Price
Migrate Guru is a completely free service. It's designed for transferring websites from one host to another.
Uses
Migrate Guru is worth considering if you're looking for a WordPress migration plugin for larger or multiple websites, including changing to a new server, domain, or WordPress hosting provider. However, It's also worth mentioning that Migrate Guru doesn't support localhost migration (meaning you can't test your WordPress site on your own server.)
BlogVault's Features
BlogVault is another WordPress clone plugin you can use to make WordPress site backups.
You can:
Create multisite backups
Benefit from zero downtime during web host migration
Access a sandbox staging area for site testing
Access a performance and monitoring dashboard for your sites, i.e., you can check your website's uptime and load time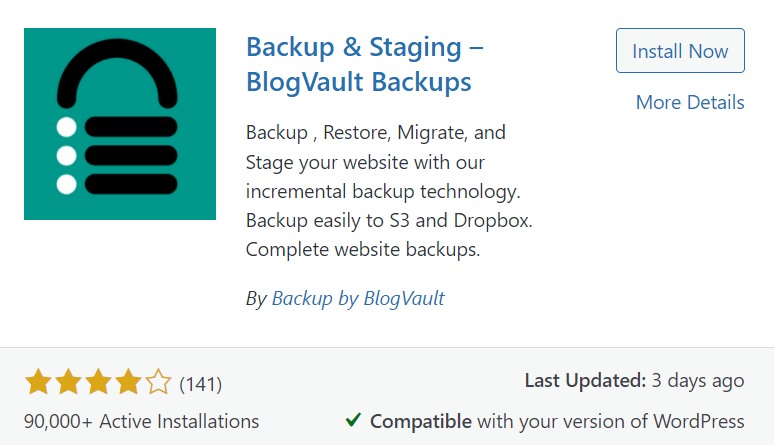 Price
BlogVault comes with a seven-day free trial. After that, premium versions (based on annual billing) start from:
The Personal plan: $84 a year - this includes one site.
The Small Business plan: $199 a year - this includes five sites
The Developer plan: $499 a year - this includes 20 sites
The Agency plan - this includes +20 sites. However, you have to request a custom quote for this package.
With all these plans, you get access to the above features standard. However, each price plan comes with added features as the price increases.
Uses
BlogVault is worth considering as a WordPress clone plugin if you're looking for a reliable, all-in-one site testing, WordPress backups, and migration plugin.
WP Stagecoach's Features
WP Stagecoach is a WordPress staging solution that allows you to:
Create multiple staging sites to test changes.
Migrate WordPress databases when you move your site
Password protect your testing clones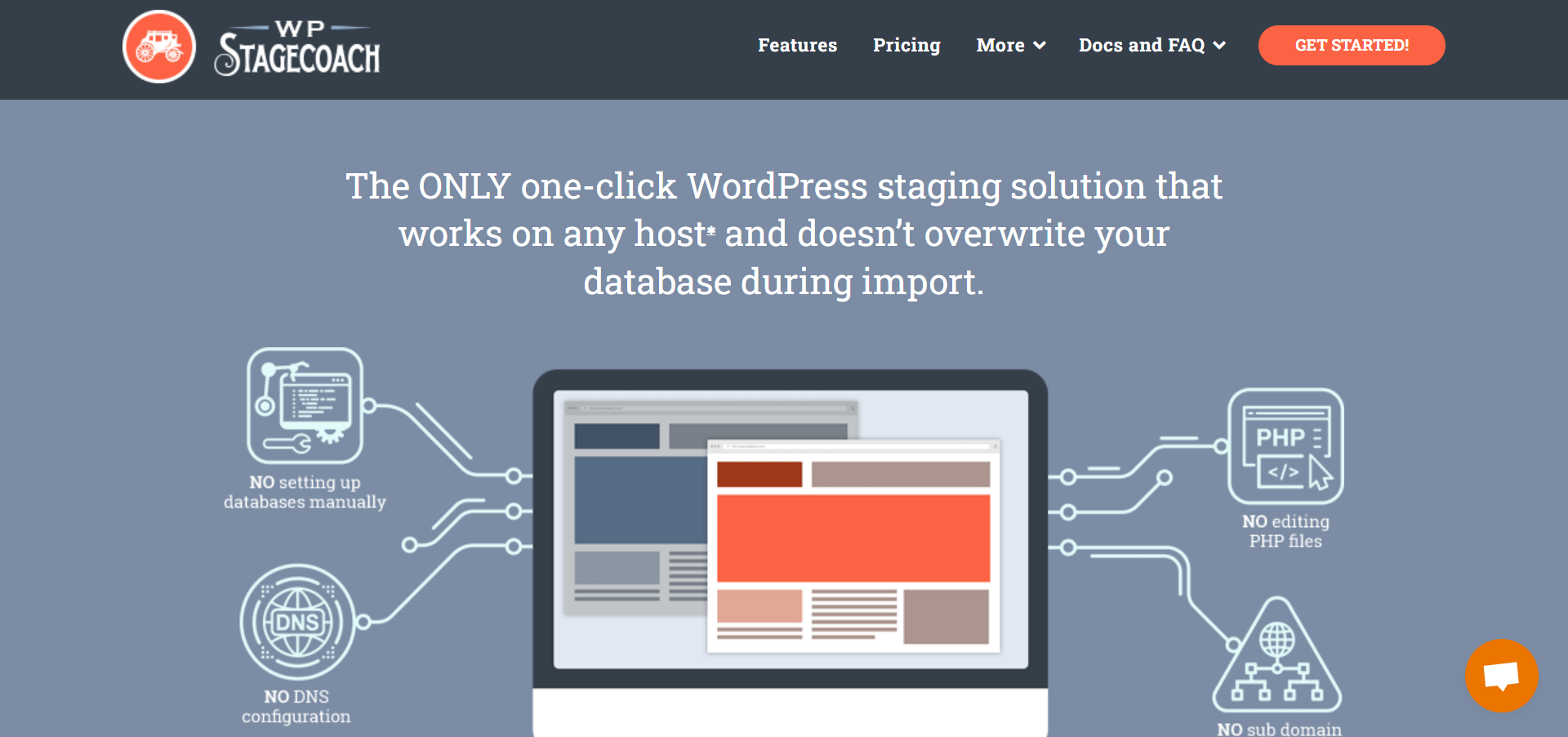 Price
Pricing for WP Stagecoach depends on how many domains you need to test:
The Small plan: $99 a year -for one site.
The Medium plan: $199 a year- for five sites
The Large plan: $329 a year- for 30 sites
The Enterprise plan: you have to enquire directly for a custom quote
All plans come with manual website import support if, for some reason, cloning fails. The price for this service on the Small and Medium plans is $55 and $25, respectively. However, this service is included with the Large and Enterprise plans.
Also, all pricing plans come with a money-back guarantee if you aren't happy with the service.
Uses
WP Stagecoach is best used if you're looking to duplicate your site, test potential website changes and don't want to set up your own server. Fortunately, this WordPress clone plugin comes with its own.
All-in-one WP Migration's Features
All-in-one WP Migration is a newbie-friendly WordPress website migration service that enables you to:
Migrate entire WordPress websites in just three steps, including custom settings, WordPress plugins, theme folders, and more to multiple host providers, including AWS, Godaddy, and Krystal hosting.
Access to a beginner-friendly interface
Benefit from cloud storage migration and syncing to back up your website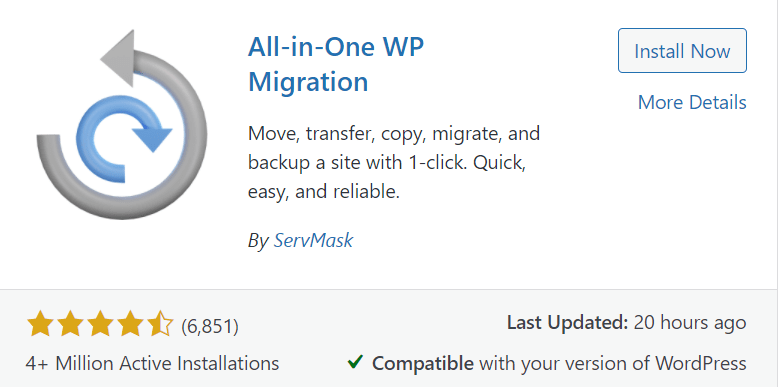 Price
This is another free service designed specifically for simple website duplication and migration.
Uses
This plugin is a good choice if you have a basic WordPress website that you need to move from one host to another.
XCloner's Features
Lastly, we have another cloud-based service that you can use to create backups of your WordPress site.
XCloner allows you to:
Send website backups to an encrypted cloud database (SFTP, Dropbox, Amazon, Google Drive, Backblaze, and other locations).
Schedule automatic or manual WordPress backups.
Access a backup manager to compress files, manage websites, and make site updates. This is essentially a dashboard where you can find all your recent back-ups, available updates, and the version of your site you're currently working from.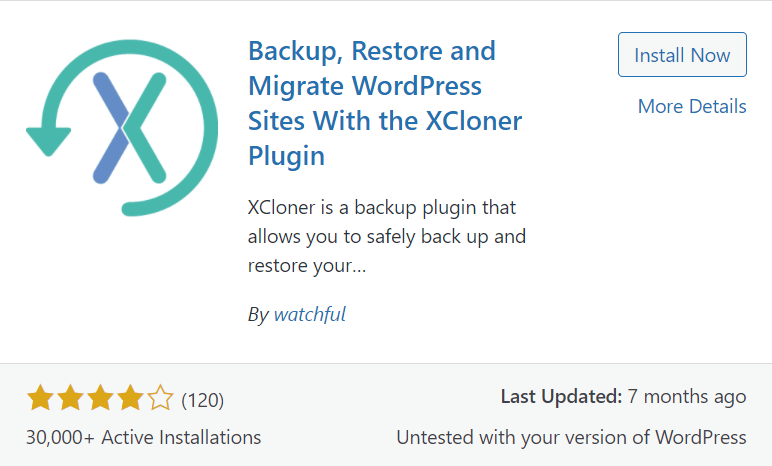 Price
XCloner is a free WordPress clone plugin.
Uses
XCloner is a good choice if you regularly make changes to your site and want to back it up before implementing these modifications. If you make an error, XCloner has a rollback feature that retrieves the previous version of your site.
Challenges and tips for Website Duplication site cloning
Regardless of which WordPress clone plugin you choose, you may encounter some common problems while cloning or duplicating your site. Below, we'll cover a couple of these problems and how to deal with them:
Data loss: One of the biggest site cloning challenges is data loss during migration. To ensure you don't suffer this pitfall, always back up your website before cloning or making any changes to your site. Even if you're using a clone site to make changes, sometimes, the website may break due to incompatibilities, etc. As such, it's better to be safe than sorry and have a backup at the ready.
Site crash: Modifying your website or changing domains, hosts, or servers can lead to immobility and site downtime. To this end, choosing a good host will save you a lot of trouble in the long run. For example, suppose you're building multiple sites or constantly working on improving and scaling your website. In that case, you need a host that supports the evolving needs of your website.
In light of that, we recommend using a host like Krystal.
The benefits of Krystal Hosting
With Krystal web hosting, you can expect:
Quick web page load times: Krystal is up 200% faster than standard web hosts and comes with a 99.99% uptime guarantee.
LiteSpeed caching: Krystal's caching ensures optimal response times.
Built for scale: Krystal has no resource usage limits.
Automated backups: Krystal offers daily or hourly automatic backups stored securely.
Analytics: Krystal records and shares data about your website's performance.
Easy migration: Krystal offers seamless, same-day, and, best of all, free website migration from any web host.
Easy domain registration and management: You can register and manage all aspects of your web domain name, including contact information, renewals, and more, directly through Krystal's platform.
Award-winning support: Krystal offers customer service support via phone, email, and support ticket, so rest assured, you don't have to go it alone when migrating your site. That's as well as our free migration service.
FAQs regarding website duplication
Last but not least, let's round off this blog post by answering some of the most frequently asked questions we hear about website duplication:
Can you clone a site manually without using a plugin?
While it's possible to clone a website without a plugin, the process is very time-consuming. There's also a high risk the site could crash at some point during the cross-over. That's why only those with technical expertise should try to clone a site without a duplication plugin. There are many delicate aspects at play here, including your WordPress content, configuration, and data management - any small error here can cause significant issues later on down the line.
What's the difference between a clone and a backup?
In short, a backup is primarily used for website recovery purposes. This is because it contains all essential data, including database links and configuration settings. In contrast, a website clone just copies everything on-site and produces a functional duplicate. As such, clones are mainly used for testing website changes.
Do I need a paid plugin?
Nope. As demonstrated above, many of the listed WordPress plugins, such as Duplicator, Migrate Guru, and Updraft, come with a free plan. However, if you have a larger site or deal with multiple sites, a paid plan may be required.
That brings us to the end of this FAQs section - if you have more questions about site cloning, visit us at Krystal for further website migration advice.
Are you ready to clone your website?
Site cloning is critical for testing, web host migration, and managing multiple sites. We hope these website duplication options have given you some idea about what's possible.
That said, website cloning is just one of the many things you can do to ensure the smooth running of your website. Needless to say, it's essential to build a good foundation by using a premium web hosting company. Krystal hosting is built to scale and has all the features you need to guarantee a speedy and durable website. For more information about what Krystal can do for your website, take a look at our free website migration service today!
Share this article
About the author
Darren H
I'm Darren and I'm the Senior Copywriter at Krystal. Words are what I do. Aside from writing, I play guitar and sing in my band Machineries Of Joy, work on getting my 2nd Dan in Taekwondo and seek adventure with my wife and daughter.
Join our newsletter
No spam. Just the latest news, events, product updates, promotions and more delivered to your inbox.