WordPress vs b2evolution: Pros, Cons and Which to Use
By Darren H in WordPress
17th May 2022 • 5 minute read
Before WordPress, there was b2.
Also known as "cafelog" or "b2/cafelog", this platform for creating web pages fell into neglect and died out by the end of 2002. However, out of its ashes rose the open-source WordPress content management system (CMS) when teenage programmer Matt Mullenweg forked b2 to keep it going.
Today, WordPress is used by over 60 million people, according to the official WordPress website. But not many people know that WordPress isn't the only version of b2 to live on: a separate, much smaller, fork known as b2evolution also exists.
Written in PHP by François Planque, the b2evolution content and community management system touts itself as "the most integrated CMS ever" that includes "everything you need to build websites for sharing and interacting with your community".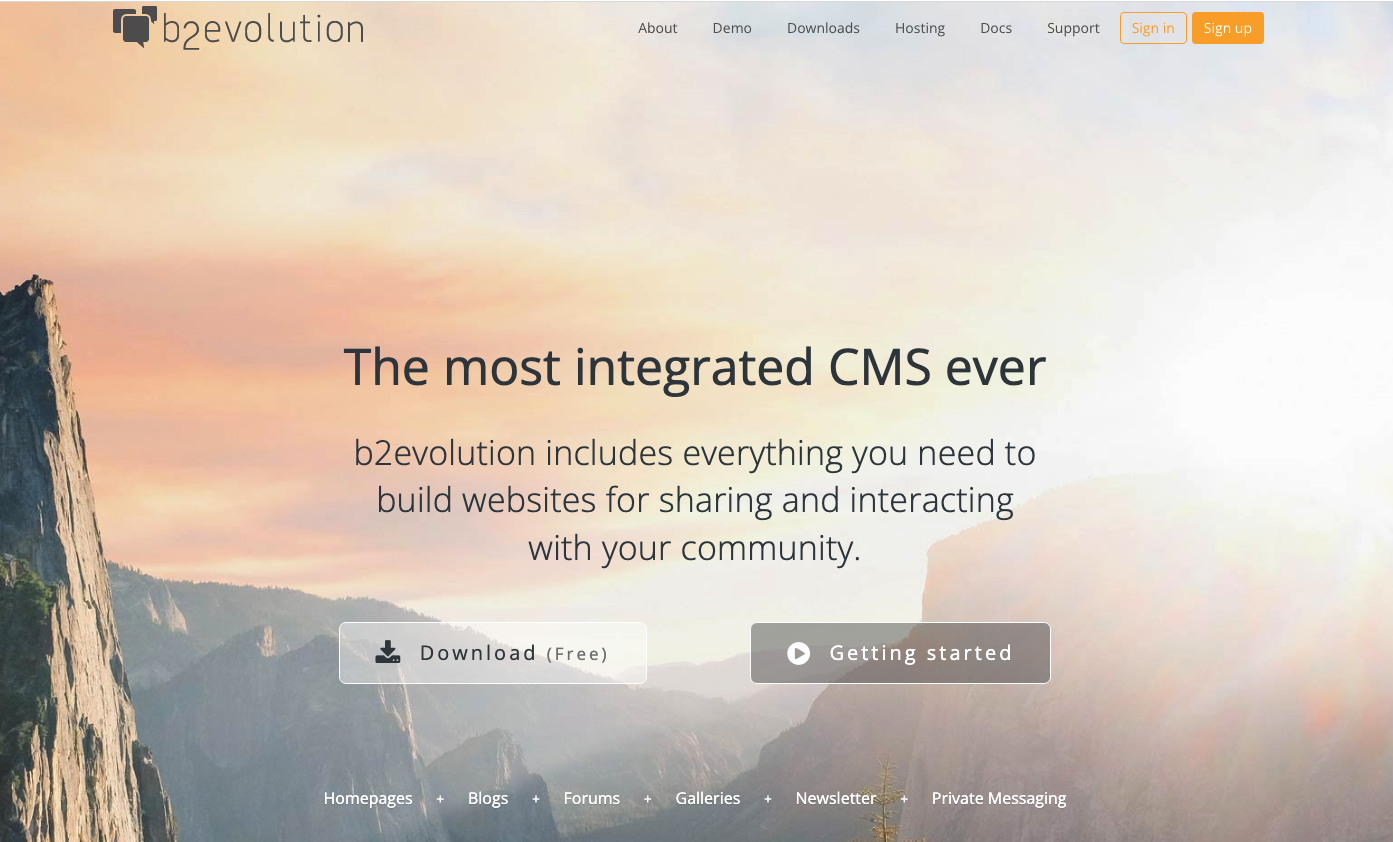 Is that true, though? If you're starting a new website, should you build it on WordPress or b2evolution? Read on as we compare the two CMSs to help you decide.
(Note: There are two versions of WordPress: WordPress.com, which is a managed hosting platform, and WordPress.org, which is an open-source CMS. When people say "WordPress", they're generally referring to "WordPress.org", and we'll be adopting the same definition for this article.)
Pros & Cons of WordPress vs b2evolution
Ease of use - Wordpress vs b2evolution
WordPress probably wouldn't have gotten so popular if it hadn't been so easy to use. The dashboard is intuitively designed, with all the main features accessible from a left sidebar. From there, sub-tabs help users navigate to the exact setting they're looking for. If you're new to running a website, WordPress' beginner-friendly layout will help you get acquainted with the interface quickly.
On the other hand, the learning curve for b2evolution can be steeper. That's because its interface is structured to look more like a directory or database. If you're a programme or web developer, you'll probably feel at home while navigating the interface. But if you're a non-techie, you may only find yourself getting overwhelmed and intimidated. At least one user has called b2evolution "without a doubt, the most difficult software I have ever tried to learn".
The poorer extent of support available for b2evolution (more on this later) may also make it more difficult to get the hang of the CMS if you find yourself lost.
Themes and skins - Wordpress vs b2evolution
When creating a website, you'll want it to stand out from the tons of other websites out there. This involves picking a well-designed website theme for it, and then customising your website's design into something truly unique.
Well, this is easy enough to do in WordPress. The official WordPress theme repository contains over 9,300 free themes designed for use cases ranging from ecommerce to photography, and containing features such as full-width templates and flexible headers. But if these free themes don't tickle your fancy, there is also no shortage of paid options in the repository or on third-party theme marketplaces.
Meanwhile, b2evolution sports a much smaller number of themes (called "skins") in its official skin repository. Many skins also look rather dated, which might not be appealing if you want to build a modern-looking website (and you should). Third-party skin options are also more limited, so you might need to engage a developer to custom-build a skin for you if you can't find something suitable off the shelf.
Features - Wordpress vs b2evolution
The default WordPress installation comes shipped with certain core features, such as the Gutenberg block editor for posts and pages, and basic search engine optimisation (SEO) features like a basic XML sitemap and permalink formatting. To extend the functionality of your WordPress website, you'd need to install third-party plugins. For instance, Yoast SEO is a popular WordPress SEO plugin, as is Akismet for antispam functionality.
That said, be aware that WordPress plugins are built and maintained by separate developers, which means they aren't necessarily optimised to work with each other. This could result in plugin conflicts that throw up website errors. By and large, however, most WordPress users don't face significant plugin incompatibility issues.
While plugins for b2evolution are also available, the b2evolution CMS is designed to have "everything [you] needed integrated into a single platform", according to its creator Planque. In other words, when you use b2evolution, it'll already come with user forums, private messaging, multi-blog features and more. If you're wary about the plugin issues or security risks that could come with installing website plugins from different sources, then using b2evolution might help ease such concerns.
Pricing - Wordpress vs b2evolution
WordPress is free open-source software. To use it, however, you may need to pay for premium themes, templates, plugins, a domain name and hosting. The cost of all these will depend on what you use: for example, if you use us as your WordPress website hosting provider, then you can get free hosting for 30 days under a 30-day free trial, and with subsequent months costing at least £14.99 per month.
Similarly, b2evolution is also free and open source. There used to be a paid b2evolution PRO/VIP support plan costing €499 per month and up for premium features such as priority support and emergency patches. However, it looks like the PRO/VIP support plan has been discontinued at this time.
Hence, with the free version of b2evolution being the only available option right now, you'll have to pay for only everything else that you use for running a b2evolution website. Similar to running a WordPress website, these include hosting and a domain name as mentioned above. For instance, our b2evolution web hosting plans start from £4.99 per month for 10GB of SSD storage space, free SSL encryption and daily backups, among other features.
Support - Wordpress vs b2evolution
If you run into issues while managing your WordPress website, rest assured that help is never too far away. The WordPress CMS is well documented in the form of the WordPress Codex, and has a lively community forum for WordPress users to get support. Self-help options in the form of third-party WordPress blog and video tutorials are also plentiful online.
Unfortunately, we can't say the same for b2evolution, as its user manuals aren't the most well maintained. In fact, this is a sore point for some b2evolution users, who have complained of coming across duplicate - and hence redundant - information in the manuals. Alternatively, you can try to get support from b2evolution's support forum but it isn't the most active. The last posts in some of these forums date back to 2020, for instance. Be prepared to wait a while for a response if you post in the forums (assuming you get a reply at all).
b2evolution or WordPress: Which will you use?
Despite b2evolution and WordPress' common origins, WordPress has simply overshadowed b2evolution. And it's not hard to see why, with WordPress being the generally more modern and user-friendly website builder. For people with little coding experience and who have simpler website needs, WordPress is hence probably the way to go.
That said, b2evolution may still be worth considering if you:
Like the idea of having an "all-in-one" CMS, where you don't need to pull together different plugins to build out a full-featured website, and
Have the tech know-how, and are willing to put in the time and effort to learn how to configure and maintain a b2evolution website.
Once you've decided on your CMS of choice, you'll need to host your website - and we can help with that! We offer both Onyx managed WordPress and b2evolution hosting plans catered to any and every hosting need. When you host with us, you can look forward to enjoying:
Generous 100% SSD storage space
Having your website served from enterprise-grade hardware
LiteSpeed caching to ramp up your page load speeds
Award-winning customer support, and so much more.
We offer free trials and money-back guarantees so you can test the quality of our hosting before making a financial commitment, but we're confident you'll love the way we do things. Simply contact us to experience the power of Krystal hosting today.
About the author
Darren H
I'm Darren and I'm the Senior Copywriter at Krystal. Words are what I do. Aside from writing, I play guitar and sing in my band Machineries Of Joy, work on getting my 2nd Dan in Taekwondo and seek adventure with my wife and daughter.