Searching for the best WordPress CRM plugin to help you manage your customers without leaving the comfy confines of your WordPress dashboard?
If you're trying to grow your business, having a CRM (Customer Relationship Management) tool is essential to, well, manage your customer relationships. It can also improve your marketing/sales by encouraging a more systematic, data-driven approach.
While there are lots of popular SaaS CRM services (which you can usually connect to with a WordPress form plugin), having your own CRM plugin lets you do everything from the same familiar WordPress dashboard interface. It can also save you a bundle of money, because most plugins offer unlimited contacts (while most SaaS tools raise the price as your contact list grows).
In this post, we've listed the five best WordPress CRM plugins, all of which offer a free CRM to help you get started (as well as premium versions with more features).
Five Best WordPress CRM Plugins in 2021...and Beyond
Here are the five CRM plugins for WordPress that we'll be looking at: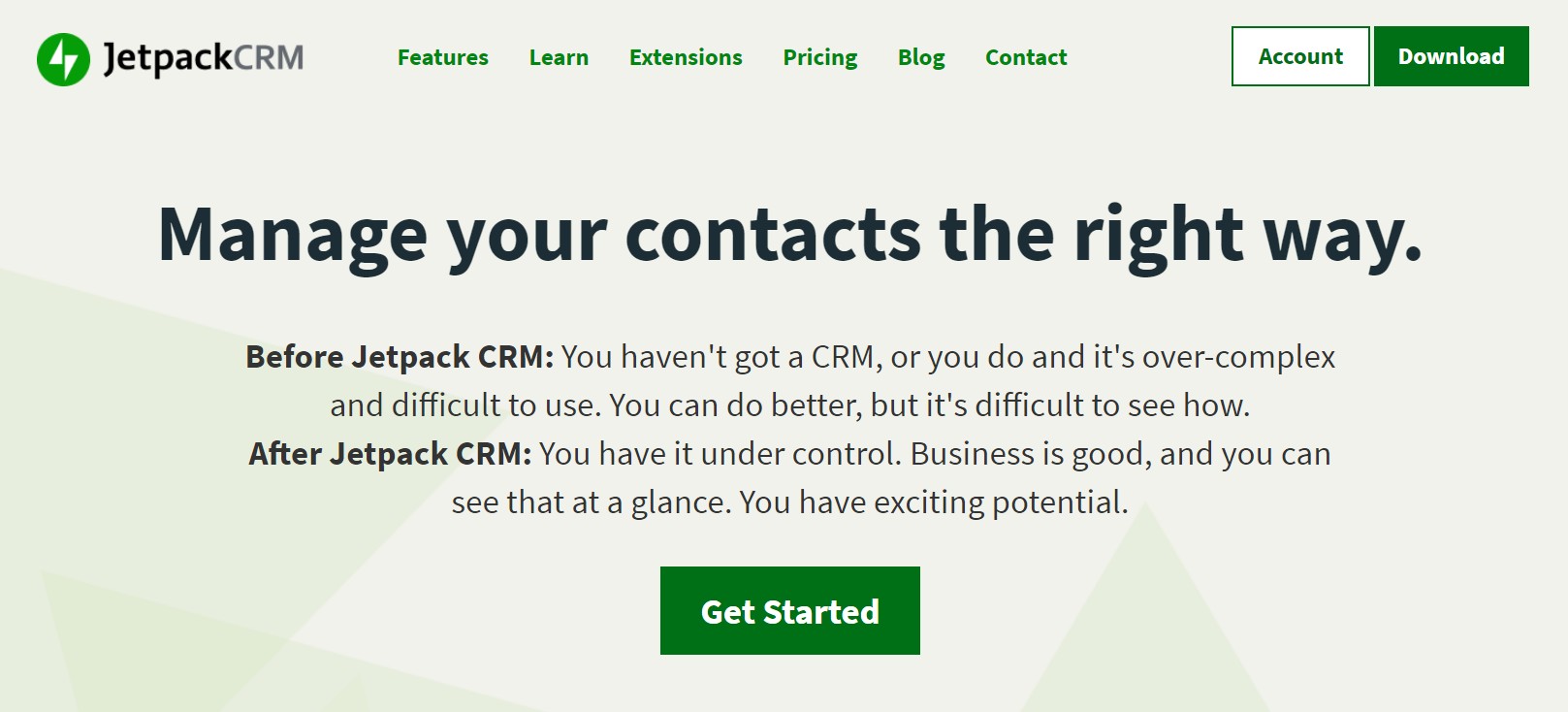 Jetpack CRM is a freemium CRM plugin from Automattic, the same company behind WordPress.com, WooCommerce and the popular Jetpack plugin. It was previously known as Zero BS CRM before being acquired and rebranded by Automattic in 2019.
Note - despite the name, you do not need to use the Jetpack plugin to use Jetpack CRM – the two are completely separate (though they come from the same developer).
Key Features
Native WordPress plugin - all your data stays on your server.
No contact limits.
Client activity logging.
Dynamic segmentation and tagging.
Custom field support to store any type of information.
Quotes and invoices.
Form builder (or integrate with most WordPress form plugins).
Send emails via your preferred service (Amazon SES, SendGrid, etc.).
WooCommerce integration.
Interface
Because it's a native plugin, you can manage all parts of your Jetpack CRM from your WordPress dashboard.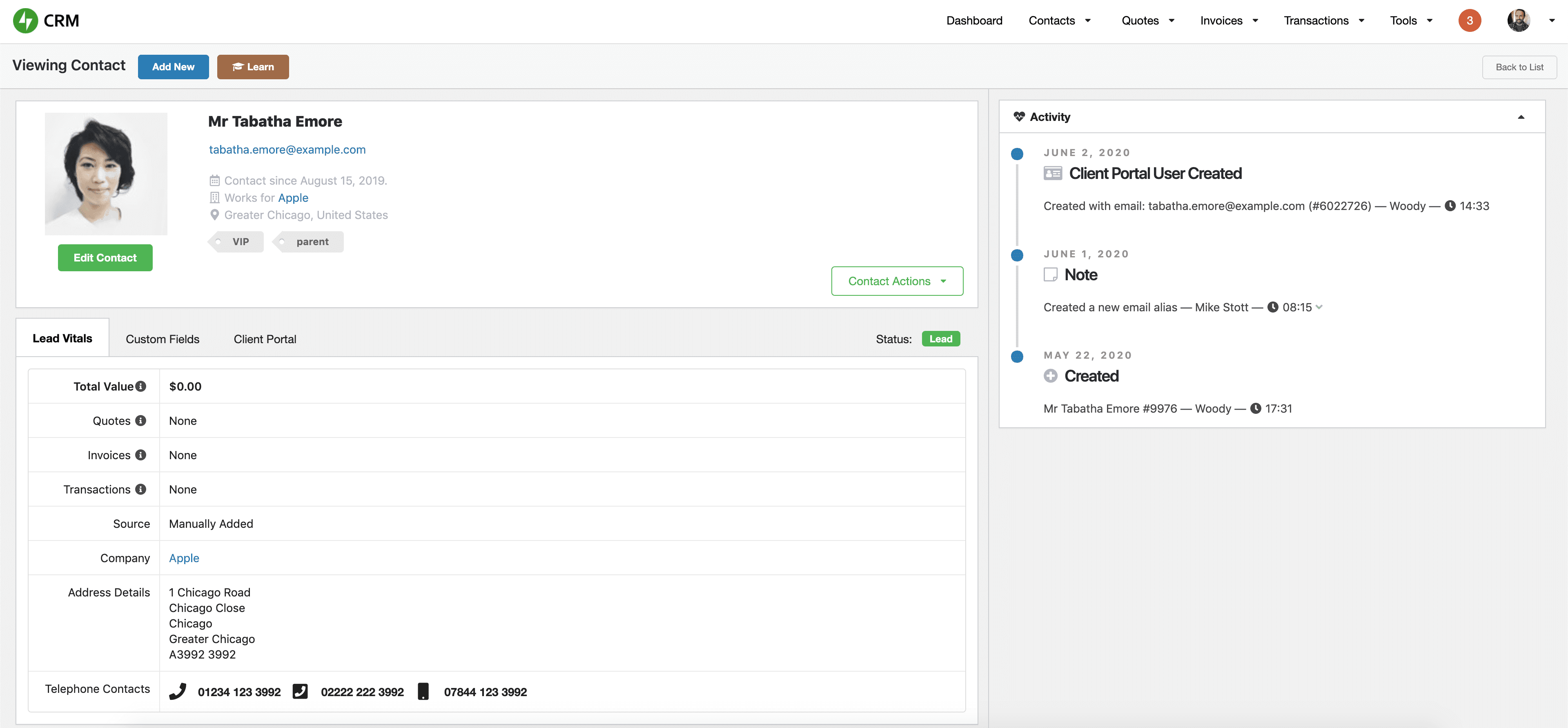 Pricing
The core Jetpack CRM plugin is available for free at WordPress.org.
Then, you can either purchase individual extensions ($29-$129 depending on the extension), purchase a bundle of four extensions for $132 or all extensions for $204.

HubSpot is not a native WordPress plugin like Jetpack CRM, but it does offer an official WordPress plugin that lets you access pretty much all of your CRM from inside your WordPress dashboard. This makes it "feel" very much like a native plugin. However, all of your customer data will be stored on HubSpot's servers – a key difference between HubSpot and all of the other plugins on this list.
If you're not familiar with HubSpot, it's one of the biggest CRM providers out there and well suited for both small businesses and larger enterprises.
If you're looking for a WooCommerce CRM, there's also a separate HubSpot for WooCommerce plugin that will sync WooCommerce order data and shopping behaviour to your CRM.
Key Features
Essentially unlimited contacts (up to one million).
Website activity tracking.
Send emails and design them with a drag-and-drop builder.
Built-in form builder or automatic integration with virtually all popular form plugins.
Popup builder.
Live chat (that feeds into your CRM).
Built-in analytics.
Integrations with hundreds of tools (though you don't get dedicated integrations for native WordPress plugins).
Interface
Even though HubSpot is a SaaS CRM service, its dedicated integration plugin means that you can still access your CRM, send mails, create forms etc. all without leaving your WordPress dashboard: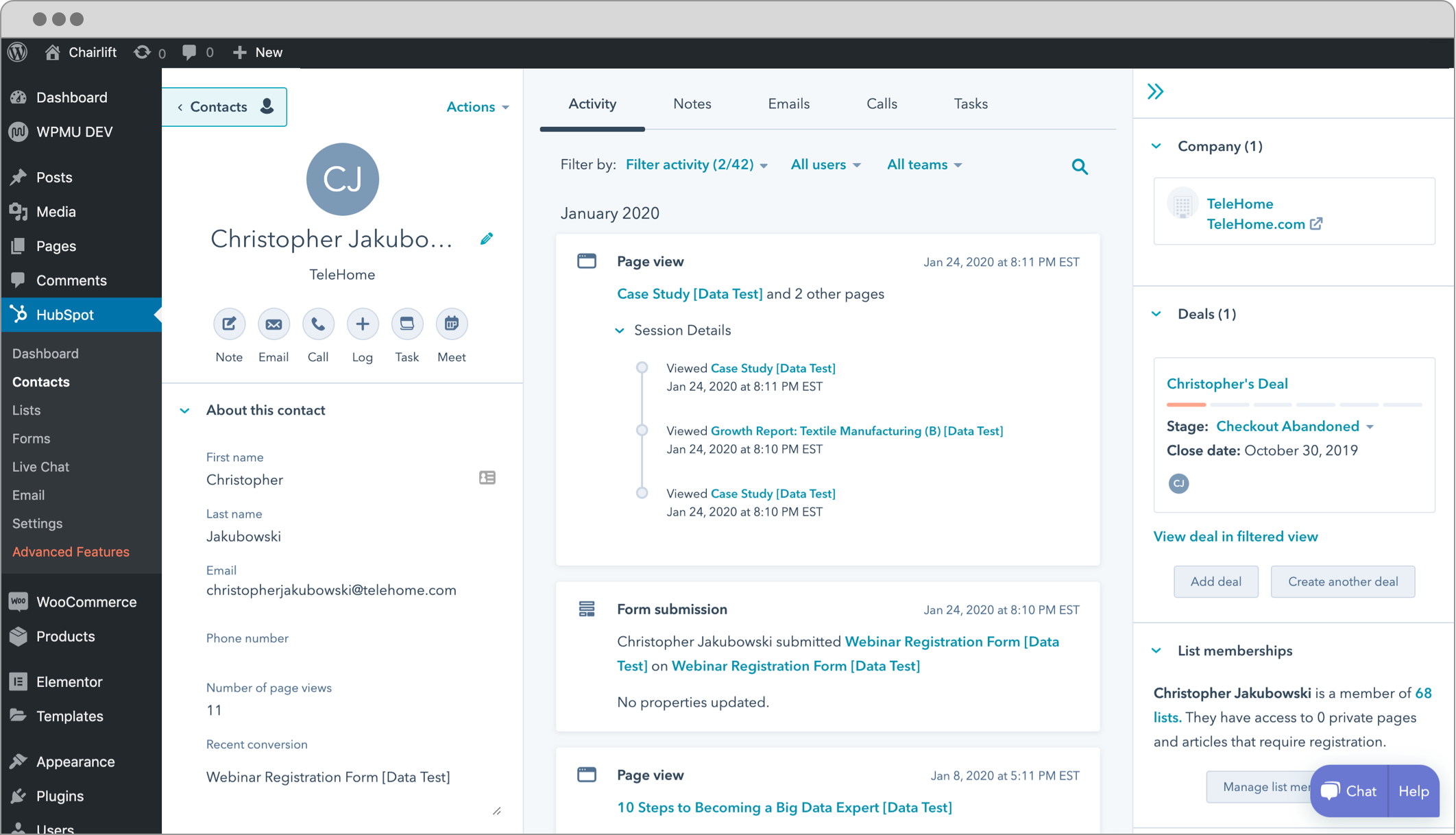 Pricing
The HubSpot CRM is free for up to one million contacts. This includes all the basic features, such as activity tracking, email marketing, forms and live chat.
There are then various paid add-ons for marketing, sales and customer service which start at £42/$50 per month each (or you can bundle them to save).

FluentCRM is another native WordPress CRM plugin that keeps all of your data on your own server. It comes from the same developer as the popular Fluent Forms plugin, and the two work well together to help you create custom lead gen forms that feed into FluentCRM.
Key Features
Native WordPress plugin.
Unlimited contacts.
Activity tracking.
Funnel builder.
Tagging and segmentation.
Built-in form builder or integrates with Fluent Forms or other form plugins (including Elementor Pro form builder).
Send unlimited emails (deliver via your preferred SMTP provider, such as Amazon SES or SendGrid).
Integrations with WooCommerce and Easy Digital Downloads for eCommerce.
Integrations with popular LMS and membership plugins to act as a CRM for your online course or membership site – includes LearnDash, LifterLMS, TutorLMS, MemberPress, Paid Memberships Pro, Restrict Content Pro and more.
Interface
FluentCRM has a well-designed dashboard that fits right inside your WordPress dashboard: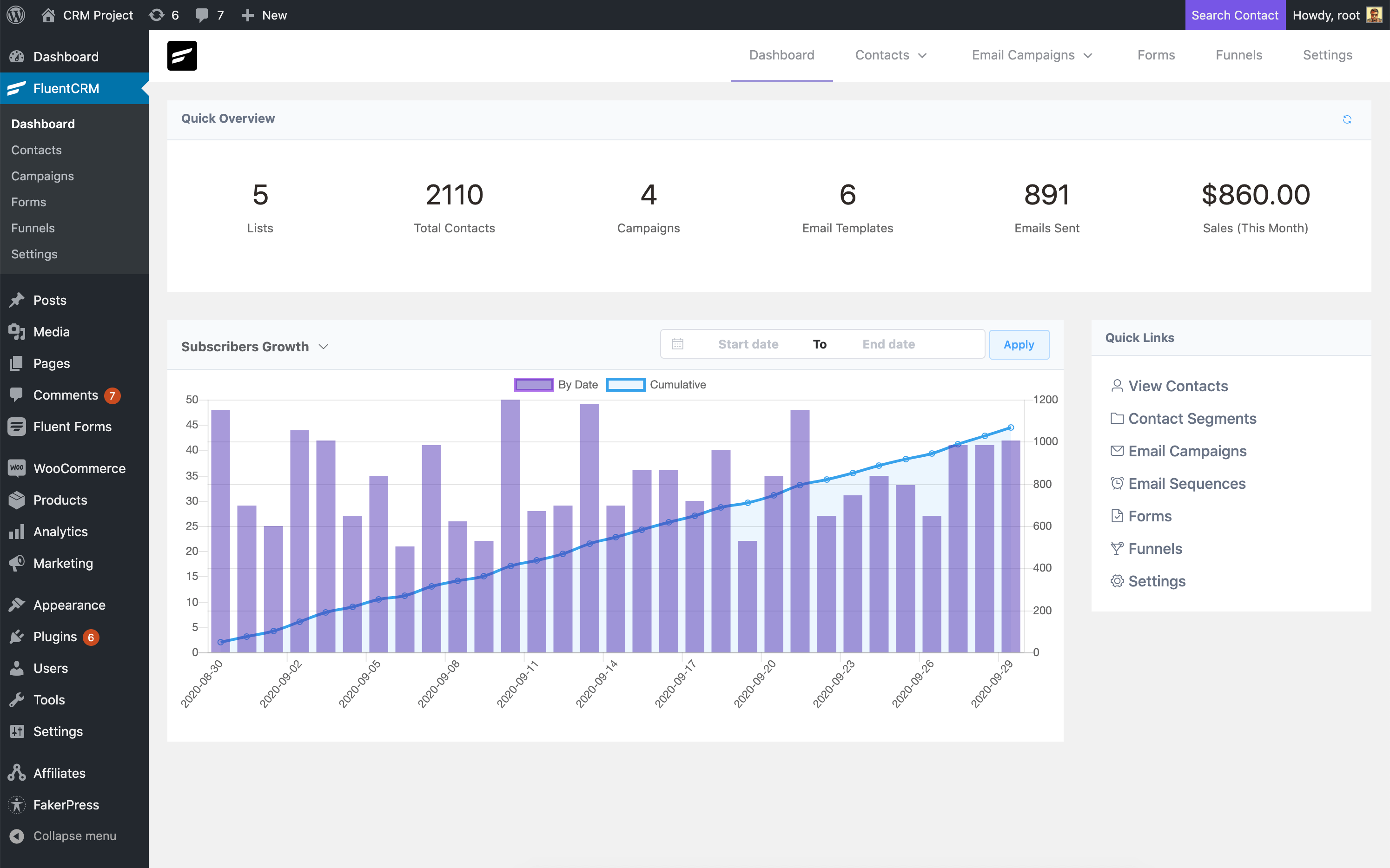 You can view contacts and send email campaigns using the tabs at the top of its interface: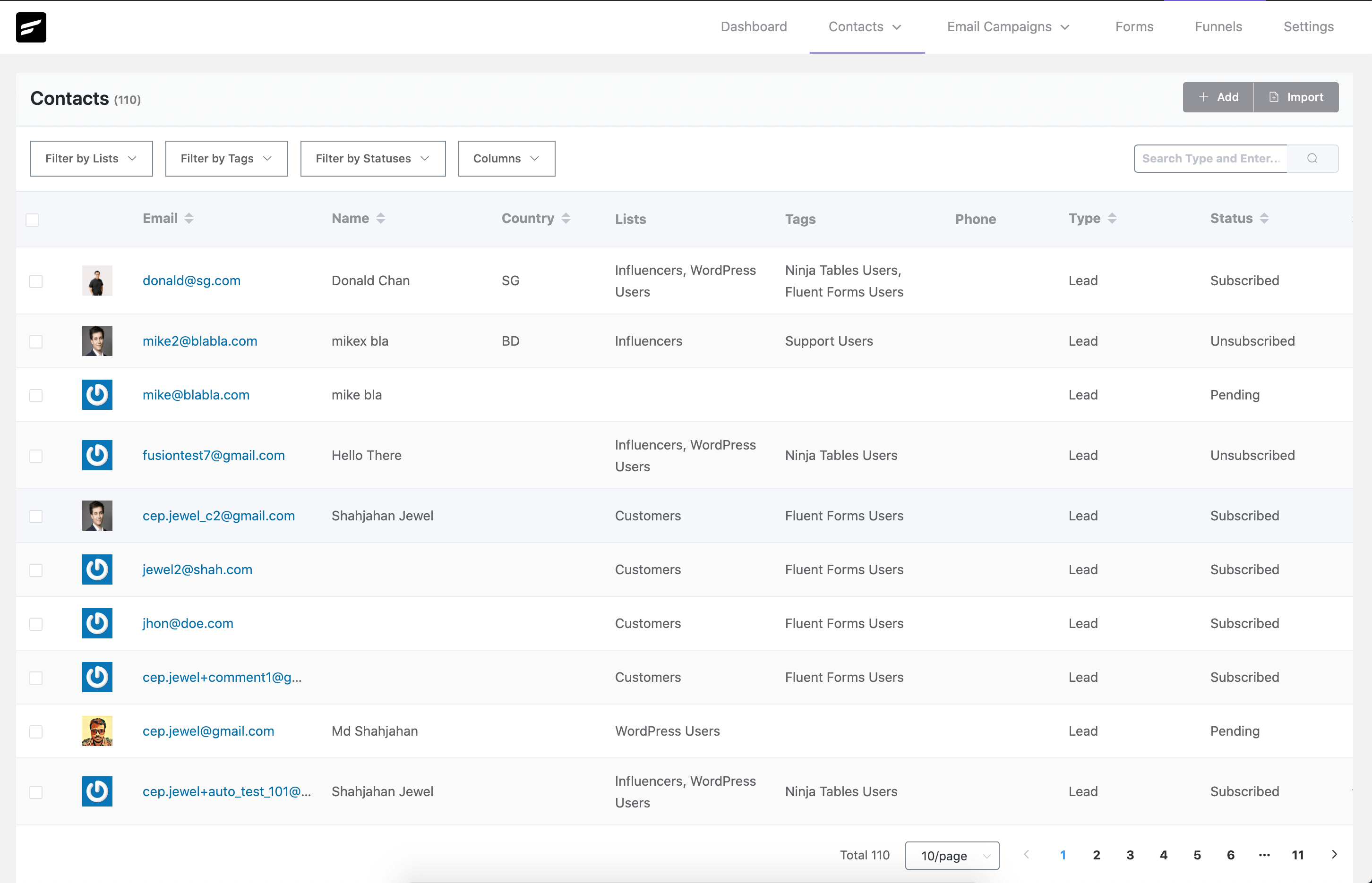 Pricing
The core FluentCRM plugin is available for free at WordPress.org. Pretty much all of the core features are available in the free version, but you'll need to pay for the premium version to access the many integrations that we mentioned above.
The premium version starts at $129 for a single-site license.

Groundhogg is another native WordPress CRM plugin that offers a few more heavy-duty marketing automation and funnel features than you get with Jetpack CRM or FluentCRM.
If you're willing to invest the time to set up the automation rules and learn how it works, it can be a great option for advanced-use cases. The developer has lots of educational content to help you do this.
In a nutshell, Groundhogg aims to offer the same feature depth and automation rules as the popular SaaS CRM tools, but in a much more cost-effective package because, as a self-hosted tool, it allows unlimited contacts. This is in contrast to most SaaS tools, which often raise their prices as your contact lists grow.
However, if you're just looking for a simple CRM to manage your leads and track activity, this one is probably overkill and you should stick with one of our other options.
Key Features
Unlimited contacts.
Custom fields.
Tagging and segmentation.
Activity and email history.
Send transactional and marketing emails.
Built-in analytics.
Marketing automation via a simple, code-free funnel builder.
Pre-built funnel templates for a welcome series, abandoned cart emails, lead magnet downloads and more. These are a great way to learn how the funnel builder works.
Integrations with 30+ plugins and services, including WooCommerce, Zapier, LifterLMS, Easy Digital Downloads and lots more.
Interface
Groundhogg fully integrates into your WordPress dashboard: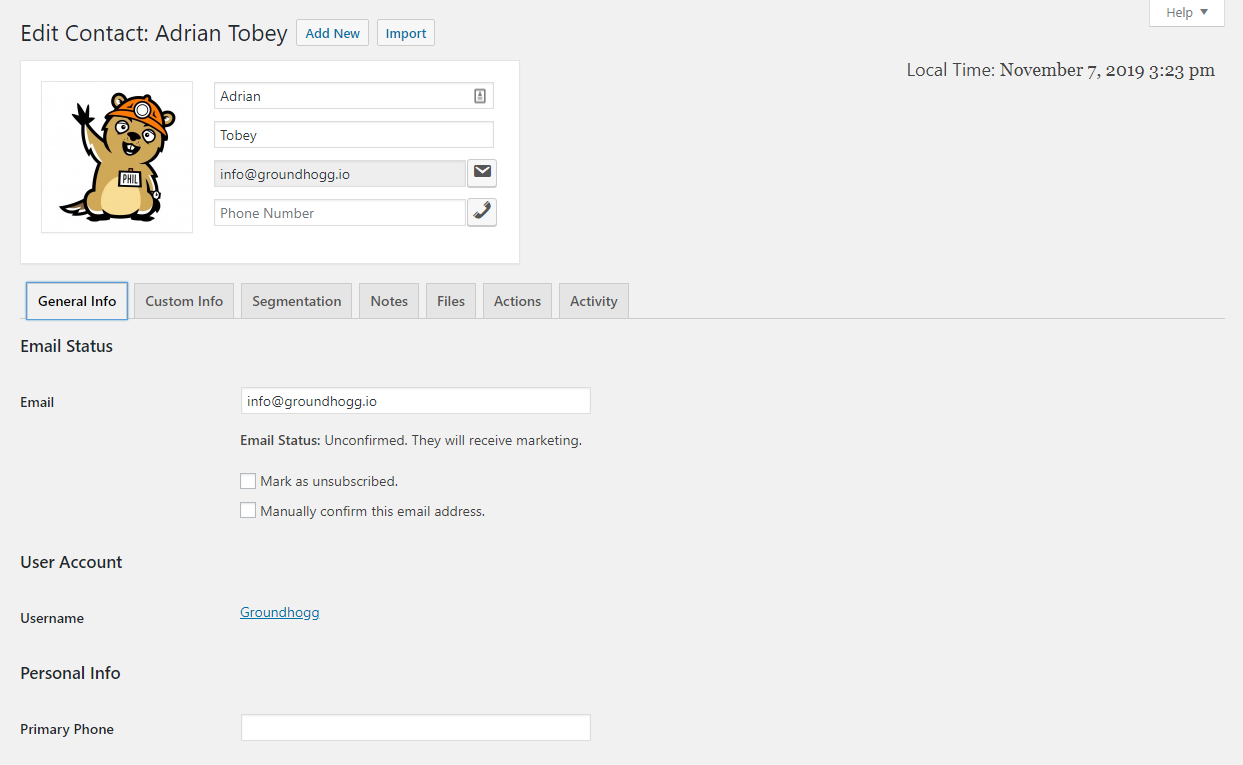 The most unique thing about Groundhogg in relation to Jetpack CRM and FluentCRM is its automation funnel builder, which lets you put together different "actions" to create your own automation sequences: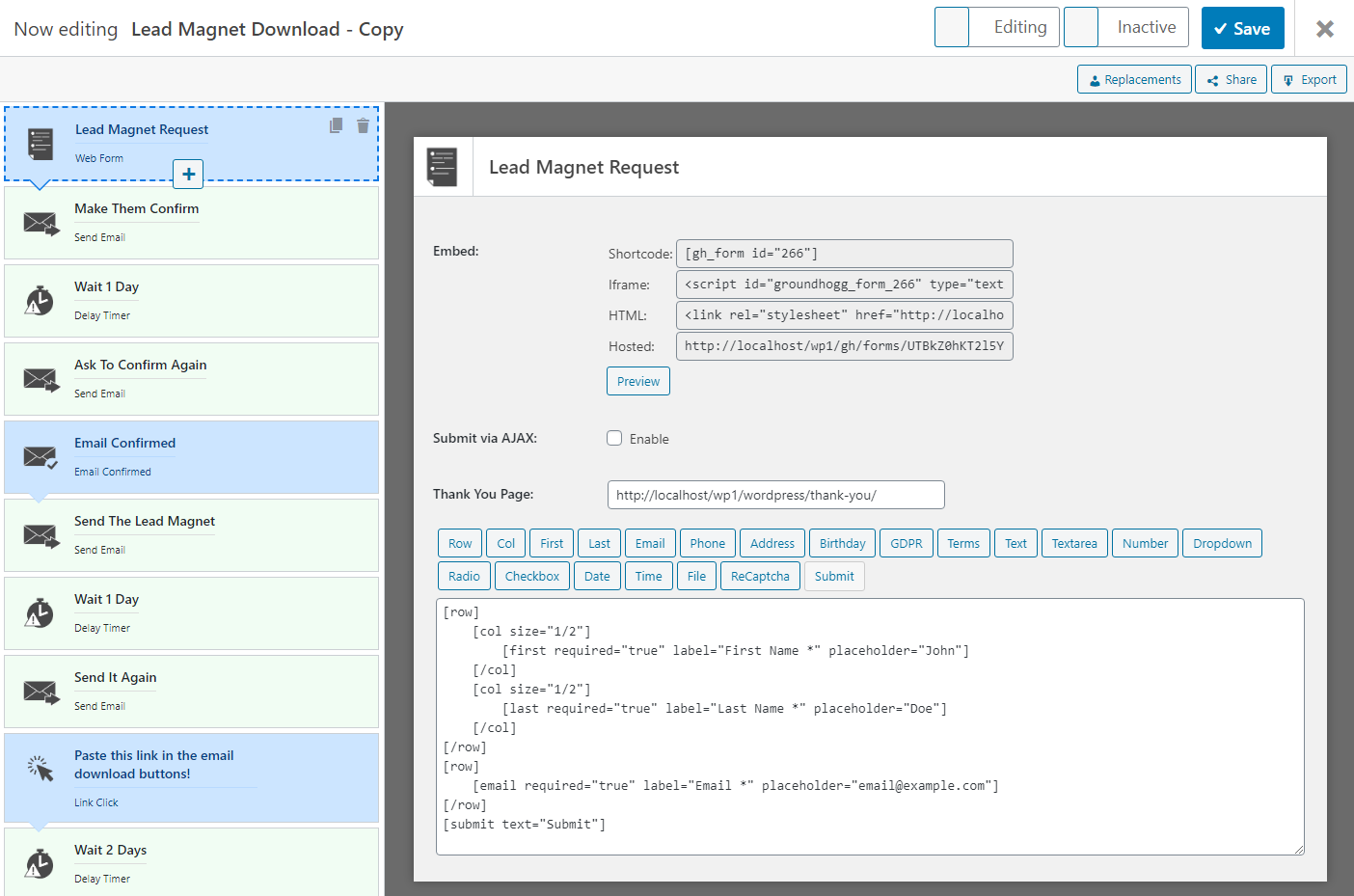 Pricing
The core Groundhogg plugin is available for free at WordPress.org and includes all the basic features.
Then, there are 24+ premium add-ons and 30+ premium integrations that you can purchase. You can buy the add-ons and integrations individually, but you'll pay a big premium to do so.
A better option is usually to purchase one of the bundles, which vary in features and range from $240 to $480 depending on the features and integrations that you need access to.

WP-CRM System is another native WordPress plugin that makes a great option if all you need is a lightweight WordPress CRM. It does not offer the same level of depth as plugins such as Jetpack CRM and Groundhogg, but it does offer a simple, lightweight system that will work for most small businesses.
For example, the built-in tool to email your contacts is very limited. Mostly, you can just view their information, including some integrations (like seeing clients' order histories from WooCommerce).
All in all, if you're just looking for a simple system to keep track of customer information and don't need advanced marketing and automation tools, this plugin can be a good one to consider (and it comes from a well-known developer).
Key Features
Unlimited contacts.
Custom fields to store any lead information.
Zapier integration.
Integrations with WooCommerce and Easy Digital Downloads.
Invoicing.
Client portal to view information, including invoices.
Interface
WP-CRM System uses the regular WordPress interface, so browsing your customers looks just like browsing a list of blog posts: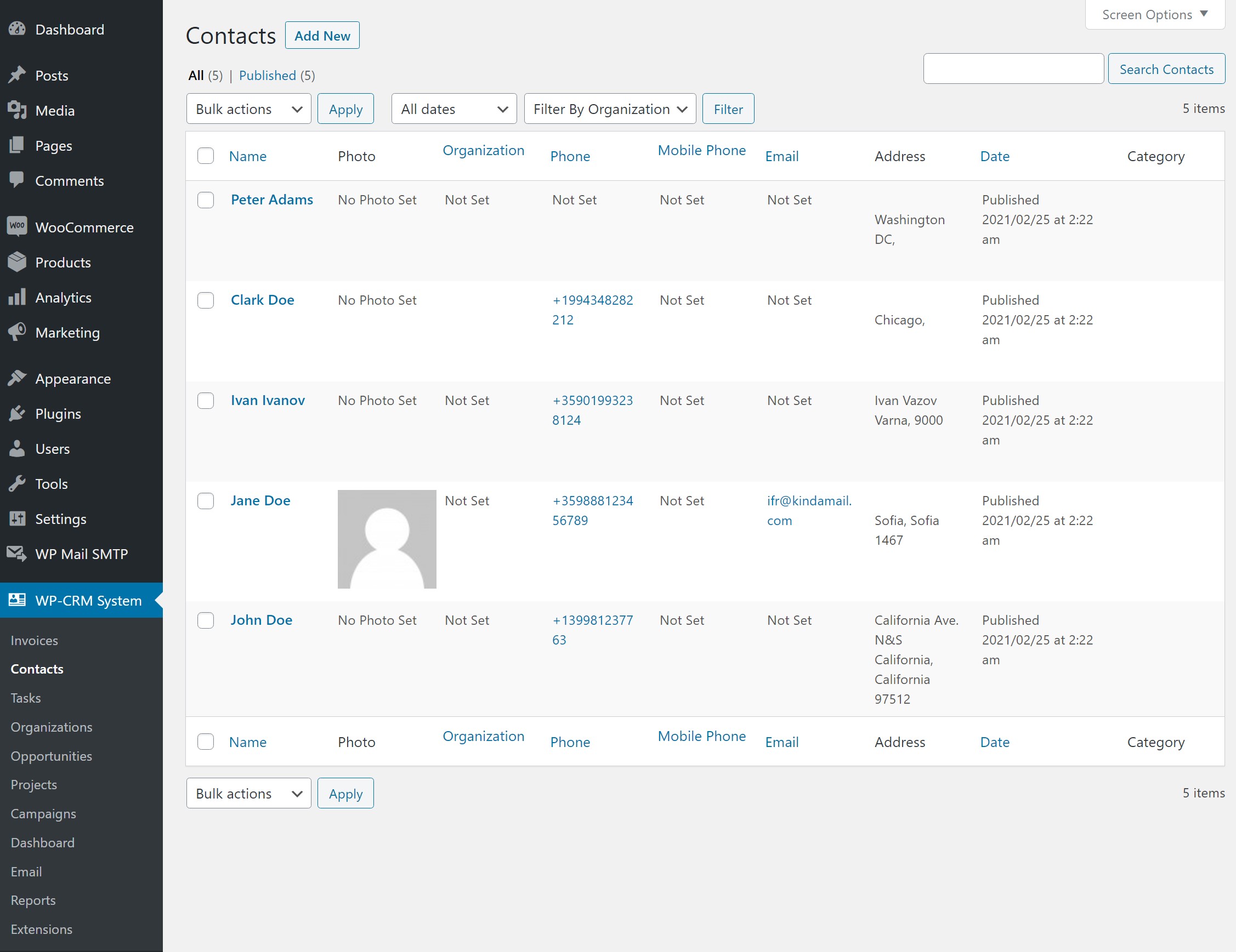 This contributes to its lightweight feel.
Pricing
The core WP-CRM System is available for free at WordPress.org.
To access the premium features, you can either purchase individual extensions or bundles. The bundles cost $99 per year (three extensions) or $199 per year (all extensions).
Which is the Best WordPress CRM for Your Needs?
There's no single best WordPress CRM plugin for all users, so picking a plugin is really about finding the best option for your situation.
One of the first decisions you should make is whether you want a 100% self-hosted native WordPress solution (where all your data "lives" on your server) or whether you're happy to use a SaaS tool that integrates with WordPress (where your data "lives" on the tool's servers).
If you like the SaaS approach, give the free HubSpot CRM a look, as its WordPress integration plugin still gives it a very native feel. Sendinblue is another solid option with a good WordPress integration plugin.
On the other hand, if you want full data ownership and control, you'll want to stick with one of the native WordPress CRM plugins. Jetpack CRM is a great starting point, with FluentCRM being another quality option. You can also consider WP-CRM System for something super lightweight.
If you want a powerful marketing automation tool that can help you create your own custom funnels and automation sequences, then the Groundhogg plugin was built for you. It's more expensive than Jetpack CRM and FluentCRM, but it justifies that higher price with a very flexible funnel builder that integrates with most popular WordPress plugins and lets you create your own unique automation rules.
Still have questions about choosing the best WordPress CRM plugin for your situation? Let us know in the comments section below. If you want to find out more about our WordPress hosting options, click the link or get in touch via Live Chat.
Share this article
About the author
Darren H
I'm Darren and I'm the Senior Copywriter at Krystal. Words are what I do. Aside from writing, I play guitar and sing in my band Machineries Of Joy, work on getting my 2nd Dan in Taekwondo and seek adventure with my wife and daughter.
Join our newsletter
No spam. Just the latest news, events, product updates, promotions and more delivered to your inbox.