Did you know that integrating a customer relationship management (CRM) system with your WooCommerce store can grow your business by 20-30%?
In fact, Nucleus found (in its 2014 research) that every dollar spent on setting up a customer relationship management system generates $8.71 in return. If you invest in a WooCommerce CRM for eCommerce, you'll realise this ROI in the form of more net revenue (via more sales, upsells, and cross-sells), shorter conversion cycles, improved productivity, better lead nurturing, and customer retention, among other things.
If you're looking to add an eCommerce CRM to your WooCommerce store, you're in luck. Because today we're rounding up ten of the best WooCommerce CRM plugins for the job!
What's the need for WooCommerce CRMs for eCommerce websites?
By leveraging your WooCommerce product, customer, and sales data, a WooCommerce CRM for eCommerce websites can help you drive more revenue. It does so in many ways. For example, among other things, your WooCommerce CRM:
Remembers when it's your customer's birthday and automatically sends them a special birthday discount coupon. Your WooCommerce CRM will also know if it's time for your customer to restock a product and will automagically send them a restock email or SMS offer. (These are examples of personalised marketing.)
Keeps track of your customers' past purchases and sends them automated emails with curated/similar products that they might want to buy — thereby boosting your cross-selling and upselling revenue.
Helps you send personalised offers to customers for the products they just checked out on your store — behavioural targeting.
In addition to facilitating automated communications and targeted campaigns, you can also get business insights like sales forecasting, key metrics like your average customer lifetime value, revenue insights, and more from your WooCommerce CRM. (Not all WooCommerce CRM tools come with such advanced insights, though).
So which is the best WooCommerce CRM for your eCommerce site? Well, each WooCommerce CRM comes with its superpowers. The snapshot below will help you make a quick choice.
The 10 best eCommerce CRMs for WooCommerce (and WordPress)
Metrilo – if you want a truly all-in-one WooCommerce CRM.
HubSpot for WooCommerce – if you want to implement HubSpot's inbound marketing across your store. You must subscribe to a paid HubSpot plan for any real CRM functionalities with this one.
Drip – if you want to set up some best-in-class targeted marketing campaigns across your store and beyond it (on to your leads' social media feeds, for example).
Jetpack CRM – if you need a simple WordPress-first CRM solution that works really well with WooCommerce.
Agile CRM – if you want to bring Agile CRM's CRM capabilities to your WooCommerce store, and if you might want your CRM to double up as your helpdesk tool as well.
Ninjodo – if you want a lightweight WooCommerce CRM solution that can send your customer data to Mailchimp so you can use MailChimp to power your customer communications.
ReadyCloud CRM – if you're a multi-channel eCommerce business that sells everywhere and are specifically looking to offer better shipping and return experiences along with stellar communications.
WP-CRM System – if you want a really basic WooCommerce CRM implementation to manage your eCommerce sales pipeline.
WP ERP – if you're ready to configure a robust CRM system using a bunch of add-ons.
Salesforce Connector for WordPress WooCommerce – if you're already using the Salesforce ecosystem across your eCommerce business.
Let's now look at these WooCommerce CRMs for eCommerce sites in detail.
1. Metrilo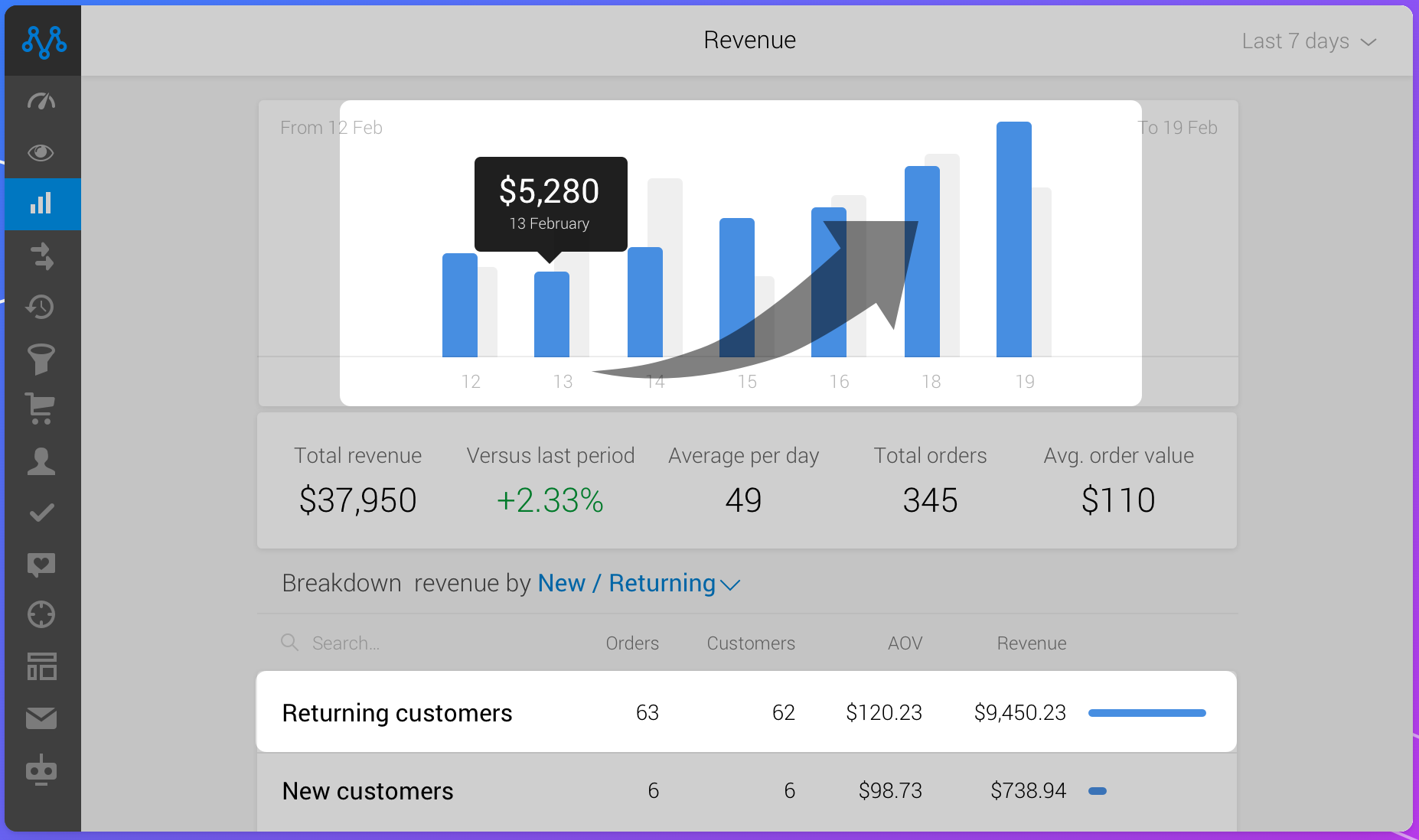 Metrilo (now part of the Sendinblue family) is a WooCommerce CRM that brings together analytics, customer relationship management, and email marketing to your store. So it's an all-in-one WooCommerce CRM perfect for an eCommerce site.
Metrilo's intuitive analytics dashboard instantly tells you your eCommerce store's KPIs like your new customers, top-selling products, customer lifetime value, conversion rates, and real-time revenue, among others. You don't have to understand data science to understand how your store is doing with Metrilo's out-of-the-box reporting. Just log in, and everything from your eCommerce store's funnel performance to ready-to-use actionable insights are available right away.
With its customer profiles, Metrilo helps you know your customers more intimately. Everything that your WooCommerce store has on a customer shows up on their customer profile. This profile tracks each point of your customer's journey with you, from their last purchase to the amount they've spent on your store to their specifics (like if they're a deal hunter). Metrilo's database, on the other hand, helps you make sense of your customers at a macro level. Also, Metrilo automatically adds segments like cart abandoners, power users, deal hunters, and more to your database. You even get an Assistant that can instantly pull up everything you need (data and insights) on any customer!
When it comes to email marketing, Metrilo comes with 30+ filters (like customer activity and the number of orders) to let you segment your contact base. Not just that, once you've created a segment, you can whip up email campaigns right within your Metrilo-WooCommerce dashboard and schedule/send them. Metrilo also comes with email automation. So you can send automated emails to your customers when they sign up, complete a purchase, abandon a cart, and so on.
Pricing: For unlocking the complete Metrilo suite (that brings all its three core functionalities of analytics, relationship management, and email marketing), expect to pay $299/mo.
2. HubSpot for WooCommerce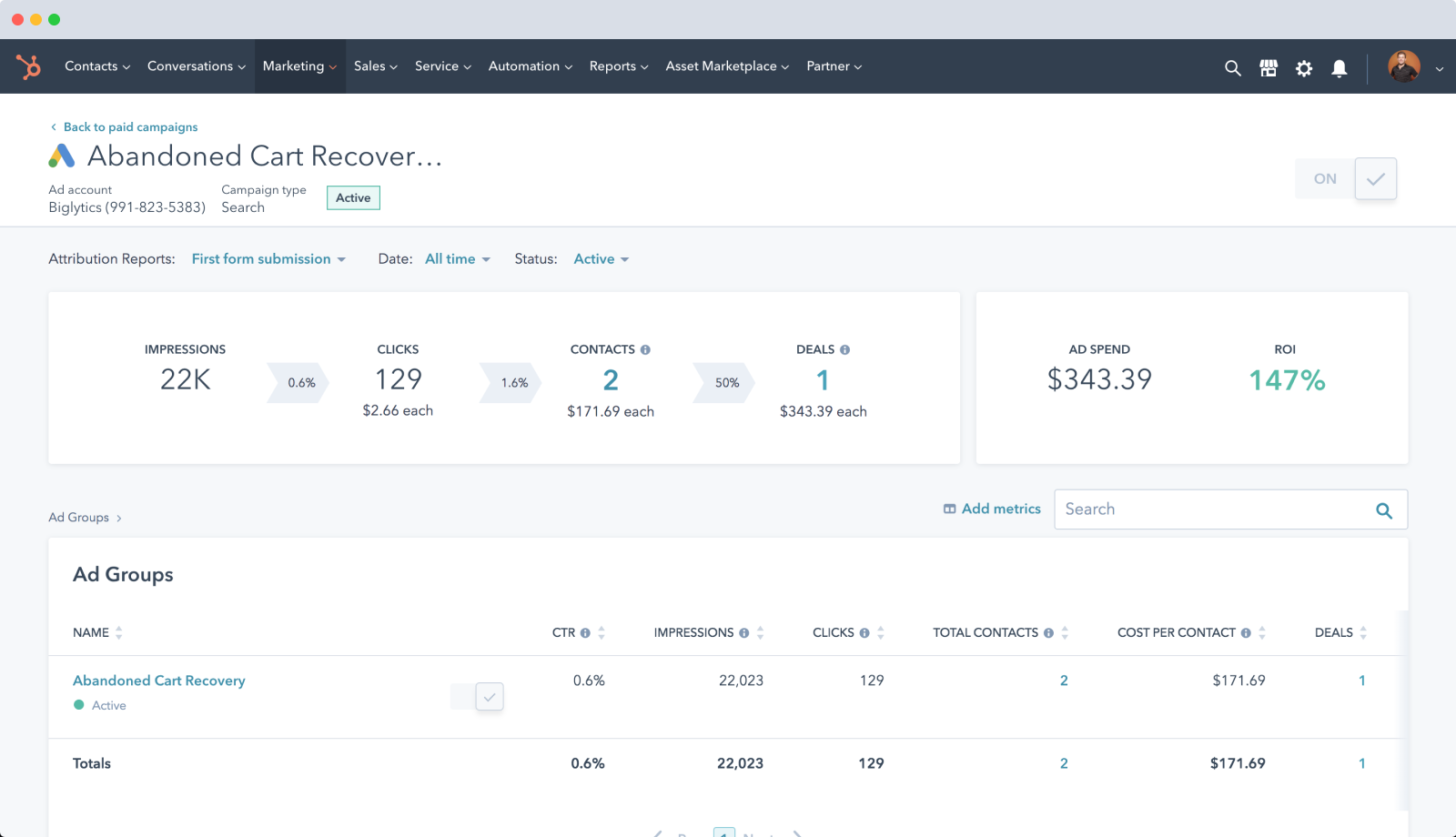 Built by MakeWebBetter, a premier HubSpot partner, HubSpot for WooCommerce lets you send your WooCommerce data to your free or paid HubSpot account. And then, from your HubSpot account, depending on the HubSpot plan you're on, you can create marketing campaigns like abandoned cart messages and more for your WooCommerce contacts.
Once you set up the WooCommerce plugin, data like the number of products on your store, your total number of customers, and your net number of sales shows up in your HubSpot account. Also, an ecommerce pipeline shows you how your orders/sales are doing. So in one glance, you can see how many checkouts were successfully completed along with the ones that got cancelled, among other things.
A new order is treated as a new deal, and this deal progresses through your ecommerce pipeline. This eCommerce pipeline uses your default Woocommerce order statuses (like shipped, cancelled, refunded, etc.) as deal or order stages. You can sync your historical data as well.
Pricing: Although the basic HubSpot CRM is free, you need to be on a paid HubSpot plan to actually use your WooCommerce HubSpot CRM contacts. If you're selling to 1000 customers (and only need to send about 2000 emails in a month), HubSpot's Starter plan at $50/mo might work for you. However, note that if you want features like behavioural targeting, you need the ($3200/mo) Enterprise plan.
3. Drip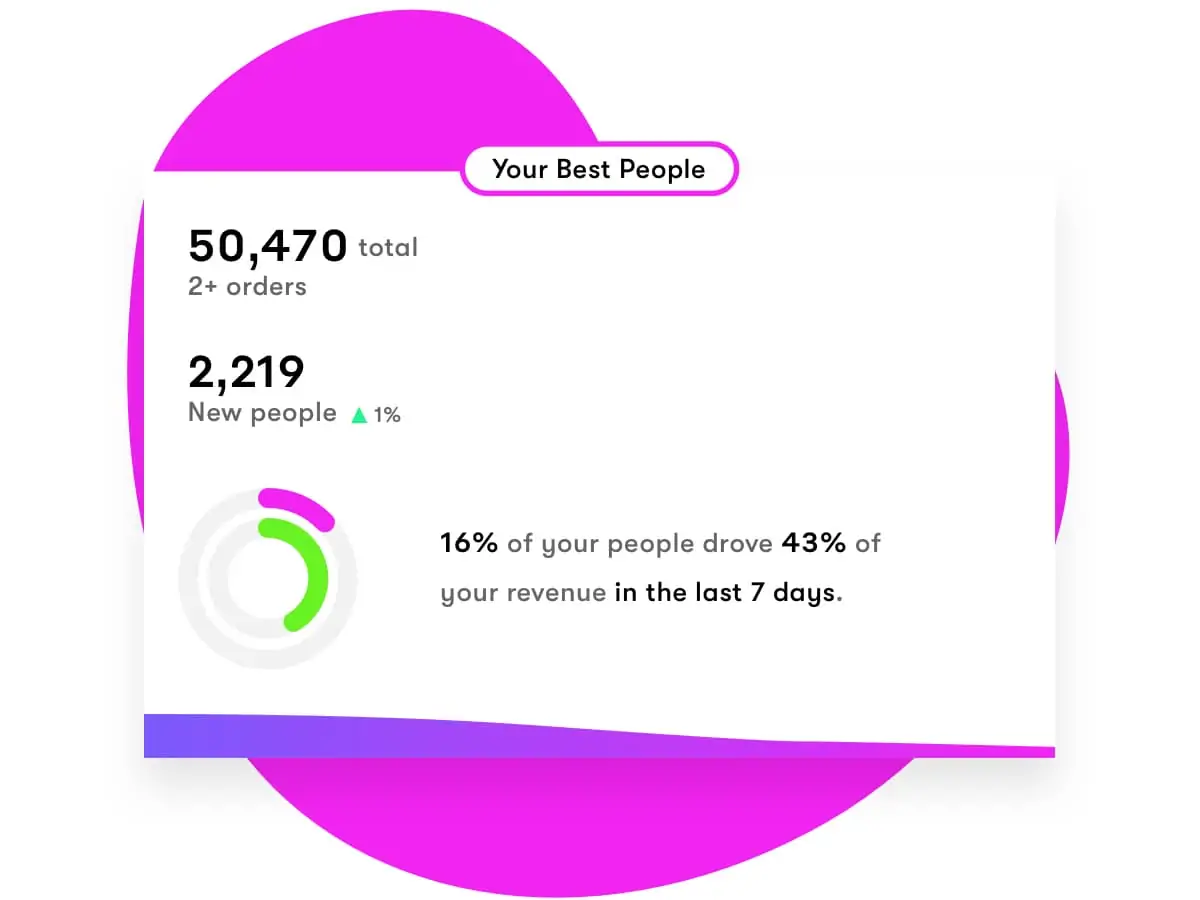 Drip is an eCommerce marketing automation platform that offers its very own WooCommerce plugin. Drip's for WooCommerce CRM plugin is a great option for eCommerce sites;, you can bring your WooCommerce data to your Drip platform and use it to create marketing campaigns like targeting your shoppers when they browse through your store, make a purchase, or abandon a cart.
Drip gives you multiple ready-to-deploy eCommerce automated email workflows, including a series to engage your new customers (a welcome series), recover abandoned carts (cart abandonment recovery series), and post-purchase sequences to engage your customers and generate repeat sales.
Drip's customer data tracks your customers' visits, clicks, and browsing (among other interactions) to really tell what's going on with each. What's more, using this customer information, it lets you send personalised email (and SMS) marketing campaigns at scale. Thanks to its data capturing capabilities, Drip lets you segment your list in many ways so you can laser-target users with offers. Said another way, you can easily reach out to just the shoppers, who, say, made a purchase last week or actually returned to make a second purchase.
From ROI on your current marketing campaigns to projections on how much the one you're creating can make, Drip comes with powerful analytics. It also shows you details on your orders, the new customers that you added, and who your most loyal customers have been, among other things. You can also retarget your Drip leads on their social media accounts.
**Pricing: **Drip's plans start at $19/mo. This entry-level plan supports 500 contacts, so your email list can have up to 500 subscribers. Beyond this, it's pay as you go. This plan only supports emails and not SMSes.
4. Jetpack CRM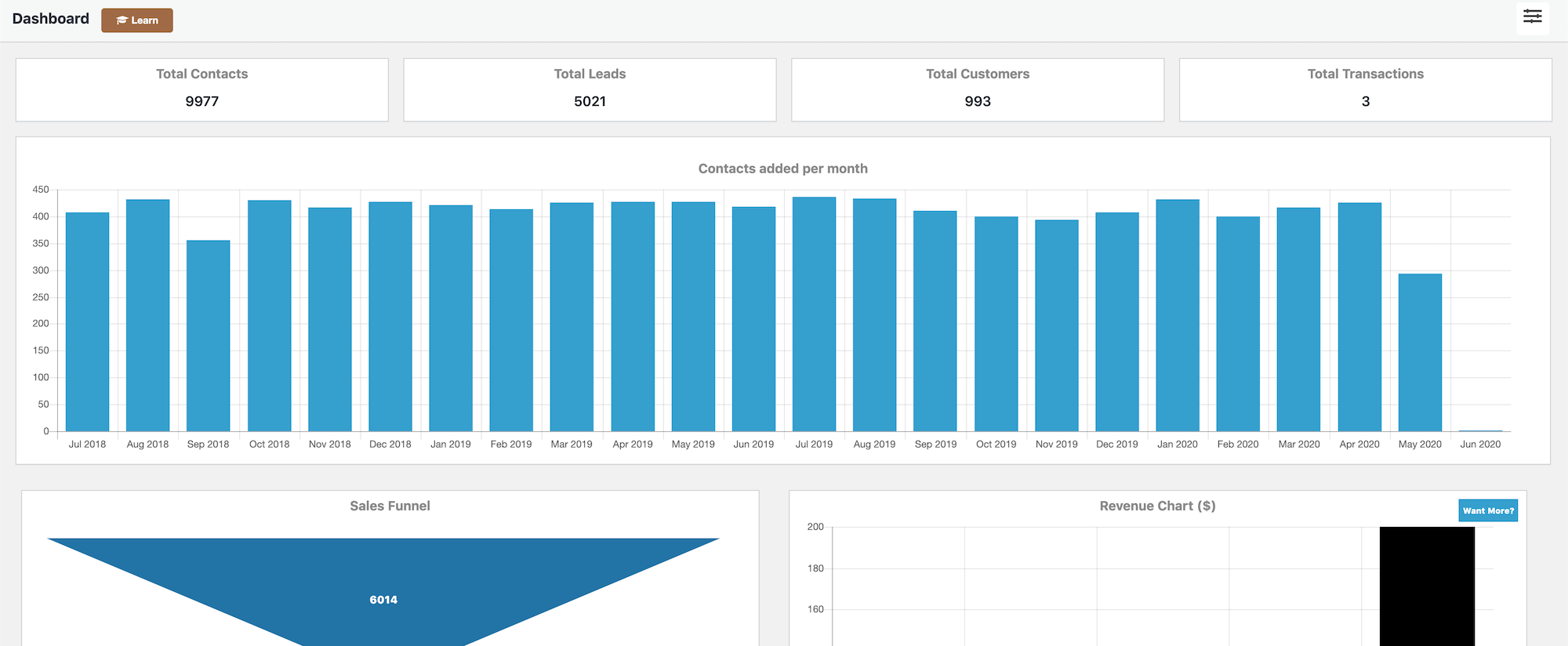 Remember the much-loved Zero BS CMS for WordPress? Well, Zero BS CRM is now called Jetpack CRM. Jetpack CRM now belongs to the Automattic family. Although seen more as a general CRM solution, Jetpack offers its own WooCommerce CRM extension. This customises the base solution to work as a WooCommerce CRM solution.
The JetPack WordPress CRM plugin, with its WooCommerce extension, automatically reads your WooCommerce orders and creates "customer" records from them inside your eCommerce CRM. From here, your customer activity gets tracked in an activity log that you can use for segmenting customers and for reaching with personalised email marketing campaigns. In fact, if you get JetPack's Mail Campaigns add-on, you can send emails too using the CRM+Mail Campaigns integration.
You also get a simple sales dashboard that shows you your WooCommerce store's key KPIs — gross revenue, net revenue, new contacts (customers), refunds, etc. — at a glance.
Pricing: If you go with Jetpack CRM's $17/mo plan, you can unlock the complete solution, including access to all of its CRM extensions.
5. Agile CRM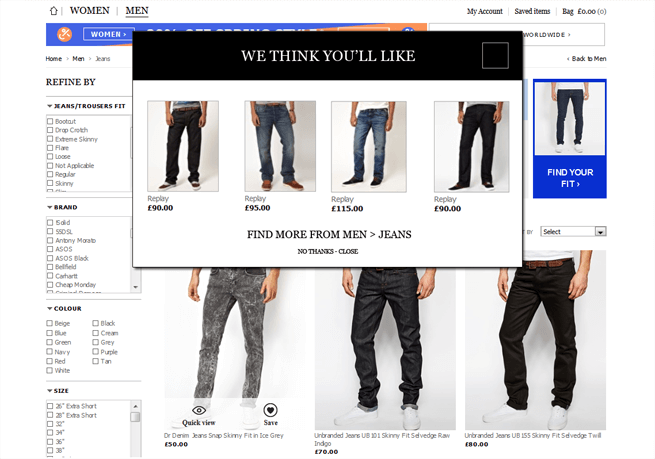 Just like JetPack, Agile CRM, too, is a general CRM solution. But it has built its official WooCommerce CRM plugin for eCommerce sites to bring its customer relationship prowess to WooCommerce sellers.
With Agile CRM's WooCommerce CRM plugin, you can bring your WooCommerce data straight to your Agile CRM account. Once you integrate the two, Agile CRM starts tracking your customers' activity on your website.
Using the data you collect, you can set up a host of email campaigns using Agile CRM's autoresponder features. You can set up cart abandonment emails, holiday campaigns, and post-purchase sequences, to name some.
You can even set up exit-intent popups on your WooCommerce store and collect leads via them. Your popups can offer anything from coupons to personalised deals.
You can bring more features to Agile CRM's WooCommerce CRM by getting add-ons like AutomateWoo's Agile CRM integration.
**Pricing: **Agile CRM offers a generous free plan that supports 10 users. Its premium plans start at $14.99/user/mo. Paid plans unlock features like email marketing and marketing automation. So essentially, the free version only lets you build your contact base. If you'd like your Agile CRM to double up as a lightweight helpdesk system as well, you can take this solution's $49.99/user/mo plan and add ticketing and customer support functionalities to it.
6. Ninjodo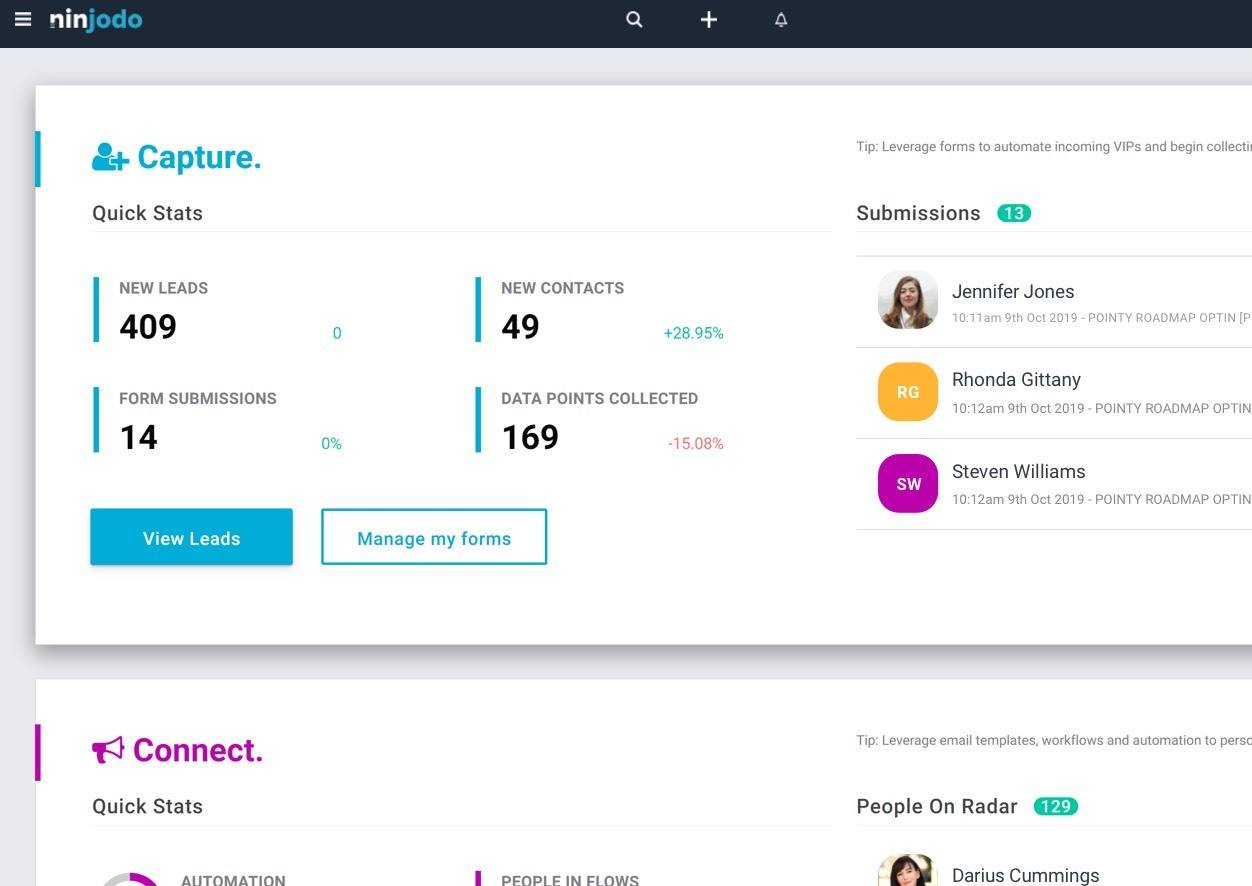 Ninjodo helps you grow your business by letting you capture leads, connect with them, and nurture them so they convert. While Ninjodo is clearly a CRM for customer management for service-based businesses, it offers seamless integration with Woocommerce, making it usable on WooCommerce as well.
Once you set up the Ninjodo-WooCommerce CRM integration, Ninjodo syncs all your product, order, and customer data, and you're ready to use Ninjodo's CRM eCommerce features to create customised automation workflows and send automated personalised emails to your customers. You might need Ninjodo's Mailchimp extension for this. You can use Ninjodo to send upsell and cross-sell email sequences too.
Pricing: Ninjodo is available at $49/month, a plan that supports 5 users and 5000 contacts. But you can also sign up for a $29/mo plan that supports up to 1000 contacts.
7. ReadyCloud CRM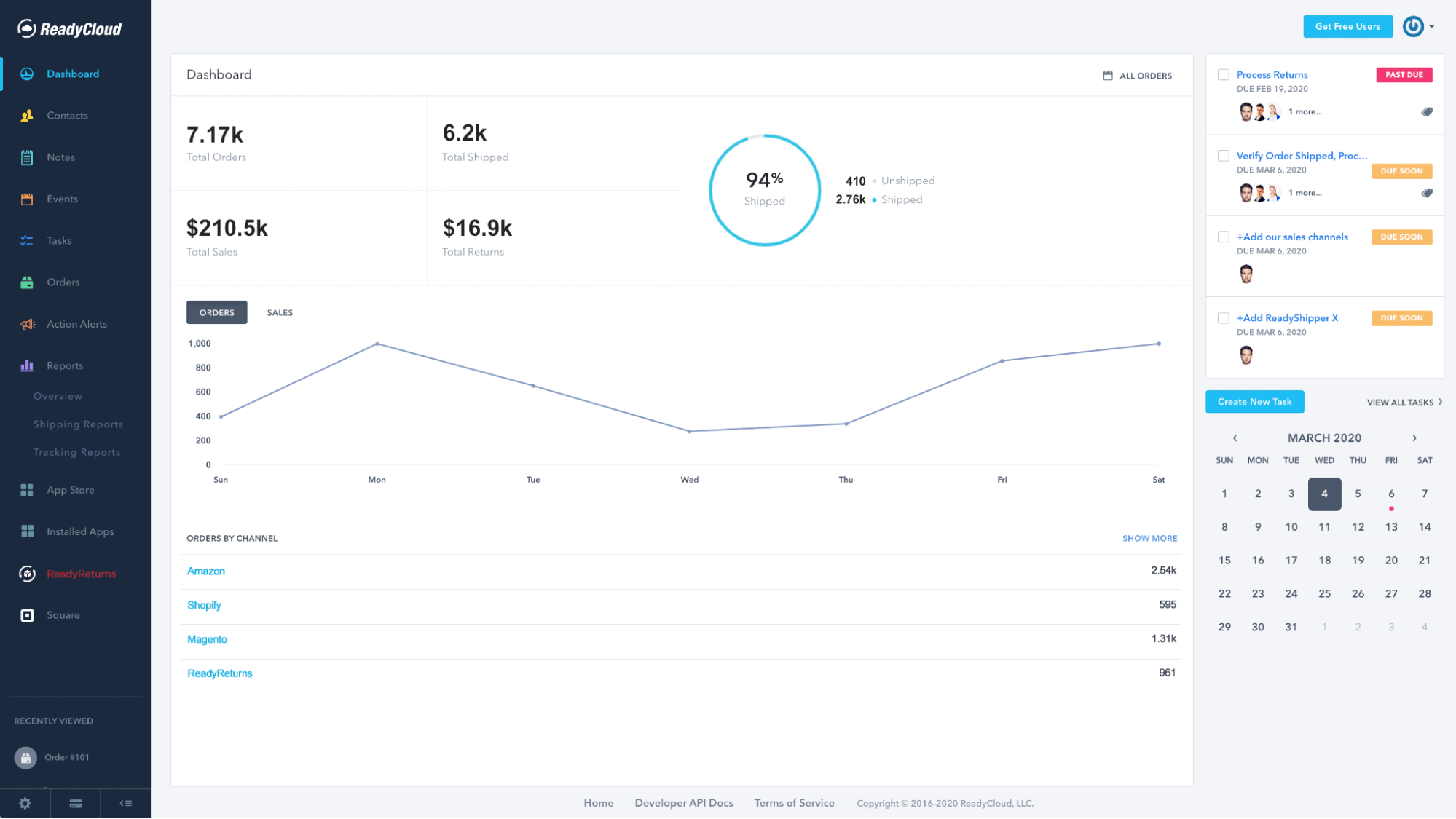 ReadyCloud Suite offers eCommerce CRM solutions that focus on shipping, returns, and communications — the very core of online shipping experiences.
ReadyCloud Suite comes with dedicated CRM solutions for different eCommerce platforms like Shopify, Magento, and WooCommerce. It also covers sales channels like Facebook shop and Amazon. So it's an eCommerce CRM that's built for multi-channel sellers in a way.
With ReadyCloud Suite's WooCommerce CRM software, ReadyCloud Suite brings its "enterprise-level" customer relationship management straight to your WooCommerce store. Once you set up the plugin, ReadyCloud will import all of your WooCommerce data and set up detailed customer profiles.
ReadyCloud CRM's communications functionality lets you send automated emails and SMSes to your customers, including updates on their return requests and shipping notifications. You can also upsell and cross-sell items based on your shopper's purchase history with your store.
ReadyCloud Suite's ReadyShipperX module lets you offer your customers the best shipping rates and ensure speedy deliveries while its Returns functionality lets you set up customer-friendly and hassle-free Amazon-like returns on your WooCommerce store.
**Pricing: **ReadyCloud's WooCommerce CRM is available for $24/user/month. You can separately purchase its shipping and returns extensions.
8. WP-CRM System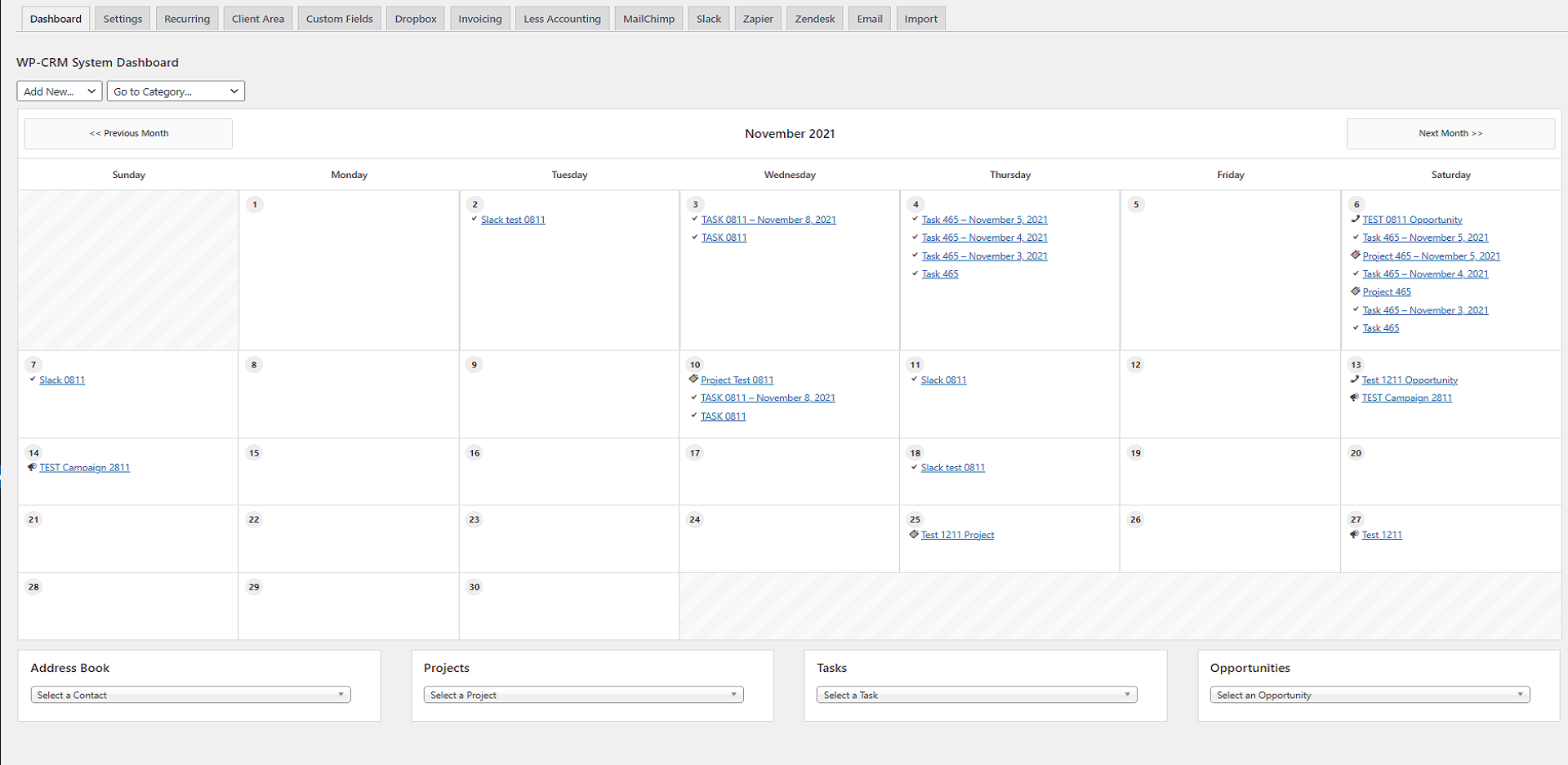 WP-CRM System is a WordPress-first CRM that brings contact management, project management, campaign management, and more to a WordPress website.
With WP-CRM System's WooCommerce Connect, you can use WP-CRM for eCommerce sites seamlessly on your WooCommerce store and bring your customer relationship management straight to your WordPress dashboard. With WooCommerce Connect, each time a shopper purchases from you, a contact is created for them in WP-CRM System. From there, you can use WP-CRM System's features like MailChimp Sync and others to power your customer relation management ops, like sending them a welcome series via Mailchimp.
As you can possibly tell, WP-CRM System is more of a CRM for a small business into services. But if you can use its add-ons a certain way, you'll be able to create a good CRM system for any online business, including an eCommerce business.
Pricing: Go with WP-CRM extension's Enhanced $199 plan that comes with WooCommerce Connect and all the other extensions this CRM system offers, including Gravity Forms Connect, Slack Notifications, Zendesk Connect, among others.
9. WP ERP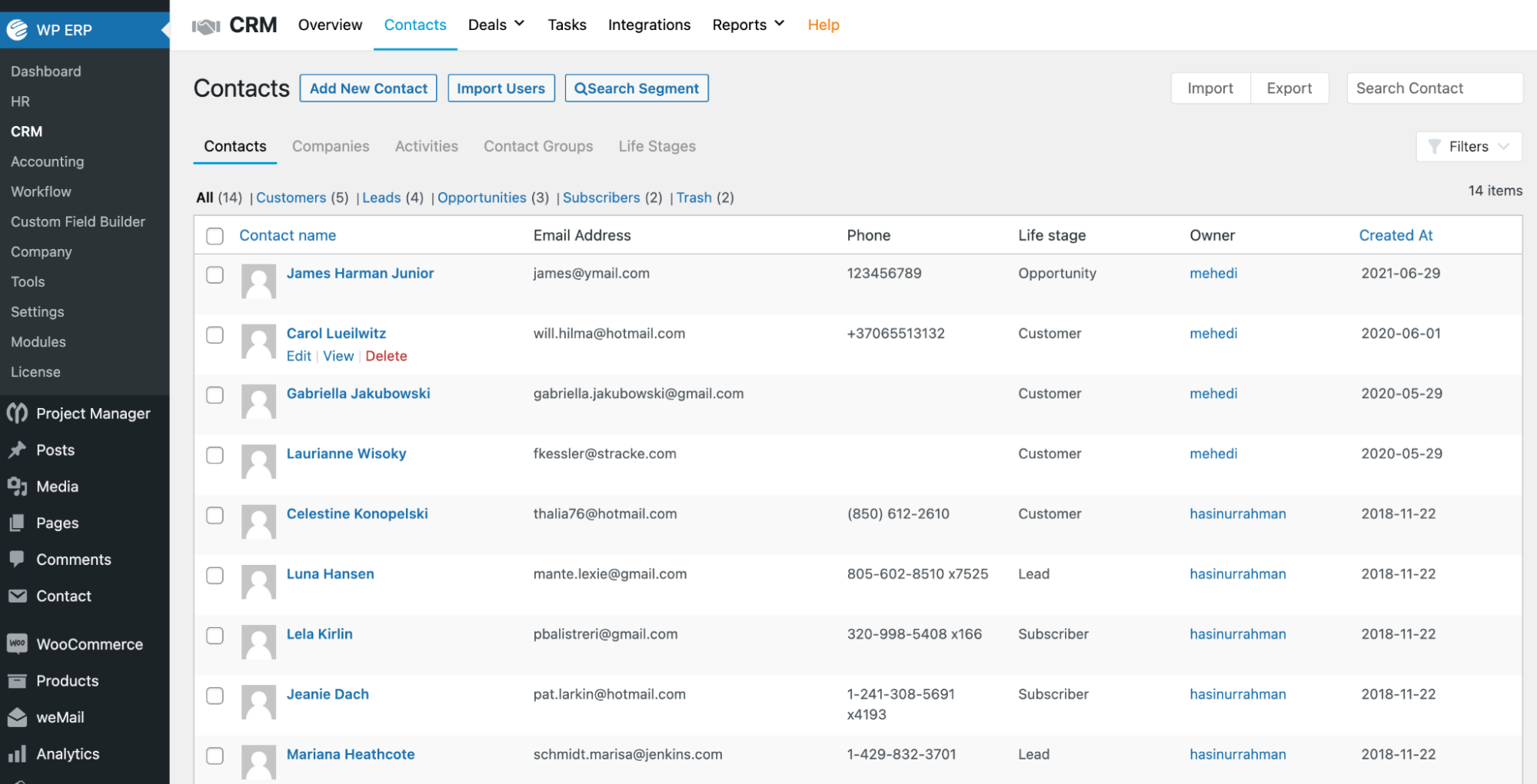 WP ERP is a complete business solution for a WordPress website. It comes with different modules to take care of a business's HR, CRM, project management, and accounting operations. WP ERP's CRM module doubles up as a robust WooCommerce CRM as well.
With WP ERP's WooCommerce integration plugin, you can bring your WooCommerce data straight to your WP ERP eCommerce CRM and manage your customer relationships easily. WP ERP shows you your customers' detailed activity on your store. You can easily sort your contact base to find your highest-spending shoppers or those who rarely buy anything. If you integrate your WP ERP account with your MailChimp account (WP ERP gives a plugin for this), you can push your WP ERP segments to MailChimp and follow up with automated emails.
You can easily build your eCommerce pipeline using your WooCommerce default user and order statuses with WP ERP. For example, if a user creates an account, WP ERP will call them a Lead. When they make a purchase, they'll become a Customer, and so on. With this eCommerce CRM plugin, your WooCommerce customer data tab easily tells you how many purchases a customer has made and how much they've spent on your products.
By adding WP ERP add-ons like Deals and Workflows, you can make your WP ERP WooCommerce CRM do much more.
**Pricing: **WP ERP's basic subscription costs $ 9.99/mo, but you need to top it up with a bunch of add-ons. You'd be looking to spend about $50 on a typical WooCommerce CRM setup with WP ERP.
10. Salesforce Connector for WordPress WooCommerce
If you use Salesforce as the sales automation system for your eCommerce business, then this plugin is for you. The Salesforce Connector for WordPress WooCommerce plugin connects your WooCommerce store with the Salesforce platform so that your WooCommerce data is available inside your Salesforce portal, where you can use it to create follow up marketing campaigns and communications.
Salesforce Connector for WordPress WooCommerce brings (real-time) bidirectional sync between WooCommerce and Salesforce, so changes to any reflect in both.
Pricing: Salesforce Connector for WordPress WooCommerce sells for a one-time payment of $399. On top of this, you'll have your Salesforce subscription fee.
In addition to these WooCommerce CRMS, you can also create a workaround. For example, using a service like Zapier, you can connect your online store with an email marketing solution like, say, Mailchimp and make the two apps work together as a lightweight contact/customer relationship management system. Such integration is also possible via APIs.
Often email marketing services offer their very own official WooCommerce extensions to facilitate the same.
The Most Important Factor For Your Online eCommerce Store When choosing a WooCommerce CRM - Your Hosting
Every single thing that lives on your WordPress website ultimately depends on your website's hosting. That's why if you want your WooCommerce CRM plugin — and your online store, in general — to work well, support it with some blazing-fast hosting.
Krystal, for instance, is one of the best web hosts for hosting your WooCommerce store. It supports not just your WordPress website but all the things that live on it. With Krystal, you can:
Run a WooCommerce store that loads within seconds — Powered by enterprise-grade servers, LiteSpeed caching, and CDNs, Krystal can be up to_ 200% quicker than other WordPress hosts._
Keep your WooCommerce store safe — Features like SSLs, weekly security scans, firewalls, real-time file scanning, encryption, and two-factor authentication keep your store safe. Also, Krystal (automatically) backs up your data every day, so all your data stays backed up, and you can restore a snapshot when you need to.

Access quality support when you need it! With an average 4.9 rating (out of 5) based on 1270 reviews, Krystal offers award-winning support with transparent support policies. You can view our average response and resolution times here.
Of course, each Krystal plan also comes with unlimited 1) bandwidth (with no capping on the number of site visitors), 2) mailboxes, and 3) subdomains.
If you aren't already hosting your WooCommerce store with Krystal, migrate now and see for yourself how a fast web hosting can turbocharge not just your online store but also your customer relationship management.
Why choose a WooCommerce CRM for your eCommerce website?
Bringing a CRM solution to your eCommerce selling mix lets you convert your one-time shoppers into lifetime customers. Each time you reach out to a shopper with a personalised offer/product recommendation — powered by your CRM tool's data and automation — you get a chance to win a repeat sale. From such meaningful conversations and repeat sales to offering a more personalised shopping experience, in general, a CRM is an essential for any serious online store.
The WordPress (WooCommerce) CRMs we just reviewed are some of the best you'll find. So pick and add one to your store now!
However, as you bring yet another core marketing op to your WooCommerce store, remember that it's ultimately your web hosting that will power it. So pick a fast, reliable, and safe web host. Choose Krystal. _Check out Krystal's WordPress hosting plans. Go month to month or sign up for an annual plan to get two free months. Each plan offers a 60-day money-back guarantee! Have questions? Let us know.
Share this article
About the author
Darren H
I'm Darren and I'm the Senior Copywriter at Krystal. Words are what I do. Aside from writing, I play guitar and sing in my band Machineries Of Joy, work on getting my 2nd Dan in Taekwondo and seek adventure with my wife and daughter.
Join our newsletter
No spam. Just the latest news, events, product updates, promotions and more delivered to your inbox.